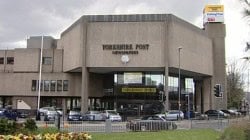 Guest blog by Bill Moody
Slabs of orangey concrete eyebrow the pavement with stern paternal glare and thrusting stacks, one disguised as a clock, or maybe a ceefax page, point accusingly at the impartial sky. The Yorkshire Post building squats unlovely and brutal, a stellar example of architectural modernism which in its day may have shone but now is more brown dwarf than luminous.
When referring to the Fourth Estate, the press, Thomas Carlyle  thought it "more important far" than the other three Estates in Parliament. It should observe and report as a function of democracy and serve as a transparent medium for truth, I guess. The metaphors this building generates are far from that ideal. It appears closeted from the outside and the wonder is how any natural light penetrates. It is imposing, self important and hides it's functions in a way that the Bradford Telegraph and Argus building doesn't. The T&A's glass walls reveal the printing presses and the suggestions of honesty are made implicit.
The building is part of an architectural idea known colloquially as Brutalism; the term anglicised from le Corbusier's 'beton brut' or 'raw concrete'. Other Brutalist moments of note in Leeds are the Merrion Centre, the Roger Stevens building, blogged about by Janey Dodge, and, before it was demolished, the International Pool.
Now the Yorkshire Post building is For Sale and in some reports probably due for demolition. Which is sad in a way, but what better end for a truly modernist building than demolition, to make way for the future? The Yorkshire Post building is on the site of the first woollen mill in Leeds and next door to the site of the long forgotten second railway station that Leeds once boasted. These two archetypes of the Industrial Revolution and modernism in its broader sense had to give way and now it is the turn of the next generation.
What must be remembered though is the people who worked in the building and the working lives played out there. I have never been inside or known any of these people so my thoughts are fairly uninformed. These few words can never do justice to the people and ideas associated with the Yorkshire Post or the nostalgia felt that another part of our recent heritage is being changed so radically. Le Corbusier noted: "Our world, like a charnel-house, is strewn with the detritus of dead epochs." There are parts of Leeds which I associate with what has gone; the arcade so genteely sat upon by Harvey Nicks, the pawn shops and jewellers squashed by the St John's Centre, and now, if it is to be demolished, the site of the Yorkshire Post building, unlovely but iconic.
The Yorkshire Post building is not alone. Several major modernist buildings have not been granted Grade II listings or have been pulled down in recent years. English Heritage has recommended listing several buildings but the Department for Culture, Media and Sport is refusing.  Love it or hate it, this is an important genre in historic architecture.  Under threat are Preston bus station, and Robin Hood Gardens in Poplar and many others. Already demolished are Trinity Square car park in Gateshead (seen in the movie, Get Carter), the Tricorn Centre in Portsmouth (voted Britain's most hated building in a 2001 Radio 4 poll), and Milton Court part of the Barbican Centre, London
As a footnote, I can add that for a building which has never struck me as having a sense of humour, it was Prince Charles, that hater of carbuncles, who performed the opening ceremony. I wonder if his views on 'modern' architecture were formed on that opening day. I wonder if in this video he was seething about the shapes, perhaps 'more offensive than rubble' he saw before him. The video, for reasons we cannot know, is silent, so any guess is a good one.
Bill Moody has been living and working in Leeds since 1979. He runs an English and Maths tuition centre and has been a teacher for over 20 years. For someone who said he would never own a suit or have a bank account, it appears he has sold out rather frightfully.