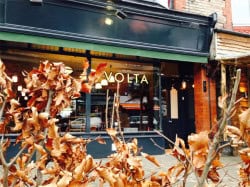 Matty Hebditch ventures into the unexplored, formidable world of food blogging with his first ever restaurant review. His eaterie of choice? Volta, a newly opened and unsuspecting establishment of the West Didsbury, Manchester
Walking into this newest addition to West Didsbury's eat-&-drink scene, first impressions were good. Although bijou, the simple layout and subtle lighting made it an inviting place. A huge arched mirror on the back wall helps create a more spacious feel, and the chunky mahogany bar and accompanying stools make you feel welcome to literally hang out in this hang-out, as well as to eat in this eaterie.
Perched at the end of that chunky bar was chunky proprietor Luke Cowdrey, who welcomed us in and gave us the lowdown on what's available and how we should order it. In any way and any order we fancied really, pick 'n' mix-style.
It's not quite a tapas bar but, as it's a down-home Mancunian venture, I'm gonna call it a 'real tapas & shunters social club'.
There are several real good boozes (13 Guns IPA, Brooklyn, Wainwrights's, and Brewdog's Punk IPA if you like your ale), but my companion was denied an Aperol spritz aperitif as they'd run out of Prosecco. I imagine the opening night party, a week before Christmas, must've merged in with the other seasonal festivities.
The food on offer is a pleasingly diverse mix of fusion fodder, inspired by the grub Luke and co-conspirator Justin Crawford have sampled on their global Unabombing DJ adventures and perhaps the 'small plates' selection is inspired by a party person's propensity for not being able to stomach too much grub at once.
We gladly bought into the concept of building your own piecemeal meal, with as many components as you like, and we even partook in playing some chip Jenga to further enhance the culinary construction theme (nicely mushy sweet potato chips they were too).
Careful thought has gone into minor details; we were oddly chuffed to receive a transparent glass plate (what happened to them?), while the cutlery and napkins arrived tidily in a tin can. There was an eclectic mix of downbeat music to enhance the mood too. We discerned John Martyn, some cerebral jazz, indo-Irish folk and a Bond theme (can't remember which, Carly Simon I think). Though smartly decked-out with dark wood vintage lampshades and mahooosive shin-high skirting boards, it's also replete with some of those 'can't be arsed to finish that bit off' touches to the decor; exposed brick here, unpainted plasterwork there, and we were charmed by an informal sign in the loos kindly urging folk 'not to flush anything other than the obvious'. Also, Yorkshire roses decorate each table and the walls are half-painted City sky blue, making it a place Man United fans probably wouldn't sit too comfortably in.
Anyway, the food. We sampled three small plates first, one of which was four mini pecorino toasts with some unedifying Jerusalem artichokes, presumably marinated in truffle oil, as it was bereft of actual 'posh mushroom' truffle. This dish was rather bland; the crispy toasts could've been thinly cut scrag-ends of stale baguette, and with the artichoke lacking any real flavour it could quite easily have been grated hard skin from the chef's achilles (my fave!).
The sea bass with black olive paste was delicious, however, and jazzed-up the toasty bites considerably once we'd mixed, matched and married the two.
We queried the helpful, clued-up staff as to the whereabouts of our third small plate and were told they'd forgot to explain that the slapdash 'order whatever whenever' nature of the menu means that some dishes arrive irregularly as everything's made quick-sharp, upon request. That didn't quite explain why the (hot) sea bass & green beans arrived ten minutes before the (cold) beetroot, feta, dill and hazelnut dish. The latter brought to mind an old Cadbury's ad, ("Nuts, oh hazelnuts, Volta they take them and they smother them in beetroot"), and tasted lovely scooped-up with some herby flatbread, but the beetroot slop resembled tomato puree in the dim light. A quick shine of a handy keyring torch confirmed it was indeed purple but it may well have been tastier had it actually been tomato puree.
Main course was a hanger steak, neatly cut into medallions with accompanying chips, which turned out to be the rarest steak I've ever had, and as I don't usually go for rare steak, this made me wonder why we weren't offered the customary choice. Turns out it's meant to be sampled rare and, had I asked for 'medium', I'd have simply been talked out of it.
It was indeed flavoursome and succulent, if a little bit slippery and oyster-like on the tongue – squeamish hemophobics may have been disturbed by the unheralded sight of blood on the chopping board. The steak came with chimichurri, an oily Argentinian-inspired salsa and herb sauce, which was fragrant and unusual, but a lot less potent and not as tasty as we'd expected.
We concluded with a winning dessert; a chocolate pot with a slightly torched surface, and a milky top which tasted much like the gorgeous gloopy goo you get in the middle of a Lindt bauble, almost leading us to stick our fingers into the pot to scrounge the very last smears.
In all, it was an enjoyably distinctive dining experience, ordering dishes we'd never tried before, and although not everything was spot-on, we'd be keen to come back, and see how they're progressing and sample the other treats on the menu. Especially as there's still a '50% off food' offer throughout January.