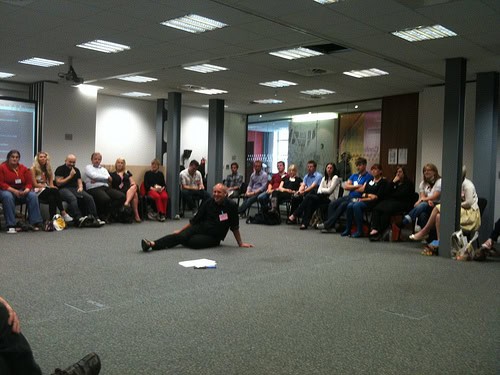 Thinking is tricky. Real thinking I mean, not the staring out the window into the far distance, chewing a pencil and sighing a lot malarkey we all tend to over-indulge in. For instance, I've been thinking about writing this post for days; several times I've parked my arse at my writing desk, powered up the laptop, cracked and wriggled my fingers, pondering my reflection in the screen – a pained, puzzled, piteous expression, looking for all the world like I'm struggling to recall where I last saw my wallet or why I've woken up wearing only one sock. Hours can pass like this. Best I often manage is a tidier desk or a neatened, reassembled stack of books. The problem is, like most people I don't really have that many good ideas of my own. To be honest, my mind's about as fully stocked as a pre-Glasnost Siberian delicatessen and probably about as stimulating. Without the presence of somebody else to prod and pinch and provoke me into thought I'm a bit of a clod really, and that's the main reason I hang around interesting people like the lot who attend the Cultural Conversations events, so they can spark me into some semblance of rational reflection.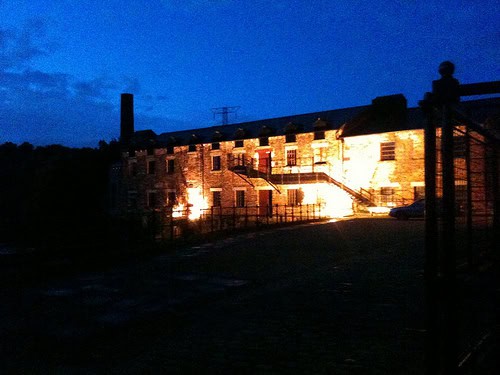 The best thing for me about the Cultural Conversations is that I got to take part (well, mostly just listen, but I was there!) in some fascinating discussions about stuff that people are really passionate about; blogging, story-telling, city living, innovation and creativity, progress . . . Come to think of it probably the best thing for everyone at Cultural Conversations was that I shut up and listened as my two scintillating contributions to the day were my vision for Leeds as International City of Purple Prose and my campaign to demand the City Council declare Leeds a Bullet Point Free Zone . . . Fair enough, I realise these things aren't going to get anyone overturning taxis on the Headrow and building barricades, but nobody said that our passions had to be practical or politically pertinent. My passions are deliberately and defiantly docile.
Thanks to Mike Chitty for ably organising the formalities of the afternoon conversations, The Round Foundry for allowing us the run of their very lovely building, and Emma whose idea it was . . . and Emma again for the evening jollifications! Everyone had a great time on the barge, and the ropey red wine was more than compensated for by the wonderful food and drink and music that awaited us at Thwaite Mills. I didn't go on the tour myself but everyone who did came back delighted and amazed. Trouble is now Emma, how are you gonna top that?
In the spirit of the conversation I asked for responses to the day from a few people I chatted to. Here's a couple of comments I've collected so far, but feel free to add anything. The first from Simon Cooke (AKA @SimonMagus) . . . I did try to persuade him to stay on for the evening fun; maybe next time.
"Oh my God, they're sitting in CIRCLES!"

Circles. I mean circles – what's that all about. There'd better not be any hand holding, chanting or singing – I may be dedicated but not that dedicated. I also spy pens – there may even be post-it notes Can I cope – well there's some cup cakes, so that's a comfort at least.

What a chance to talk about stuff (isn't 'stuff' just the most useful of words). Innovation – what's needed to get it motoring in Leeds? Regeneration – whether the building of vast shopping centres and soulless apartment blocks is really improving the city? And stories – how we tell 'em, where we tell 'em and how to tell 'em better!

And wrapped around all this was a conversation – blessedly without the doom, gloom and despair of many such engagements. A conversation full of whacky ideas, creative idiocy and a serious desire to make the endless hours we spend working into more of an entertainment.

As I think I said at the time – all rubbish, useless. But perhaps the most fascinating, curious and challenging pile of useless rubbish since Tracy Emin's unmade bed!
And this from Lucy Harper (@LuHarper) who came all the way from Sheffield (Sheffield? . . . never heard of the place . . . )
Friday's events had me buzzing all the way back down the M1 to Sheffield and right through the weekend. From start to finish the day was inspirational, innovative and absolutely on the pulse. That goes for the creative minds I met along the way as well as for the format of both events.

There was a funky style of agenda setting for starters, I won't say how as that might spoil the surprise for future events, but put it this way, who says you shouldn't do anything by committee! We shared knowledge and experience – twitter experts, twitter virgins, experimenters with mobile technologies, video producers and story tellers alike. I felt spoilt for choice and left wanting so much more. I was also tickled pink to be nominated for a cupcake for the large moustache bedecking my name badge. I swapped my prize for what's turned out to be an awesome CD, by Leed's sweethearts Hope & Social. Bonus!

Then it was kick back, relax and meet fellow Culture Vultures, as we glided down the canal towards our secret destination for the long-awaited social. I was tempted to have a peanut fight with my new acquaintaince, the delightful and belligerent Phil Kirby, writer-in-residence at Temple Works, but I decided to offer the white rose of peace from South Yorkshire.

Not knowing the route of Leeds canal, I wondered if we were being led to a cheese tasting event in Morrisons carpark. Emma however had other ideas. Three flat-capped blues musicians strummed away as we entered Thwaite Mills with its working water mill. Our evening included a tour of this heritage site and I failed to spot any of the stoats, otters or mink who apparently live along the river banks. I tried to talk to everyone in 140 characters, but there was just too much to say, and the conversations way too thought-provoking. By the end of the evening, I looked over at Emma and wondered how she had managed to pull off this utterly inspiring event. What added to the magic was the opportunity to natter to like-minded folk from other corners of Yorkshire, to swap ideas and opinions. It was well worth racing up from Sheffield and I look forward to when Culture Vultures goes on the road and comes south. I hope some of you westerners come too and we can do it all over again.
Belligerent? Moi! . . . Oh, and apparently Sheffield is somewhere in Yorkshire . . . who knew?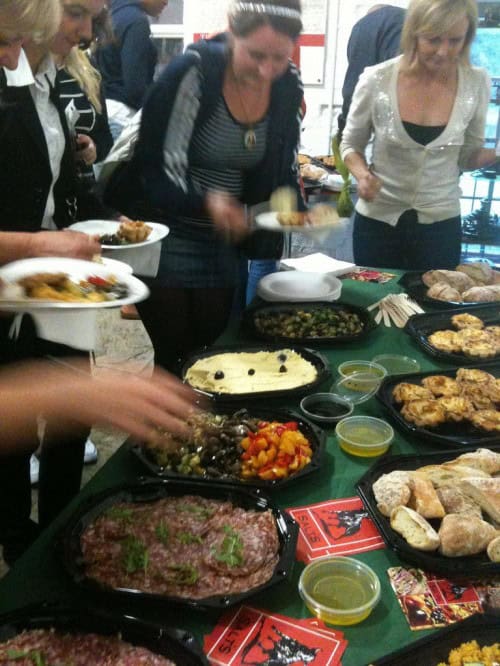 Food courtesy of Salts Deli, it was delicious!