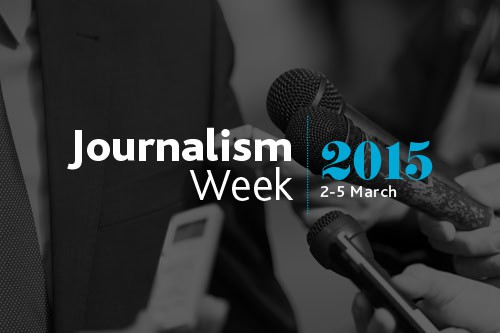 It's Journalism Week at Leeds Trinity University, four days of speakers and workshops focused on the news industry. Carolyn Eden takes an outsider's look at this annual gathering of passionate news professionals …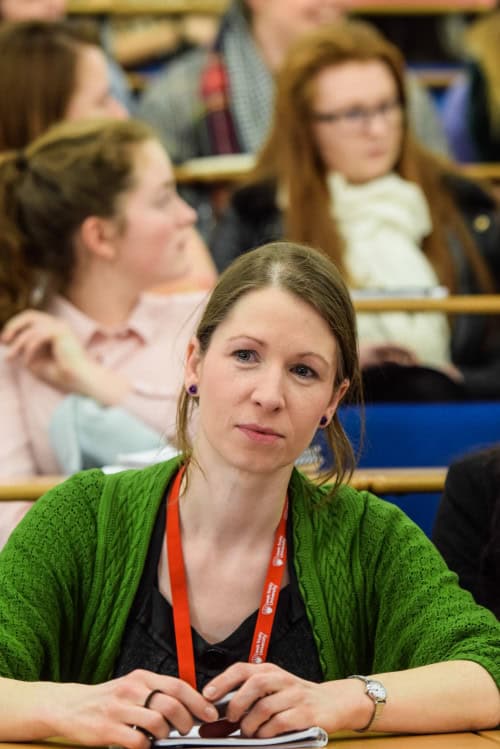 I haven't been before. I'm here now in a busy lecture theatre because I find myself in the position of being a trainee journalist. Something which has taken me a little by surprise.
I'm from a theatre background really. Although I tend to use a lot of hand gestures in an attempt to clarify some of vagaries around what I actually do. I tend to do things which interest me.
Having studied media and performance at degree level, I've worked in television, film, radio, theatre and voiceover. And anything else that caught my eye. It's a recent return to radio, where I used to work almost 15 years ago, that has brought me here.
I applied for a BBC Women in Radio scheme, attending a conference event at Media City UK a year ago this week. Having decided this is something I actually wanted to do properly, one thing lead to another and having found out about the Post Graduate Diploma in Broadcast Journalism shortly before it started in January, I am now on it.
I am writing this at the close of the second day of visiting speakers, half way through the event. Much as I have enjoyed learning about Media Law (I genuinely find it rather interesting) and Public Affairs, to a lesser extent, this has been the highlight of the course so far.
Having convinced the department that it was a good idea to let me complete the course part time, to enable me to continue to do the things which interest me, I am in the enviable position of not being assessed for this module. This means I can listen to everyone and attempt to absorb the information, with the relatively small challenge of live Tweeting. It feels incredibly indulgent.
Monday started with Harry Gration MBE, Presenter on BBC Look North. He spoke about his passion for working in the region he lives in, his pride for the coverage of Le Tour De France Grand Depart and the importance of challenging people and holding them to account.
Each of the speakers leave a space for questions at the end of their session and then complete one to one interviews with other Trainee Journalists. As the first cohort left to complete their stories for the Journalism Week live online coverage, I was feeling inspired by the dedication and passion for journalism and a little proud of my live Tweeting.
However, when Presenter Sonali Shah began to speak, with her interesting backstory and route into journalism "everything's happened a bit accidentally", I took a different kind of inspiration. She spoke about how retaining her integrity and saying no to things has opened different doors. She is passionate about her eclectic portfolio and being a working parent "you can have it all, but not at the same time."
She spoke about judgements people make about journalism for children and being seen as "less trustworthy" or "too young looking to be taken seriously" as a result of refusing to cut her long hair.  When I got the chance to speak to her afterwards, she taught me a new phrase FOMO – Fear Of Missing Out.
Combining this with Harry's local pride and firm Yorkshire roots, it's another insight into an industry I'm starting to realise isn't quite so far removed from where I am and what inspires the choices I make. Maybe my route into journalism isn't so surprising after all.
We were treated to incredibly skilled comedic story telling from Jeremy Armstrong, journalist at the Daily Mirror, about an expensive quest to steal the 1966 World Cup ball. This was followed by some more tempered advice about working out whether to use a story for online now or save it for print and bearing witness to historic events like covering the Fritzl court case and using his German language skills.
There were some fantastic stories about working in a pre-digital age that the new trainees will never know, when newsrooms were full of smoke and the sound of typewriters.  Alongside supporting the charity CAFOD, World Affairs Correspondent, Mike Woolridge OBE told us stories about sending hard copy photographs back to London by aeroplane in the 1980s and of hiring a phone line from a passing engineer to report the release of Nelson Mandela in 1990.
The Royal Television Society Yorkshire Centre along with the Radio Academy Yorkshire Branch conducted an interesting event to look at the impact of technology. It's a topic many of the speakers touched upon and some of the sessions take on a more practical edge. We were taken through broadcast quality iphone editing techniques by Nick Garnett and Joanna Abeyie set us a group task of working on covering stories on social media.
Today closed with Michael Herrod, Foreign Editor, ITV News who talked about the ethics of covering world news stories on merit and almost brought me to tears with his emotional footage showing the human impact from war zones and tragedies "we need to show there is some hope among the horror."
All the speakers have shared their varied experience and knowledge, individual stories and approach to the work they do. Some of them are doing what they thought they always would be, some of them had no idea where they wanted to go when they entered the industry. And I'm trying to take it all in, while still live Tweeting.
Thanks to my fellow trainees, I can refresh my memory here
https://journalismweek.wordpress.com/
Live stream http://www.leedstrinity.ac.uk/departments/CFJ/jweek/Pages/webcast.aspx
Twitter #LTJW
If you would like to attend this FREE event, which continues today and Thursday, please contact 0113 283 7150 for further information.