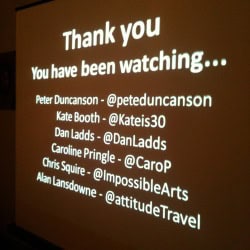 Getting speakers for Bettakultcha is always tough. I'm pretty sure everyone has a story/passion/interest/quirk/rant etc the tough bit for me is convincing them to talk about it. Once I get over that objection the next hurdle is when they realise that putting together 20 slides and a 5 minute talk is actually harder than they think – it takes work!
Thing is, once people get the bug they have an endless stream of ideas they want to share. The buzz of sharing your ideas is pretty infectious.
What I'm conscious of, and I'm sure Ivor is too (sure he'll say if not), is that I don't want to see the same presenters each time. And though I'm sure the audience have their favourites too, they enjoy the variety of speakers and subjects.
But where are the female speakers?
People have quite rightly pointed out that we don't have many female presenters at Bettakultcha. Well that's not strictly true. We have on a few occasions had a 50/50 split of genders. Everyone who's aware of Bettakultcha, I hope, is aware that we encourage anyone to speak. There are no barriers at all other than the few rules we have: 20 slides, 15 seconds each slide, NO PITCHES.
So at an event the presenters are the ones who have put themselves forward, regardless of gender or subject. I think what I'm saying is that if women want to speak they need to volunteer like the men have.
But I'm sure it's not that simple, can't be. It's been suggested that we should give a selection of subjects to talk about? But for me that will end up with an evening which is engineered by us and that's not really the point of it.
I don't think it's the audience either, who are always supportive and encouraging and about a 50/50 split too. If there are other ideas on why women are reluctant I'd love to know them.
It's something I've witnessed elsewhere. I went to TedX Sheffield the other week and again saw a predominantly male speaker list. The once female presenter was one of the best on the day by the way.
Volunteer to speak (go on)
If reading this has spurred you on to talk, I hope it has, please email bettakultcha@gmail.com and I'll add you to the list of speakers for the next Secret Bettakultcha on October 31st.