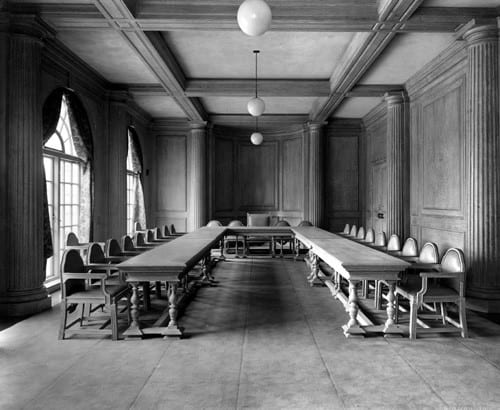 Yesterday I had a meeting in the Civic Hall.
I walk past the place every day and like most of us really have no idea what goes on in there. It's just where the council do whatever it is the council does. Let them get on with it. None of my business.
I was going to see a Very Important Person. I don't generally get to see Very Important People in the council, especially ones I have been belligerent and obnoxious toward, so I wasn't sure what to expect. I'm very rarely rude in person, of course, but sit me in front of a laptop and give me an email address and I'm the devil incarnate. Though it's never personal. Usually I get all worked up about stuff that other people consider trivial – bullet points, for instance (you should be shot for using them, and I know I'm in the minority with that opinion), misusing "that" and "which", or putting two spaces after a full stop! On this occasion I had been rude about a document – this document. The person in question had written it and I had been rude about some of the language.
The gist of my rant was that it was a bit boring, uninspiring, insipid. There was a lot of talk about engagement, civic entrepreneurship, empowering communities and "game-changing times", but it was written in the language of old school bureaucracy. It talked about engagement, but didn't engage. It was about us, but not really for us. And I couldn't really relate to how the document described what some of us were doing in our towns and cities; "civic entrepreneurship" … what the hell is that when it's up and dressed?
Fortunately the person who wrote it didn't take offense and she didn't whack me round the head with a copy of the council rules and regulations when I entered her office, as I was half expecting. We had a good hours chat about what public service was all about in these difficult times and I offered my honest opinion about what most people still thought about the council – it's a wet blanket; you have an idea and the council is there to put a stop to it, sharpish. This is obviously only a perception (and I'm talking about Leeds here, it would be good to know the experience of other cities) but perceptions do affect behaviour.
I left the Civic Hall with quite a few questions. How much do most of us know what goes on in places like that, what people do there, and exactly how it affects the rest of us. I was talking to the guy on the door and he was telling me stuff I'd never even heard about (Lord Lieutenant? … I have no idea.) And is it just because I am incurious – the very word "transparency" makes me anxious that they want to invite me into their meetings and shove reports and minutes in my hand, and that's my idea of hell! Do we need to know exactly what they are up to in order to trust them? And what if we don't agree with how they describe us? I'm not sure that I care to be called a "civic entrepreneur", ta very much. How do we have a conversation with our councils? What should the style of the council be?
Anyway, I'm going to leave the last word to my mate Mike Chitty who wrote some lovely words yesterday. I wish he'd written them before my meeting, I wouldn't have waffled as much.