Public House – a pint of inspiration [Photo: Lizzie Coombes]
The purpose of any good arts festival is to inspire conversations. And where better to do that than your local public house, asks SARAH WHITEHOUSE..?
Public House is a live art installation which seeks to merge the UK's arts and drinking cultures. Launched at Crowd of Favours as part of the city's biannual Compass Festival, it is set to carry on into 2019 and beyond in pubs across Leeds.
Performance artists Katie Etheridge and Simon Persighetti are encouraging conversations in ten Kirkgate hostelries with specially commissioned beer glasses. Because from small talk to deep existential chats, every sip of every pint has a story to tell.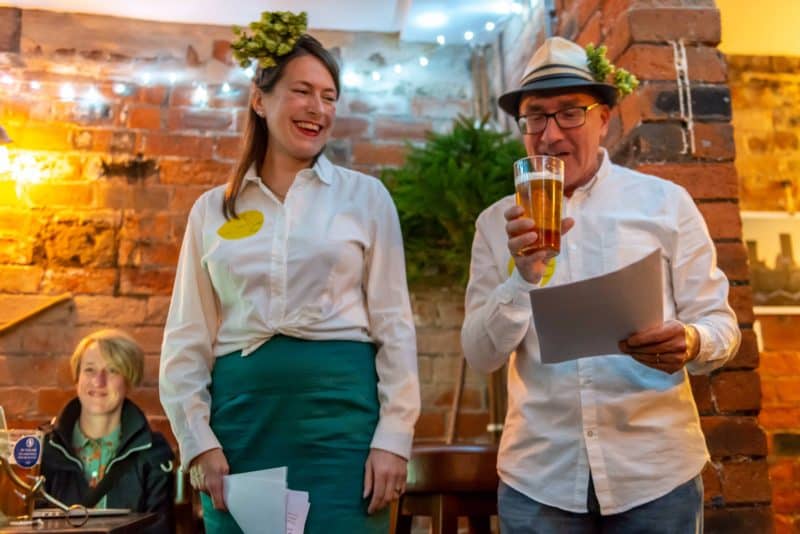 Inspired by the closure of their local Cornish pub, The Seven Stars, Katie and Simon wanted to celebrate and remember the stories, histories and conversations that seemed to have disappeared along with the pub itself.
"We began thinking a lot about the role of pubs against the backdrop of pub closures and it opened up all kinds of questions about contemporary social spaces," says Simon. "Pubs are more than just drinking shops, they're a place of face-to-face contact."
With five hundred limited edition beer glasses – each bearing diagrams, maps, and conversation starters – gracing the tables of boozers including Crowd of Favours, The Lamb and Flag, and Outlaws Yacht Club and set to remain in circulation, Katie and Simon are hoping that conversations and intrigue will continue around them for some time.
"The project was very much made for Leeds, and specifically Kirkgate," says Katie, "but it's a story that's going on up and down the country. We'd love to bring it to other cities. For the moment we're focusing on developing Public House in Leeds and we're planning some bigger events next year." Cheers to that. Want to find out more?
Check out all the glasses in the window display at Leeds Civic Trust, Wharf Street, until Monday 3 December.
Follow #PublicHouse18 to share your thoughts – and beer glass conversations.
If you fancy another round, get involved in future Public House events by emailing Compass Festival