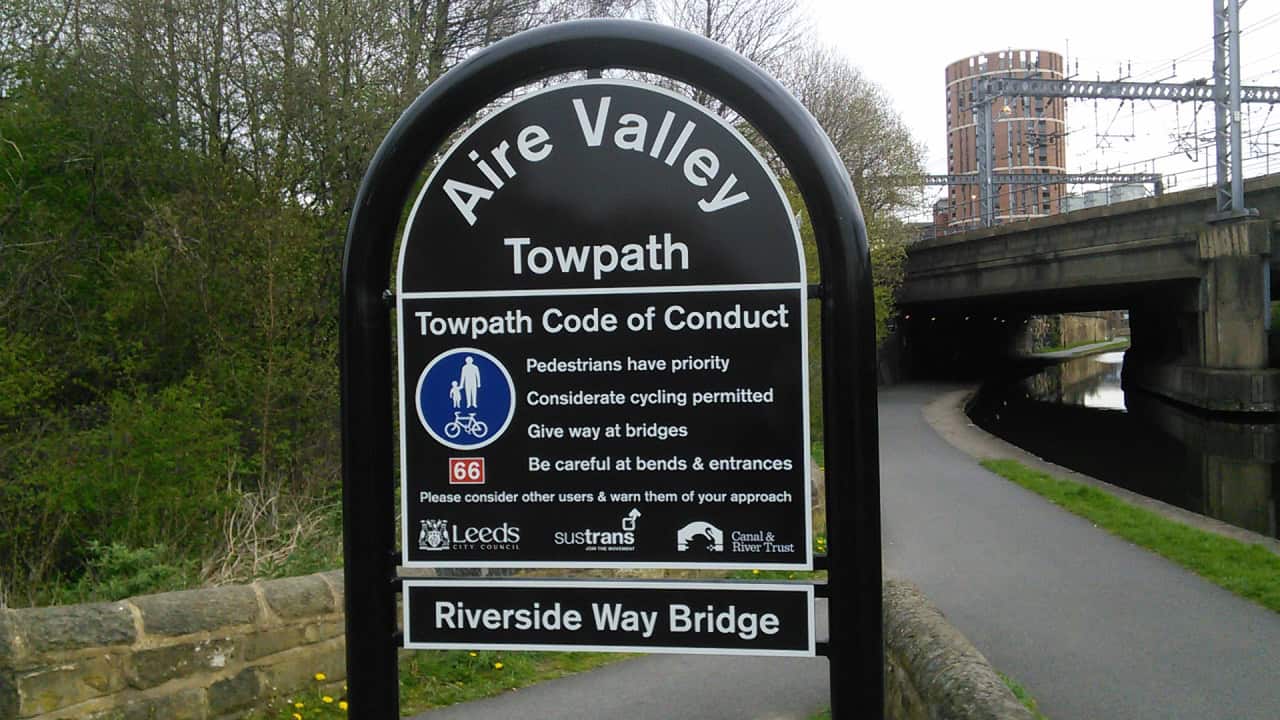 Why don't you watch where you're going!
A bell tringed, and tringed again. A man glared at me behind mirror goggles. His bike flashed by yellow and black, the front wheel missing my foot by inches.
I stopped walking, a little stunned.
Why hadn't I watched where I was going?
I scratched my head and turned around, composing a response, weighing my argument, deliberating silently. But the guy on the bike was obviously not in the mood for debate. He was long gone, accelerating along the straight, level, unimpeded track of the canal towpath.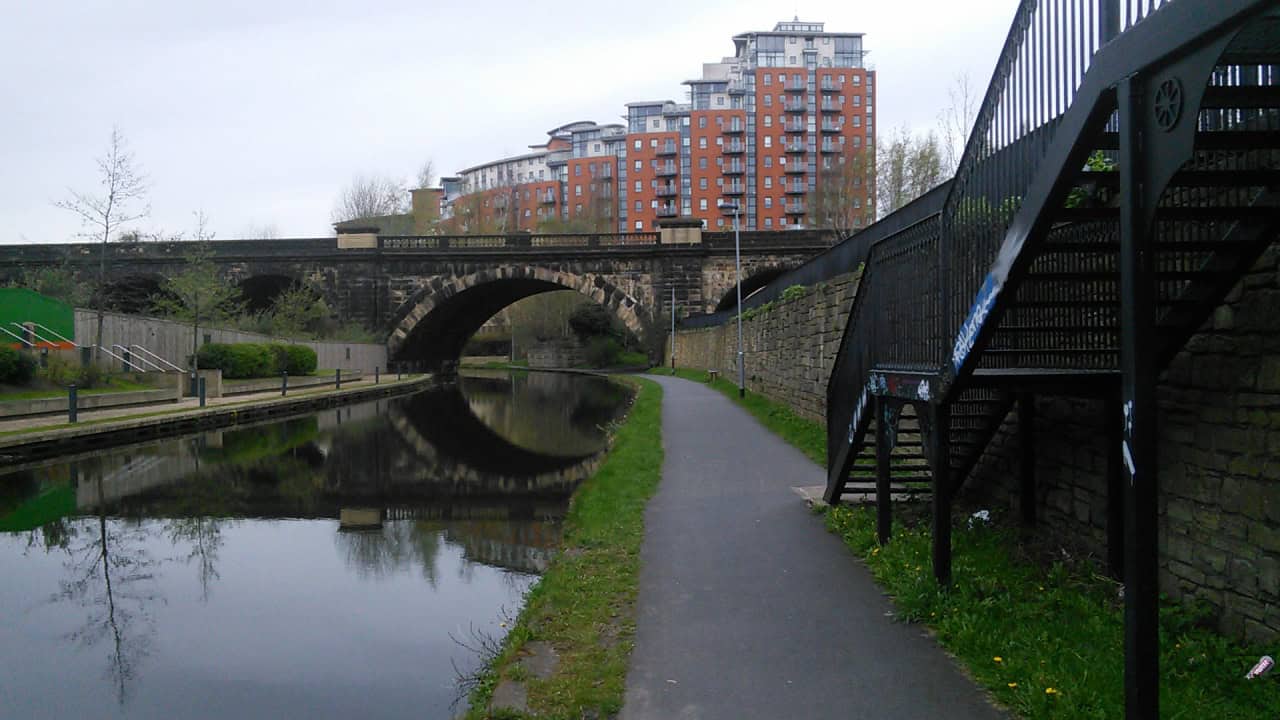 Why don't I watch where I'm going when I'm walking along the canal?
The answer is simple: I don't bloody well have to.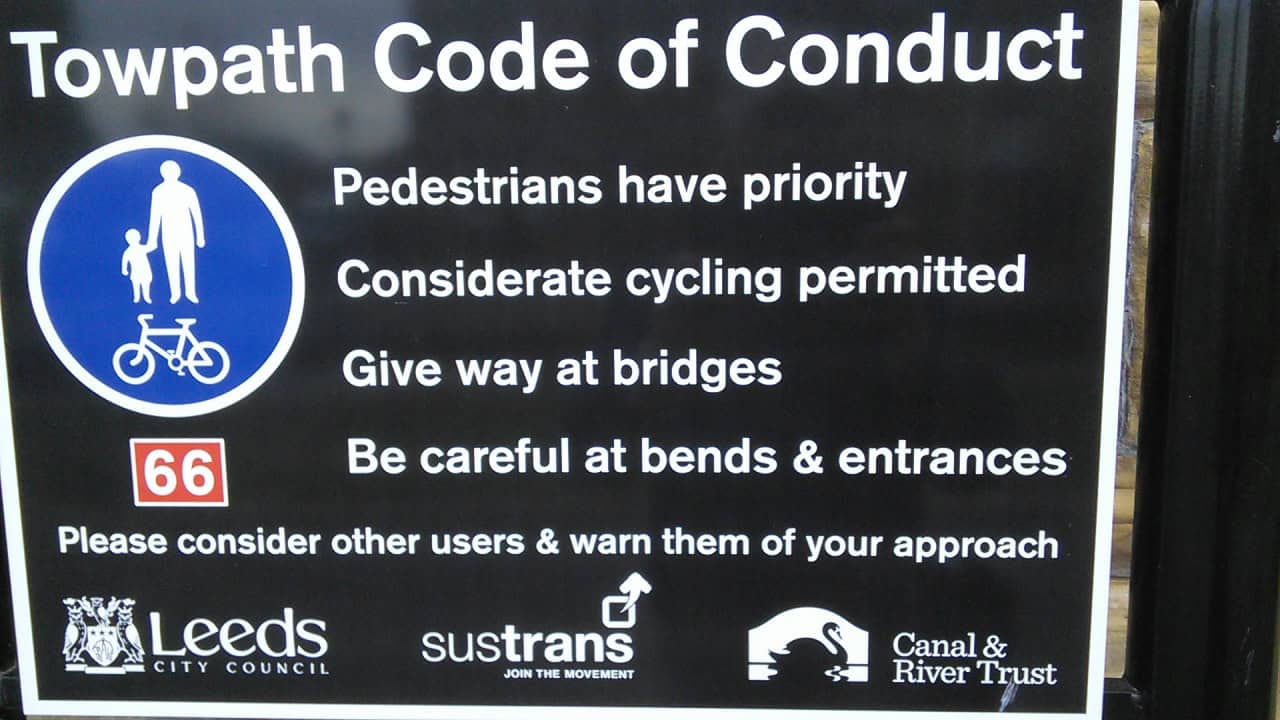 As it says on the signs that are everywhere, pedestrians have priority. That's me. Priority.
Considerate cyclists are permitted. It's not a right, and cycling is permitted on condition that you consider the other (priority) users.
And my little incident happened here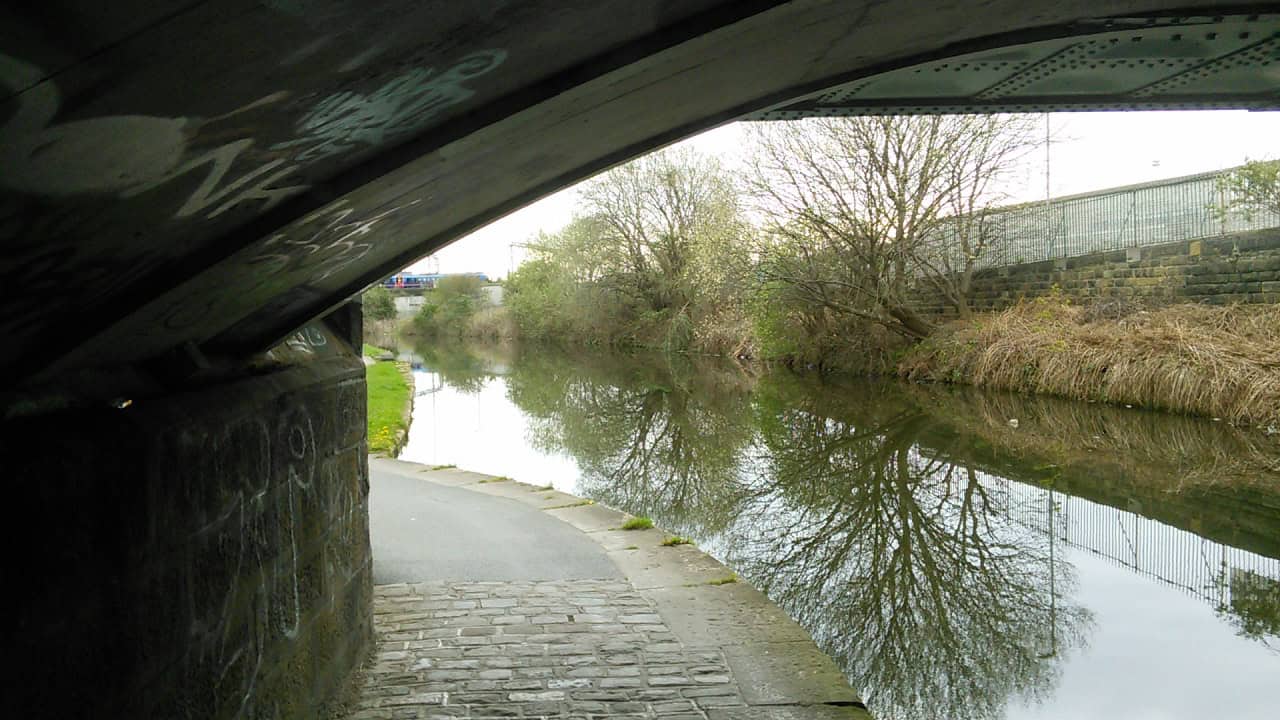 a bend on the path where there's an entrance to a bridge.
What are the last two rules of the code of conduct? Oh yes, that's right, give way at bridges, and be careful at bends and entrances. Could not be clearer.
My cyclist friend had certainly tinkled his tinny little bell. He wanted to let people under the bridge know he was coming. But what exactly could I infer from his signal? I couldn't gauge how fast he was riding. I didn't know which part of the path at which he'd enter the tunnel. I wasn't to know which way he'd like me to jump.
All I could know with any certainty was that I was an obstruction.
Ringing the bell simply meant "get out of the way, important person coming through."
In this situation the relationship of pedestrian to cyclist is precisely that of serf to feudal lord – we are expected to doff our caps, scamper out of the way and be grateful we don't get trampled on.
The path under the bridge is four or five feet wide. But the bridge meets the wall at less than shoulder height, so really only a couple of feet are comfortable standing or riding a bike. In order to ensure a cyclist has enough room to zip through the entrance to the tunnel at any chosen speed a pedestrian has only two choices; to cram himself up against the wall, or plunge into the canal. In the second or so I had been granted between hearing the importunate tinkling and almost certain collision I had decided against a dunking and had tried to station myself as discretely as I could against the wall, in a semi-crouch, almost in supplication. Obviously my cyclist friend considered me insufficiently deferential to his needs. He thought "I was not looking where I was going" with the express purpose of inconveniencing his rapid transit through the tunnel.
Most of the time I put up with being treated like Pavlov's dog, and jump out of the way without thinking when I hear a bicycle bell. But today's little tussle made me think about the last line on the Towpath Code of Conduct
Please consider other users and warn them of your approach.
I'd never considered this before. I always believed footpaths were safe places. I'd never imagined anyone had to be warned about our very presence. But I think it's time pedestrians were required to carry some kind of signalling device, to warn other users they may be in danger from our approach. Let me recommend a football rattle. Or maybe a vuvuzela. Something obvious to notify the general public there's a pedestrian provocation in the vicinity.
On approaching other users a pedestrian ought to let out a loud rattle or hoot and shout, WE COME IN PEACE. WE MEAN NO HARM. And if a cyclist zips towards them, I AM SORRY TO INCONVENIENCE YOU. MY APOLOGIES FOR CREATING AN OBSTACLE. I SHALL STAND ASIDE, BREATH IN, AND DO MY BEST TO DISAPPEAR.
This is probably a less far-fetched plan than getting certain members of the lycra clad clan to understand that a footpath is not simply a clearer sort of road and pedestrians aren't skittles.