It is bitterly cold in the South Square Gallery in Thornton. It is probably not as cold as it used to be when the building was a collection of stone masons' cottages, but by the pampered standards of today's modern living, it is plenty cold enough, thank you.
The group show Residual Projects – "seven artists, six residencies, one group show" – has reconvened at South Square, Thornton, Bradford, following a fortnight's break. This second half begins with Rebecca Long and Cameron Muir who, when I arrive, are sat at a table working. Cameron is tapping away at an iBook, and Rebecca is adding colour to a sketch. Both are wearing their outdoor coats inside.
The scuffed wooden flooring of the gallery is criss-crossed with measuring tapes, trace evidence of the show's opening artist Claire Weetman. "Claire's performance piece fit really well," says Charlie Booth who has curated Residual Projects. "The rest of her residency was spent trying to make that performance permanent in the space." Tape measures are hung like scalps from nails driven into the gallery walls; facsimiles of archive documents reach out from the past into the present.
The concept for Residual Projects came to Charlie while she was helping to install an exhibition at the gallery. She came across an exhibit from a previous show which had been completely overlooked and forgotten about. "I started thinking about how an exhibition could be like that; where in a two month period it slowly builds up these residual layers from previous artists in the space," she explains. "I find I am drawn towards odd little things in the corner or marks on a wall and I'm really intrigued about how they got there." A little subsequent research revealed other artists, each with the same fascination.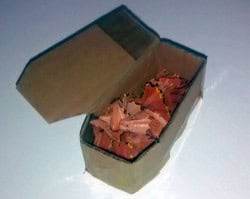 Residual Projects maps out the nature of the creative process, how it is in some ways an accumulation of what has gone before. Each subsequent micro-residency adds to the layers of meaning, the artist responding to the gallery and the surrounding area of Thornton in whatever way seems appropriate at the time of the specific residency. The gallery itself effectively becomes a kind of work in progress. Alice Bradshaw, who closed the first half of the show, purposefully left behind a heap of rubbish, along with a sculpture of a cardboard coffin filled with pencil shavings – a reminder that art doesn't have to be po-faced about it. "What I'm interested in is putting on exhibitions that are quite dynamic, where there's lots of things going on," says Charlie. "I don't really want to put on an exhibition that happens and then stays there."
That said, the practicalities of curating a show which juggles seven different artists in a six week timescale does bear some thinking about. (Before I arrived, Charlie had been speaking to sculptural installation artist Leah Hislop, en route from her home in Somerset for her residency beginning the following day.) Remarkably, for one so calm and relaxed about it all, this is the first exhibition where Charlie has been the lead curator from start to finish. "This is the first show where I've tried to work out what the job of a curator is," she says. "I think it's more of a mediator. I'm much more interested in working with artists than I am with choosing work to go in the space."
Today, Rebecca and Cameron are putting the finishing touches to their residency for which they have had to take time off from work. ("Rebecca works quite a lot with Cameron who is a photographer mainly," says Charlie. "They work really well together, which is why they've been paired up.") A magnificent ceremonial animal horn sits on the table between the two artists, an eBay find which has taken weeks to arrive from Israel and which causes Cameron no end of amusement. "Just think," he chuckles. "It's actually somebody's job to sell those things on eBay."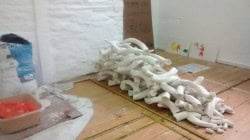 Leant against one side of the gallery is a sack of plaster. Beside it, on the floor, is a mould, spattered and flecked with mix. ("We keep finding plaster everywhere," comments Charlie.) Striking out at a right angle from the wall there is a growing barricade of plaster-cast horns. Some have crumbled and broken into smaller chunks adding to the effect. Rebecca – who deliberately draws on her immediate environment – says that the pair found inspiration in the story of the "Walls of Jericho," a historic local landmark in Thornton which was demolished in the 1980s. "Even the area of the village it used to be in is called Egypt," says Rebecca still marvelling at the allusion. The biblical significance is not lost. Hence the ceremonial horn. Hence the wall.
Residual Projects officially ends with a closing party on the 23rd January where visitors will get the chance to see the culmination of all six weeks of the project and hear participating artists talk about their work. "Being able to have an artist talk about their work, it's really hard not to become enthusiastic," says Charlie. "I really wanted that. I didn't want people just to read the interpretation – although it is there – it's more about engaging with the artist in the space, giving that kind of human face to it."
The Artists
Claire Weetman | Ian Jackson | Alice Bradshaw | Rebecca Long & Cameron Muir | Leah Hislop | Tom McGinn
Residual Projects Closing Party, 23rd January 2015, 7 – 9pm
South Square cafe is open 6 – 9pm. Booking is essential.