Bringing the skills of circus together with a touch of glamour in BIG TOP BURLESQUE is a long-held ambition for West Yorkshire based promoter and compere HEIDI BANG TIDY. Now, as she told RICHARD HORSMAN, it's finally happening next Saturday in Bradford.
For Heidi Bang Tidy, "It had to be the right circus" to realise her dream of creating a unique fusion between two worlds.
"There's something about the sounds, and the smells, and the popcorn machine.  Something very special about the rawness of a show in a big top"
It's been a labour of love bringing it all together. Days and weeks of preparations and rehearsals have gone into Big Top Burlesque, which is  being staged at Odsal Stadium in a 100-metre square heated space.
Circus Sallai is a female-led troupe, and a special bond has developed between Heidi, co-producer of the Hebden Bridge Burlesque Festival, and Summer, a 10th-generation performer and producer with Circus Sallai.
It's also a steep learning curve for performers on both sides. They might share a love of sequins, but the circus stars are fundamentally athletes. Heidi's been teaching them poise and presentation, the way they walk into the performance space to project glamour and sophistication.
Summer, meanwhile, has got her stopwatch out. A good circus flows as a seamless performance, and that includes getting in and getting out from the ring efficiently, with just seconds to collect discarded clothes and rearrange props. She's just as keen as Heidi to stress the work that's gone into preparing the performance.
"This show isn't just Burlesque artistes slotting into our existing show – we are working on ensemble pieces, with the burlesque performers being coached by the circus cast and vice versa. The circus side of Big Top Burlesque represents very best of live circus, repackaged for an adult audience."
Billie, Circus Sallai's modern, speaking clown is working on some new material and aerialists, Julia and Hannah will be performing a specially-devised double act on the aerial hoop.
I caught up with Heidi Bang Tidy on a windy morning in Wakefield … and she told me she's really looking forward to finally performing in a real big top:
Other top circus performers taking part in the show include Hannah Kennedy – an aerialist who left a career working with disadvantaged children to run away and join the circus at the start of 2018, Chloe Jayne, who performs an act suspended high above the big top audience by her hair, and the breathtaking Wheel of Death performed by husband and wife team Thomas and Collette.
In addition, Salvatore Sambito will perform rope trapeze and a brand new act on aerial chains high in the roof of the tent.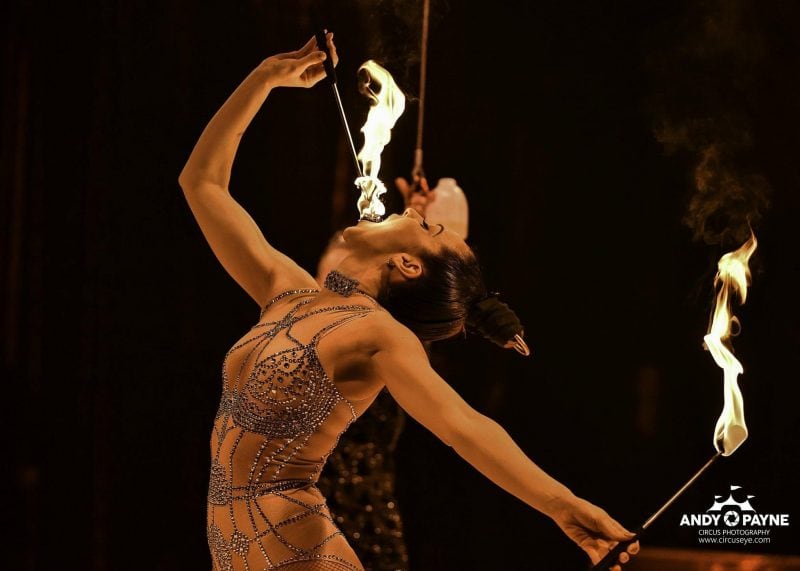 Joining the circus cast are a galaxy of star burlesque performers, including Cece Sinclair, who has featured in the 21st Century Burlesques poll as one of the UK's top 20 burlesque performers for the last three years.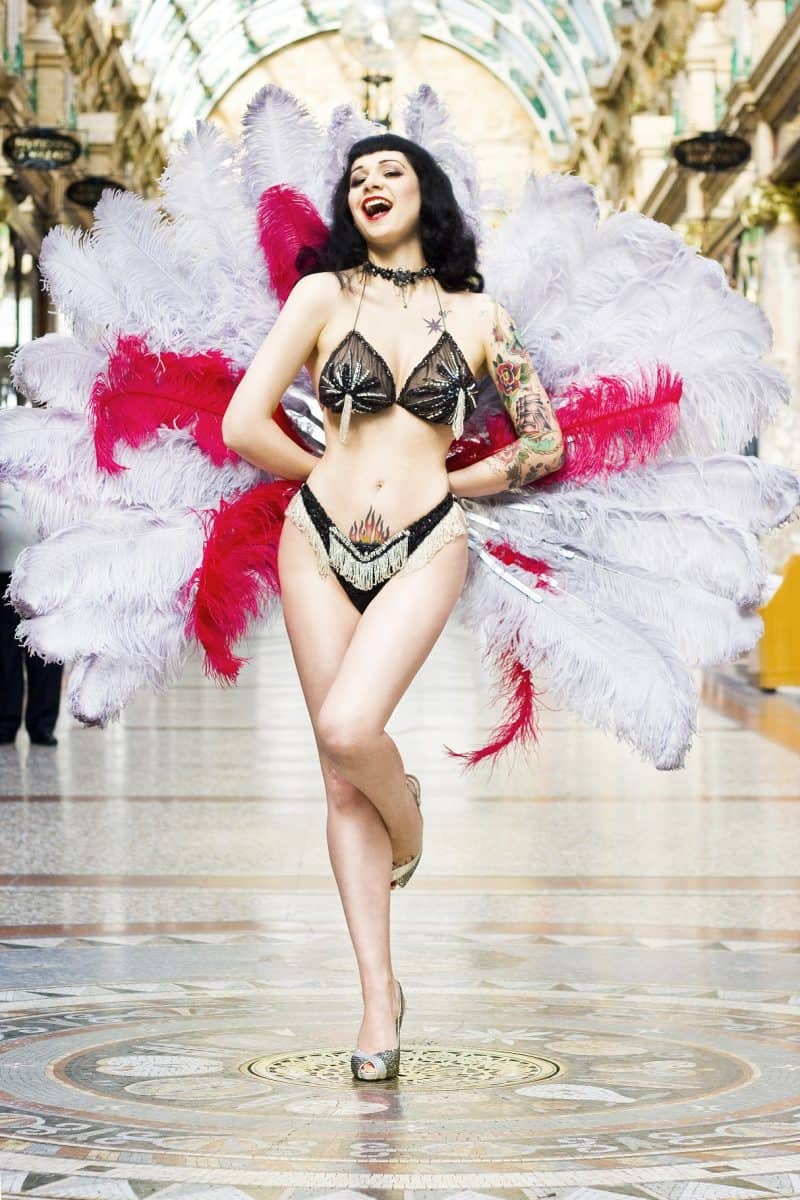 Anna Fur Laxis, who will be performing a new version of her signature Laxis of Evil axe-throwing striptease, whilst Liverpool-based Velma Von Bon Bon will bring "a touch of silliness and a dollop of smut"  to the show, and the winner of the title "Most Dazzling Dancer" at The Burlesque Hall of Fame in Las Vegas, Vicky Butterfly, will be bringing an act where she performs on a giant, mirrored, rocking moon (featured image).
The show will be hosted by Circus Ringmistress Angel Sallai and Heidi Bang Tidy.
Angel said "We have been having great fun in rehearsals playing with the good-cop; bad-cop dynamic. Having a Ringmistress and circus clown, working with a Burlesque compere and vaudevillian clown makes for some really hilarious opportunities too. Things we would never get away with in a family show. It's going to be a fabulous evening!"
Tickets for Big top Burlesque – For One Night Only at Odsal Stadium on Saturday 13 October are on sale now.
Photography: Andy Payne, Emily Byrom