Pioneering sound designer TREVOR MATHISON, whose credits include The Stuart Hall Project, Looking for Langston and Handsworth Songs, introduced a rare screening of early works by the Black Audio Film Collective. Words: VANESSA MUDD
Formed in Portsmouth in 1982 by John Akomfrah, Reece Auguiste, Edward George, Lina Gopaul, Avril Johnson, David Lawson and Trevor Mathison, the Black Audio Film Collective (BAFC) was based in East London from 1983 to 1998. Mathison describes it as his 'finishing school.' It is not difficult to see why.
Organised by Pavilion and the Leeds Black Film Club at Chapeltown's RJC Dance Studio, the chance to see Expeditions, one of the group's earliest collaborations, and Twilight City, made for Channel 4 in 1989, feels like a privilege.
Originally a slideshow presentation which utilised live manipulation of projectors and a tape machine, Expeditions is in two parts (subtitled Signs of Empire and Images of Nationality respectively) and has been digitised for today's event.
A series of provocative images gently morph, one into one another: brutal scenes from the slave trade, an incongruous Victorian abroad, dressed for high tea in the middle of Africa or India,  and patronising representations of any person who isn't white and British.
The pacing is deliberate, allowing plenty of time to absorb the messages and recognise the contrasting "truths" for what they are. Mathison's brooding soundscape digs deep into the psyche. The music is raw, shifting through the imperious rising strains of Wagner to thundering dub bass and music concrete.
The artist's signature is experimental, a DIY approximation of Stockhausen. Looping voices onto cassette, he creates densely hypnotic and immersive layers. He describes how he found one sound by sellotaping over the end of a galvanized lamp and affixing a contact microphone; slowing down the resultant recording, he achieved the low frequency he was after.
Motifs are layered, gels blend and merge:  found text and images from a selection of colonial travel works sourced in a Covent Garden bookshop, tight close ups on statues, monuments, the decorative facades and inscriptions on buildings.
These may stand proudly in our parks and cities, but as Mathison explains, the BAFC was interested in the 'other stories and symbolism' which could be taken from them. The collective sought to invoke new interpretations Mathison says. "Not all that we see is true." The BAFC was interested in audiences 'excavating ideas' for themselves.
In this respect, he calls the Albert Memorial in Kensington Gardens the monument that "keeps on giving" for its depiction of the four continents of Victoria's Empire. It reminds us how this country's wealth and power was built on the subjugation of other nations. When such traditions and pomp are lined up against the barbaric realities of slavery and invasion, the truth behind the Victorian Empire and Britain's brutal past is starkly exposed.
It's funny how the violence and pillage we ascribe to Viking raiders, we so rarely accept or apply to ourselves as a nation. Yet Britain's colonisation was an appalling, shameful chapter in our history.
It is impossible not to be conscious of the Windrush debacle currently playing out in Parliament, damaging thousands of lives; it is easy to suspect those in charge of handling immigration matters as having nineteenth century colonial maps tacked to their walls.
Do they even realise they're out of date?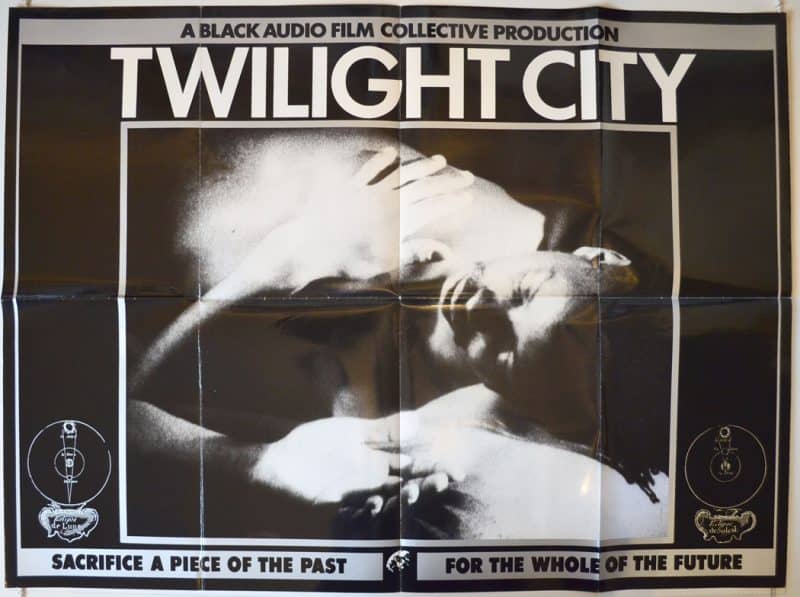 The documentary drama Twilight City, directed by Reece Auguiste, but featuring input from all of the BAFC, depicts London in the late 1980s. An unamed black woman writes a letter to her mother who has gone home to the Caribbean, but no longer feels as if she belongs there after so many years spent living in the Mother country. It is pertinent stuff.
Footage of London, often at night, is interspersed with deeply personal and insightful interviews with academics, writers and activists. The narrative concerns the placement of individuals, their sense (or lack of it) of belonging.
It remains achingly current: consider the approaching anniversary of the murder of Stephen Lawrence twenty five years ago; consider 'regeneration' and the blitzing and marginalization of poorer locals in favour of business developments. It is easy to feel like we have regressed back to the 80s.
Intelligent discussion within the film signposts the true cost of Thatcher's deregulation of the stock exchange and her callous open invite to businesses to purchase great swathes of London. References to communities ignored and then destroyed, the sudden burst of homeless people, the discussion of equality regardless of sexuality, race, wealth, etc. all are here in beautiful historic montage. Twilight City is a fascinating artefact.
All three films are fabulous. Everyone should seek them out. They are powerful, intelligent and so very important. It is appalling that they are still pertinent today: Grenfell Towers, threatened deportations, the rise of far right, gentrification…
In the Q&A which follows, Mathison references the great thinker Stuart Hall and wryly describes that period in the 80's as an "interesting time". Asked about the audience for such works, he replies, "Anyone." It doesn't matter if you agree, just that you are engaged.
It is wrong and depressing that these films still feel this prescient today, but how lucky we are to have them. We should push for a wider distribution. Here in a nutshell are cultural, valuable films, ones which can educate and hopefully mobilise us so that in another thirty year's time we can view them as historical rather than contemporary pieces…
Trevor Mathison is one half of Dub Morphology with artist Gary Stewart. More here.
Pavilion is a visual arts commissioning organisation in Leeds. More here.
For details of the Leeds Black Film Club, click here.
Review of Interwoven Histories Closing Event by VANESSA MUDD on theCV