Anyone who's been to a typical pub comedy night recently will know the acts are sometimes .. well .. not quite there. PROJECTORGRAM comedy from Leeds-based 2bACTING brings a new dimension to the standup experience, as RICHARD HORSMAN discovers.
It's great to see evolution in action. I'm not talking about "Günter" in the picture.
Just a few months ago, back in November, I saw the first demonstration of 2bActing's smartphone app that's designed to make theatre more relevant to the smartphone addicted generation. Then, it delivered a few pages of text roughly in time with the action on the stage.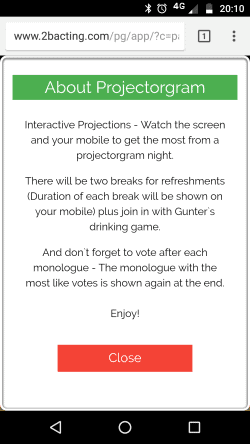 The latest version, as I saw last night at the Royal Park pub in Hyde Park, has moved on a bit.
At its most basic, a Projectorgram comedy night involves sitting in a pub with a few dozen other people. The acts, which are pre-recorded, are projected almost life size onto a big sheet in the centre of the 'stage'.
The interactive bit involves the opportunity to vote the performances up or down, read a bit about the performer you're seeing (and who wrote the material), and there are graphics and gifs that pop up on your phone in real time as the projection is screened.
There's also a so-bad-it's-good drinking game in the interval led by a German-ish character in lederhosen. You could say he's virtually a stereotype.
A cynic may conclude the experience is just watching telly.
On the other hand .. I saw twelve acts in the space of two and a bit hours. No promoter could afford such a bill of talent on a single night. Some were brilliant, other less so. With such a range, there's going to be one that tickles your fancy – and you can vote for it, there and then. Just like Britain's Got Talent.
Every performer has the chance to get the delivery just right. In theory at least, there should be no off nights because only successful takes are screened. If the secret of comedy is timing, the performer has no chance to react, but there was still plenty of human interaction in that heckles from the live audience generated plenty of laughs from others. As you'd expect on a real standup night.
Just like any night out at a comedy club, being part of a live audience, sharing their reactions, is part of the experience. As is the availability of good beer.
The actors themselves have mixed feelings about the technique. One told me he preferred the interaction with a live audience whilst another said she preferred working her act to camera, without the bearpit atmosphere of a night at the Glasgow Empire.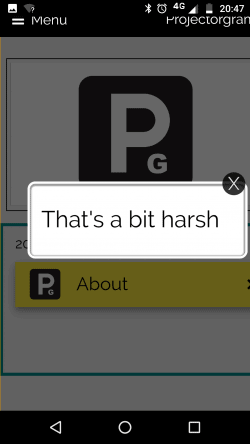 Will Projectorgram replace standup? Of course not. Would I prefer it to a live evening of comedy monologues, such as those staged recently by Leeds Pub Theatre? Probably not. But it's certainly an exciting addition to Leeds' comedy scene, which could allow pubs out of the centre who are willing to vary the offering of quiz nights and karaoke with something a bit different.
And of course, the technology is continuing to develop in the hands of 2bActing's David Jones and his talented and dedicated team.
"I'm not a hologram" are the first words from David's virtual compere, his image flapping slightly on a sheet suspended between two pillars,
"Yet".
Projectorgram's Comedy Monologues got their first outing last night at the Royal Park in Hyde Park, Leeds. Details of future shows and other projects can be found on 2bActing's website.
Screenshots: 2bActing's "In View" app