So much of theatre is about creating believable locations for an audience within a building. REAR VIEW from IOU THEATRE inverts that equation, transporting audiences to real life locations on a special bus. RICHARD HORSMAN climbs aboard.
We see people all the time .. but so often we don't observe closely to see them as they really are. For that reason, Rear View from IOU Theatre starts in a life drawing class.
The audience is escorted indoors  from the splendid surroundings of the refurbished Piece Hall to stand in front of an easel and observe a (clothed) model. A tutor puts us through our paces. Observe. Measure. Draw. Look, look and look again.
The life model is passive, we know nothing of her as a person until the show's co-creator Jemima Foxtrot breaks the pose and starts telling her story, a tale that continues as we are led out of the room and onto the specially adapted bus that's the unique element of this experience.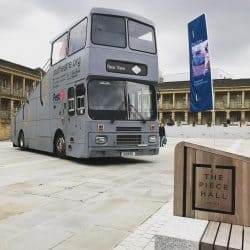 A converted double decker seats about 30 people strapped into a steeply raked mobile grandstand. Each seat is equipped with headphones, and as the bus pulls out of the Piece Hall an ambient soundtrack renders the familiar streets almost filmic.
Life as observed from moving transport has a long tradition in writing, from the Whitsun Weddings to The Girl on the Train (coming soon to West Yorkshire Playhouse).
Here, we're taken to a number of locations where the story of the narrator's life unfolds.
It's probably better not to know exactly where in advance, so no spoilers except to say that Halifax has many remarkable features, buildings and landscapes which are framed and presented by well chosen viewpoints.
Expect the unexpected throughout the experience, and be aware that nothing happens by chance – ahead of us (and out of sight, because we're travelling backwards) a production crew is making sure everything appears just where and when it should do as the model's story unfolds.
Despite this precision timing, don't expect a tight narrative. It's poetry, not dialogue. The line "A post box is the filament of a lightbulb in another place" isn't exactly naturalistic, but it fits the context. Go with the flow.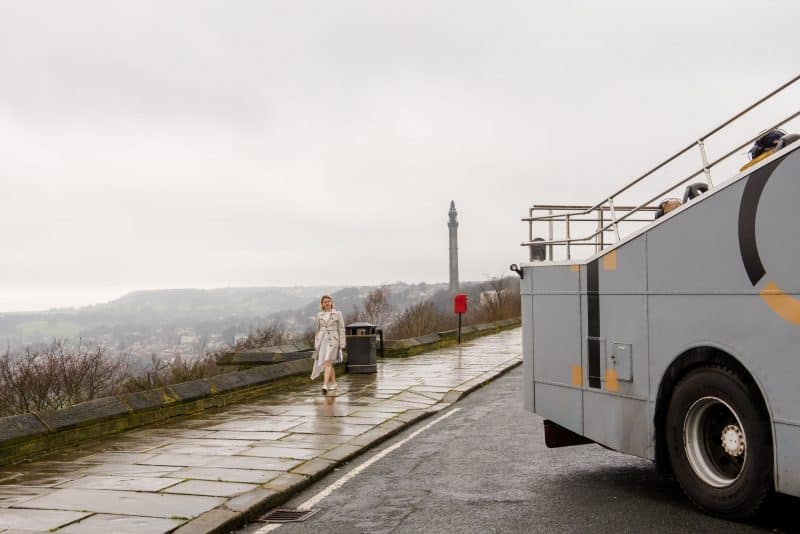 It's a performance that "asks us to revisit the choices we made, and reflect on how a place can shape our lives". Words, landscapes and objects blend into 'sonic vignettes' (created by Monty Adkins and Susie Green) that combine the musical score and the actor's live words with the real location ambience of birdsong, or passing people and traffic.
IOU has a 40-year tradition of creating work that combines many art forms presented in unusual indoor and outdoor spaces. This latest experience has been devised and directed by David Wheeler, Artistic Director at IOU, who says the project
"has taken many years to develop, and has been an idea waiting to happen for some time. I'm really excited about seeing how audiences will engage with the work and how they respond to the unexpected and unpredictable nature of Rear View."
The show is staged hourly on performance days, and to cope with the demanding schedule Jemima Foxtrot alternates modelling and performance duties with co-writer and creator Cecilia Knapp. Each brings their own interpretation to the part, and I'd certainly be tempted to go again to see what new dimension Cecilia brings to the production.
Rear View is just about sold out today (Saturday 14 April – call NOW 01422 349 422 for availability) but limited tickets are available for tomorrow's performances at the Halifax Piece Hall (Sunday 15 April) at 11am, 12pm, 2pm, 3pm, 5pm & 6pm.
A revised version of Rear View, tailored for the specific locations, runs from 5-8 May at Brighton Festival
Then back north 2-5 August for Stockton International Riverside Festival, Stockton-on-Tees
Also 26-29 September Gravity Fields Festival, Grantham