Carl Davis | Credit : Richard Cannon
Celebrated composer and conductor CARL DAVIS CBE talks to NEIL MUDD about Wings (the silent film classic, not the group) and the spiritual connection between New York and Huddersfield… 
Growing up in New York and listening amongst other things to classical music on the radio, Carl Davis CBE encountered Sir Malcolm Sargent conducting the Huddersfield Choral Society in Handel's Messiah. Thereafter, the three have been forever fused in his imagination.
"This whole thing – Malcolm Sargent, The Messiah, Huddersfield – has been in my mind since childhood," Davis says, "and I keep thinking there is a funny kind of circle being drawn: I'm going back to Huddersfield."
Opening this year's Kirklees Concert Season at Huddersfield Town Hall, Davis conducts the Orchestra of Opera North in a concert screening of his own score for the silent film Wings to commemorate the joint centenary of the Armistice and the formation of the RAF.
"It's an honour to be able to mark (it) in this way," he says.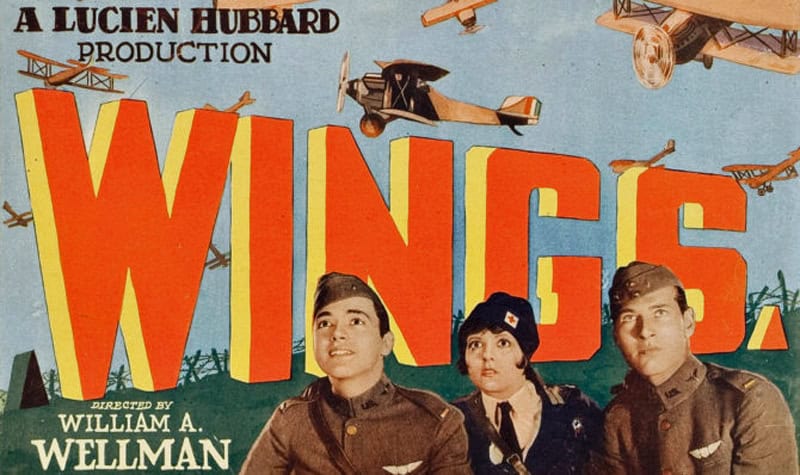 A brutally realistic war movie about two fighter pilots on the Westen Front in France, Wings won the very first Oscar for Best Picture in 1929. Its larger than life director William A. Wellman was himself a decorated flying ace.
It is a war film with a love story grafted onto it in the form of Paramount's most bankable star at the time, Clara Bow.
Cast somewhat against type as a virtuous ambulance driver, the starlet is reported to have dismissed the movie as 'a man's picture' and her role in it as 'just the whipped cream on top of the pie.'
Filming took a gruelling nine months to complete, during which the intractable Wellman insisted on a commitment to authenticity from his actors and crew – Charles Rogers had to learn to fly a plane for his role, for example – which these days would have brokers scurrying to the small print in search of a get-out clause.
"The aerial footage is absolutely stunning," says Davis. "They had the entire American Air Force and they did all the shooting with actual pilots, actual planes of the time. They're all stuck together with, you know, bubble-gum and rubber bands. It's truly amazing. It's a thrill movie – so scary."
Wings also features Gary Cooper in an early screen role, though if you blink you may miss him.  "He only has a small part in one reel and then he's [*spoiler alert*] shot down rather quickly. He must have been in his early twenties, but he's a stunning presence."
Wellman's intense commitment to realism, his prosaic depiction of male and female nudity, coupled with a particularly intimate closing kiss between the two male leads, makes for a remarkable film sensibility.
"The ending is so moving," says Davis, "absolutely unbearable, in a class of its own."
When preparing a score, Davis compiles a book of shots and edits before he writes any music. He creates a sort of transcript, he says: "I'm really looking at the film in enormous detail – close up: Gary Cooper; door opens: it's Clara Bow; that sort of stuff – and then I compose from my book. Of course it can be revised or changed, but as a first go…"
Davis completed his score for Wings in the early nineties, introduced to it whilst working on Hollywood, Kevin Brownlow's landmark miniseries for Thames Television.
The two would later collaborate on an astonishing job of restoration for the BFI of Abel Gance's bravura five hour long masterpiece Napoleon, screened at LIFF two years ago.
"It was a bold choice," says Davis of the experience, "but it's very expensive to mount and very long to play. Oddly enough, the Orchestra of Opera North, who in recent years has done the complete Ring Cycle, would probably find (Wings) a piece of cake."
At the time of release, big Hollywood productions were often treated to lavish, specially commissioned orchestral accompaniments. Rarely performed due to the prohibitive cost of mounting them, these have largely been lost, thus lending today's composers a free hand.
Some like Neil Brand, a close friend of Davis, favour a semi improvised approach, though Davis himself has never been tempted: "It's not my bag," he says.
Instead, whether it's a new score for King Vidor's The Crowd, Victor Sjöström's The Wind or the comedy films of Charlie Chaplin, each composition is meticulously worked out.
"I had a chance to recreate Chaplin's own scores for City Lights, The Gold Rush and Modern Times, so I can do them live," Davis says. "They are stunning and just work as contemporary films; there really is no barrier at all."
"I've also explored the work of Harold Lloyd and my next performance in England is going to be a wonderful Buster Keaton film called Steamboat Bill, Jnr. [Another one to bring insurance agents out in a cold sweat – Ed.] at the Palladium. I think that's going to be hysterical. It's gorgeous, just gorgeous."
Of silent films he says, "It's a pity because hundreds and hundreds have been lost, but there are quite a few I still hanker for, certainly among European films – the French, German, Italian repertoire is marvellous: there are some wonderful things – so there we go, there's no end."
It is a rare privilege to see Wings at the best or times – until 1992 it was considered 'lost;' rarer still to see it with its new score performed by a full orchestra and conducted by the composer himself.
Wellman dedicated the film 'to those young warriors of the sky whose wings are folded about them forever;' echoing him, Davis says: "We owe those who fought and gave their lives a huge a debt of thanks – they will always be remembered."
Carl Davis CBE conducts the Orchestra of Opera North : Wings with live score (Thursday 18 October, 7.00pm) + FREE Talking Music event from 6.10pm.  Huddersfield Town Hall | Box Office: 01484 225755 | Online: kirkleestownhalls.co.uk