Eulogy | Errol James MBE and JP  
Eulogy at Leeds Central Library brings together images of the pioneering Jamaicans who settled in Leeds during the 1940's-60's with Paul Floyd Blake's contemporary portraits of their descendants. Review: VANESSA MUDD.
Appropriately, the Eulogy exhibition opened at Leeds Central Library on 1st August – Emancipation Day in Jamaica and Yorkshire Day here – linking two communities in a neat reminder about strength in diversity.
Featuring the lives of over seventy men and women, Eulogy celebrates the significant contribution of the Jamaican community as a whole to the city of Leeds. Speaking at the launch, the show's curator Susan Pitter summed up the collective attitude as being one of: "faith, resilience and belief – whatever the belief is."
Also speaking, His Excellency the Jamaican High Commissioner Seth George Ramocan reflected that Eulogy captures 'the essence of life's accomplishments,' adding that the uniqueness of the project lies in its 'holistic capturing of a person's life and essential elements.'
His Excellency Seth George Ramocan CD, High Commissioner of Jamaica addresses guests at the Eulogy Project Exhibition launch. (Photo: David Lindsay)
The exhibition represents a huge investment in terms of hours spent, mostly by volunteers, compiling and curating personal effects and documents in order to retell the stories of ordinary lives made extraordinary. It is a legacy in which all must take pride, but especially the families and descendants without whom Eulogy would not have been possible.
The first Jamaican in the exhibition settled in Leeds around 1859. Life on arrival wasn't easy and there is no shying away from the racism such pioneering individuals encountered. Persistent negatives are acknowledged in the exhibition's time line, right up to the recent shameful Windrush scandal, but the focus is on celebrating achievements not highlighting structural racism.
The valuable contribution Jamaicans have made to Leeds is clear, creating alternative support structures against a backdrop of racial prejudice and non co-operation. From churches (those in Leeds introduced a distinctly un-Christian unofficial colour bar) to housing associations, law centres, pre-school provision, and even a newspaper, Leeds has much to be grateful for. (Londoners owe a debt of thanks to the city's annual West Indian Carnival as well btw).
There is a fabulous richness to the exhibition. Part of the display is dedicated to those who fought in both World Wars with such items as RAF uniforms and kit. Amongst the personal documentation there are many beautiful photographs and poignant funeral sheets. We're also treated to the all important paraffin heater and lamp, its warmth essential for coping with the cold dark Leeds weather.
There are several firsts – ordinary people striving extraordinarily hard to gain access to roles white people took for granted (people like 'Vi' Francis, the city's first black bus conductor). Names recognised in the Queen's Honours List are brought into the spotlight, but to find out about those you will need to see the exhibition for yourself.
Eulogy | Delores 'Vi' Francis came from Jamaica in 1954 and would become the city's first black female bus conductor (Fraser's Studio, Jamaica) | Patrick Francis, son of Delores Vi Francis (Paul Floyd Blake)
The show weaves together stories, drawing the sense and strength of a community from the essence of its individuals. Moving testimonials about how loved ones would like to be remembered sit alongside reflections on what children have learned from their elders that are guaranteed to dampen your eyes.
The country should apologise for its crimes and misdemeanours in the name of Empire, but Eulogy is about determination, achievement, unity and pride. It is the legacy the Jamaican community rightly wants seen. Everyone should see it and think about how to move forward.
The exhibition closes on Sunday 8th September. Plans to find it a permanent home are underway. With three universities, each proudly proclaiming their inclusiveness and multiculturalism, one solution could be a mini-tour of campuses. How better to inspire new students preparing to descend on the city in the coming weeks?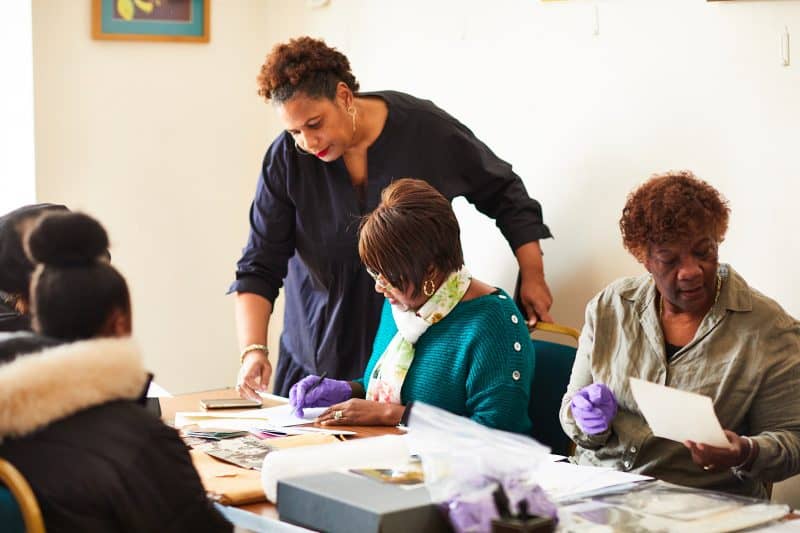 Eulogy Director and Curator Susan Pitter with volunteers at one of four collection events held to gather family keepsakes of first generation Jamaicans (David Lindsay)
Everyone should follow Susan Pitter's advice: "See the exhibition, then come back and see it again so you can appreciate it, so you can bring a young person to see it and so you can bring someone who doesn't know anything about it."
Eulogy is at Room 700 in Leeds Central Library until Sunday 8th September. Details here.
The project was organised by the Jamaica Society Leeds. For more information click here.
Interview with photographer Olivia Hemingway