The Doctor will see you now… Jodie Whittaker (© Olivia Hemingway)
OLIVIA HEMINGWAY's intimate and exquisitely framed portraits have been exhibited around the world. Yet despite her international reputation, the photographer's roots are somewhat nearer to home. Words: NEIL MUDD
Olivia Hemingway knows a thing or two about the Yorkshire character. A planned shoot in Huddersfield's legendary Caledonian cafe fell through when its owners refused to stay open beyond closing time.
"I told them it was for Sir Patrick Stewart, but they said they didn't care who it was," laughs Olivia in her distinctive West Yorkshire brogue. "They said they closed at four and, even if it was quarter past, the shutters would be up! You have to respect that."
The portrait of Sir Patrick is one of five works by Olivia which features in Yorkshire! Achievement, Grit and Controversy at the National Trust's Beningbrough Hall. Collecting twenty five works of sculpture, painting, photography and printmaking across three rooms, the show attempts to sketch the character of a county and its people.
As a photographer Olivia enjoys an international reputation, but her roots are firmly in God's Own County. "I think it's clear from my accent where I'm from. I lived in London for fifteen years, so I have this sense of belonging there as well, (but) Huddersfield is my home – I was born there – and it's where I come back to."
She never felt stifled growing up in Huddersfield, she says. In fact she was in two minds about moving to London after finishing her photography course at university. Her interest in photography came at quite a young age and her first conscious experience of it reveals an uncanny sense for the poignant and dramatic.
"When I was at school I had a point and shoot camera and I took a photograph of a tree that was dying in the centre of other trees that were still alive," she says. "My mum had told me that a neighbour had put a ring around the base of the tree to make it die. I remember thinking it was a shame, but that's the first time I thought of a photograph as not just a snapshot for the album."
I tell her a true story about actress Jodie Whittaker being advised by a school careers officer not to waste time trying to become an actress. By contrast, Olivia's tutors at Highfield College couldn't have been more encouraging. "I was lucky. (They) spotted quite quickly that photography was a good way for me to go creatively."
"The work I was doing tended to be quite experimental. I remember photographing a guy dressed in drag walking through the town centre. He was called Richard and I photographed him in greasy spoon cafes surrounded by elderly people. It was really fun and quite camp being in Huddersfield town centre and seeing people's heads turning. That struck a chord." (Years later, she would photograph Whittaker in the same 4 Cousins café).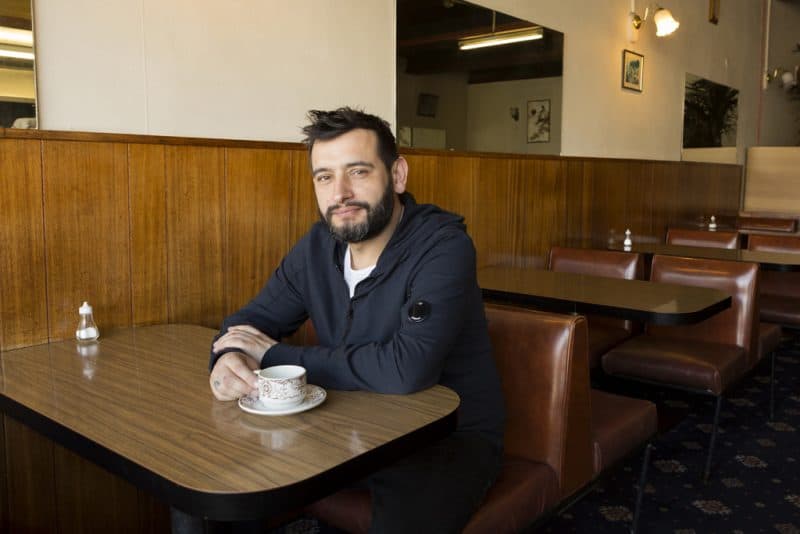 Dan Cadan, HRI series (© Olivia Hemingway)
In fact, cafés and eateries figure heavily in the photographer's exquisitely framed, disarmingly candid portraits like the one of writer and director Dan Cadan in the now permanently closed Caledonian. "Apparently [Observer photographer] Jane Bown used to sit and have a cup of tea with people on her shoots. That's what I do without really thinking about it. It comes naturally because it's the first thing we do in Yorkshire, isn't it? Stick the kettle on!"
"I try to give people a little bit of distance when I'm photographing them. I aim to capture people mid-thought or in a pose that feels natural to them. Lena Headey is a very strong presence; she turned up with not a lot of make-up on (and) said she'd just thrown something on and jumped in the car. I really liked that."
All of the images (including Headey) chosen for the Yorkshire… exhibition at Beningbrough Hall are drawn from Olivia's deeply personal collaboration with the SHARP Agency in response to the threatened closure of Huddersfield's Royal Infirmary (HRI).
"It's quite a recognisable building for people in Huddersfield," she says, "and obviously it's very important. It's an ongoing battle to keep it open. I find it really commendable when people are willing to speak up when they think something is wrong, which is why I was blown away by how many people agreed to take part and be interviewed." As well as some headline names, the series also features the voices of local artists and writers such as composer Benson Taylor and musician Georgia Harrup.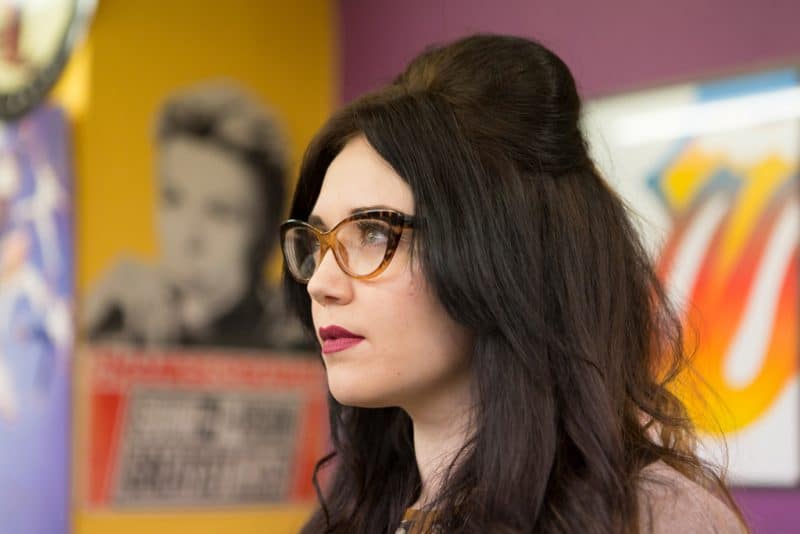 Georgia Harrup, HRI series (© Olivia Hemingway)
Jodie Whittaker's involvement was all a bit last minute, so much so that Olivia's mother ended up performing stand-in duties. "I've a photo of Mum in that tunnel. She's got similar length hair to Jodie Whittaker (so) she's looking really windswept." The portrait is eerily prescient; the intersecting lines of the 60s wall mural backdrop, coupled with the actress's slightly lopsided smile, could be a still from the seventies title sequence for Dr Who.
"I didn't know at that point she was the new Doctor," Olivia says. "She hadn't told anybody. We were talking about roles she'd played and we were laughing about how a lot of her roles are quite downbeat. She joked that she needed to do a comedy so she could stop depressing her family."
The portraits chosen by Beningbrough Hall reveal Olivia's fascination with telling stories of everyday life. "It's not about photographing famous people. It just so happens for the HRI campaign, I felt it would have a bigger impact to have well-known people who have a strong connection to Huddersfield."
Objects also tell stories in Olivia's work: now on display in Huddersfield Art Gallery, She Took to Flight, shot in macro on a Hasselblad, depicts a tiny translucent bird on a bedside table in the home of an art collector. Her next commission (for The Barbican) is another series of objects, this time for use in an anthology by poet and writer Michael Rosen.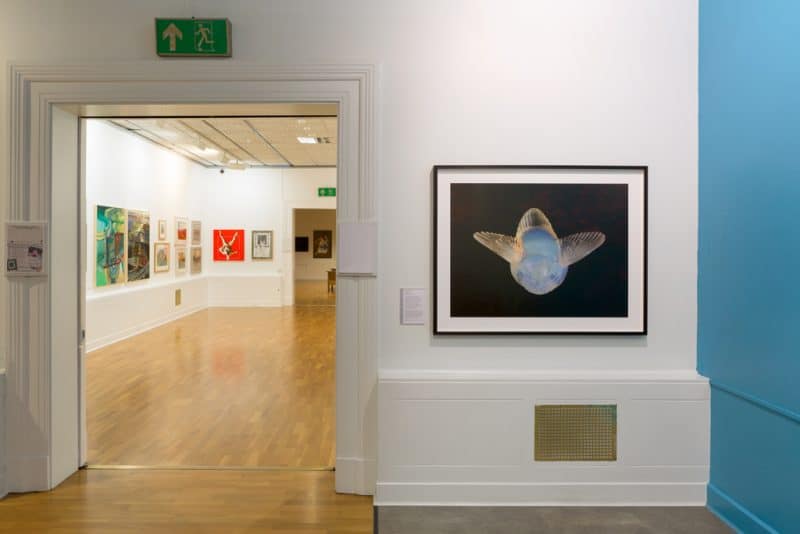 She Took to Flight, Huddersfield Art Gallery (© Olivia Hemingway)
We talk about inspirations. Olivia loves artist Edward Hopper. I ask about photographer Don McCullin, still going strong at 83, who it seems to me shares a similar joy in finding stories to tell. "Don McCullin's fascinating isn't he? He's massively inspiring. I photographed him at the Tate actually. He did a talk with young people about his work and I took some photographs of him which was such a treat. He's an amazing man."
"Finding stories: that's such an interesting way of putting it. I'm not just photographing things to make beautiful images. I would hope my portraits of well-known people and ordinary people have equal impact for their own reasons. There is a thread running through them – the social conscience if you like – which is the relationship between people and places. I like finding the extraordinary in the ordinary."
Yorkshire! Achievement, Grit and Controversy is at Beningbrough Hall, Gallery and Gardens until 3rd November 2019. Click here for details.
Follow Olivia on Instagram, Facebook and Twitter
Eulogy at Leeds Central Library