The first ever Bradford Fringe Festival is in full swing over the summer at venues across the city
Bradford gets it's own fringe festival this summer. LAURA BROOKS, founder and Director of BFF spoke to CATHERINE SIMES about what we can look forward to.
The city of Bradford now has so many festivals that it has earned its own grassroots Fringe Festival.
I had heard of the Bradford Fringe Festival, but I didn't know much about it until Sophie Powell, the BFF Production Manager, thrust a copy of the programme into my hands at Bread + Roses cafe on North Parade (one of the BFF venues).
One of the things I hear a lot in Bradford is that people don't know what's going on in the city. It's almost a bit hidden, underground. So it's great to have so many events laid out in one booklet. There's something about a paper copy of a programme that grabs your attention. Flicking through the pages, my "oooh that looks interesting" reaction is, Laura says, exactly what the festival's organisers were hoping for.
Later I spoke to passionate Bradford-lass, founder and Director of BFF, Laura Brooks, about the first ever BFF and plans for the future.
The BFF was co-founded by a group of women who met in and around Bradford's comedy scene. It's a women-led, open-access, mixed arts festival, whose aim is to promote and advertise Bradford's burgeoning cultural scene, celebrating the city of Bradford and shouting about it from the rooftops.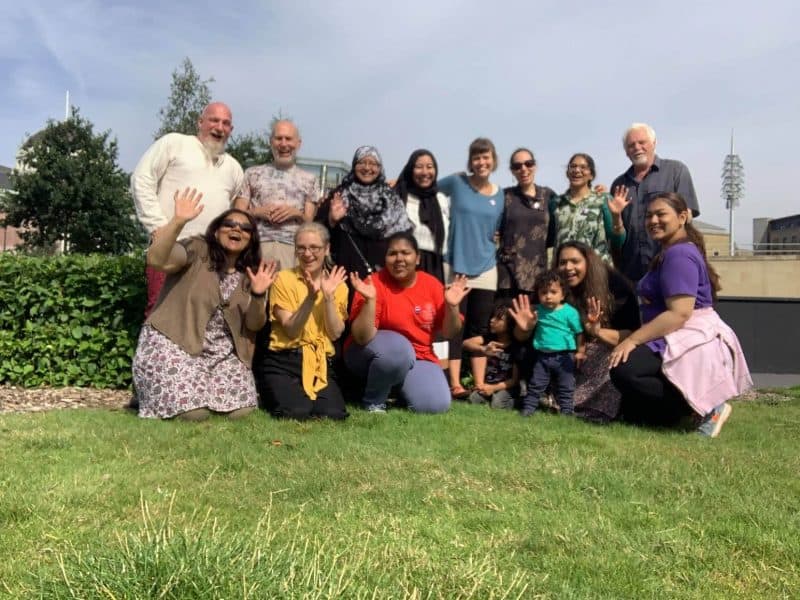 Laura explained, "We wanted to bring together the great things that are going on in Bradford and thought about what we could do to help. What was needed was more space for local performers and for events to be advertised more widely."
And so the first Bradford Fringe Festival was born, with over 70+ events across Bradford city centre, from poetry to parties, films and theatre, laughter and dream-job workshops, to choirs and comedy, open mike nights and even a "death cafe".
"We want the BFF to be very Bradford and we're really keen to make the festival accessible to people who might not think this is something for them" explained Laura.
Running since June, the BFF's summer programme extends to the beginning of September – if you've missed some of the events, there are repeats later this month. Just this next week, there's an animal extinction re-making workshop, Horton Community Farm Day, 'Dragford' party, family comedy improvisation show and a lipsync battle.
Many events are free or Pay as You Feel. "The response so far has been amazing" said Laura. The recent performance of A Mighty Fall from Grace telling the story of Bradford Bulls' decline and male mental health held at Sunbridge Wells was one of the best supported events so far. Audiences have been growing throughout the summer and Laura is clearly delighted that so many people are coming along and responding so positively.
"We want to create a shared experience of stories and make connections between people across the city. We want to highlight events that are already happening and encourage people to go along and take part."
Another success has been the Bradford Friendship Choir, which saw its regular numbers double as a result of being featured in the BFF programme.
The festival's venues are as diverse as the performances themselves, with cafes, pubs, theatres and Bradford's public spaces all being used to host shows and workshops.
"We want to give a platform to Bradford-based artists and for more people to access arts and cultural activity. We want this to happen right in the city of Bradford with more people coming to take part in activities in the city centre".
It's an amazing effort and Laura and her fellow BFF founders: Artistic Director, Katie Mahon of Bloomin' Buds Theatre Company; Social Media Manager, actress, writer and producer Shazia Bibi; Volunteer Coordinator and independent mental health advocate Sharleen Shaha; and BFF Production Manager and community arts project manager Sophie Powell can be found at many of the events, coordinating and helping out. With no funding other than crowdfunded donations and some sponsorship, Laura says they are all bringing a different skill set to the team, "we support each other".
The BFF are currently at the Edinburgh Festival on the hunt for new plays, family events and comedy shows to bring back to Bradford. Plans are underway to continue the Fringe throughout the autumn and into 2020. An event was held in July to start the process of sharing ideas and discovering new shows for the autumn season entitled "Frightening Fringe". Email bradfordfringe@gmail.com for details of how to get involved, or with your suggestions.
BFF are passionate advocates of community engagement and BFF will be working with local community centres and schools across the city in the coming months. With Bradford's bid to be the UK's City of Culture in 2025, it's vital that Bradfordians are as involved and onboard as much, and as early, as possible and that the bid and its success is rooted in Bradford's communities.
For more information about the events throughout August and early September visit the BFF website: https://bradfordfringe.co.uk/, Facebook page: https://www.facebook.com/bdfringe/ or Twitter https://twitter.com/BradfordFringe