A new decade, a new challenge. Phoenix Dance brings us Black Waters; a deeply poignant non-linear narrative highlighting connections and the lingering aftereffects of the British Empire and colonialism. The world premier at Leeds Playhouse on 12th February promises a beautiful and challenging aesthetic which highlights the significance of collaboration and connection. These connections and challenges are exemplified by the collaboration of three choreographers; Phoenix Dance Theatre's Artistic Director, Sharon Watson, and the Artistic Directors of Kolkata-based Rhythmosaic, Shambik Ghose and Dr Mitul Sengupta. Interview by Vanessa Mudd.
When I meet all three during the rehearsal phase, they laugh as Shambik describes this first collaboration as "A pleasurable conflict". Mitul emphasises the connections it brings, "It's wonderful to know about a different process. When you are working on your own you just know one pathway but there are a hundred pathways, it's about finding out the similarities and dissimilarities. There are various processes, ways of movement and images which are definitely dissimilar, you have to find the point where it can come together – that's collaboration."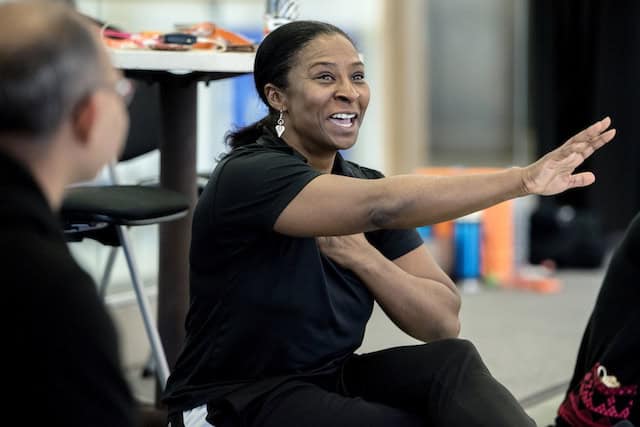 Sharon agrees adding that it pushes the creative process, "It's not necessarily about where you would ordinarily go but about how the bigger picture is working. You have to relinquish something to gain something; so by standing back that's exactly what you're doing at times."
The collaboration highlights connections; how do their different dance specialisms blend? Shambik gives credit to Sharon, "We give her loads of material and she knows that this is the thing, really this is the distinctive point of our work." Mitul develops this idea, "It's not just a fusion of steps, but it's a fusion of a whole journey. The cultural practices are so varied and different but we are trying to find a line where it will be one kind of a projection. So it's not like you can see a little bit of the Indian tradition here, some jazz there and contemporary dance here. It's an overall story and you will see all the elements."
"And all credit to the dancers" says Sharon, "they're not interested in the separation of the technical works, they're not interested in keeping it in isolation and they're far too talented to be satisfied with that. They take this on board and each one of them, as individuals, takes it and nurtures it. I think that's also a part of us as choreographers, we're absorbing what the dancers give back to us, things that perhaps we would not have seen before. So actually as well as the three of us creating, you have a company of ten dancers also adding to the mix, so it is very rich."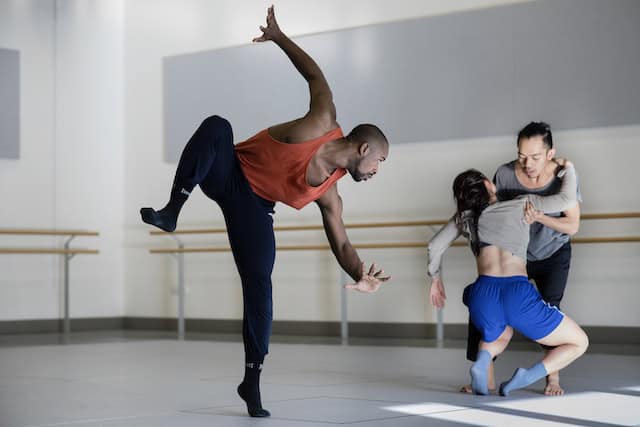 "Yes, very rich" agrees Shambik, "you'll find the collaboration here is the thing. It's not like what happens in some collaboration, where it's a cut and paste. This – it's a whole, but you'll definitely find that you can say, ok this is from this culture (etc) and that is the beauty of it."
The production is unique; I wonder how they got to this point. "The collaboration came first, via an external link from Leeds Beckett University which brought us together. That conversation emerged into opportunities of what could potentially happen. Then we had to find content which was meaningful for all parties."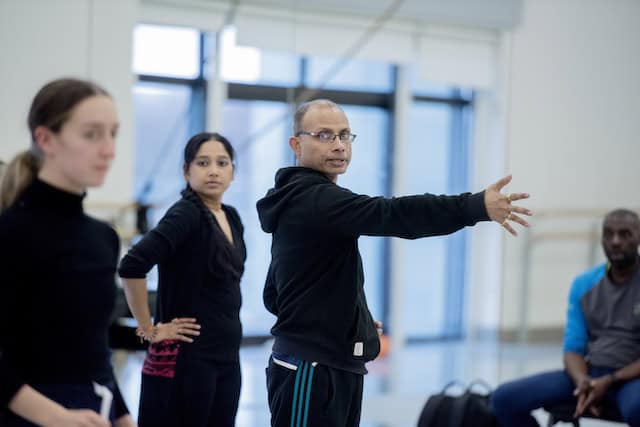 That meaningful content is the combination of two colonial stories connecting people across the planet and directly to the British Empire. It's challenging and very pertinent for our time. It skilfully links the tragedy of the Zong, where insurance money ranked higher than the lives of slaves and the Kala Pani prison, used by British colonial forces to incarcerate Indian freedom fighters.
The focus on multiculturalism, fragmented identities and the ongoing influence of the Empire is relevant to us all, as Sharon explains. "Looking at the society we live in today – you open Twitter and see this negativity around displacement, race, gender, culture, all the things people have an affinity with and an opinion on. Even though this is now many hundreds of years later, it's like we're reliving some of that history. You go through an emotional stage where you think you can probably empathise with what was happening back then, even though clearly it's centuries apart. It does make you feel a sense of pride – in that we came through this, as people we survived this. But then, how many hundreds of years later on are we and we're still fighting these challenges and some are still making people feel uncomfortable about who they are and what they can do.
When you're working through that in the studio you can sometimes take that emotional journey and question, whether you are doing the right thing. Then you keep going, you build on it, you really do want the audience to go 'Damn I really feel something from this.' because of course we can't relive that history, but look where we are today."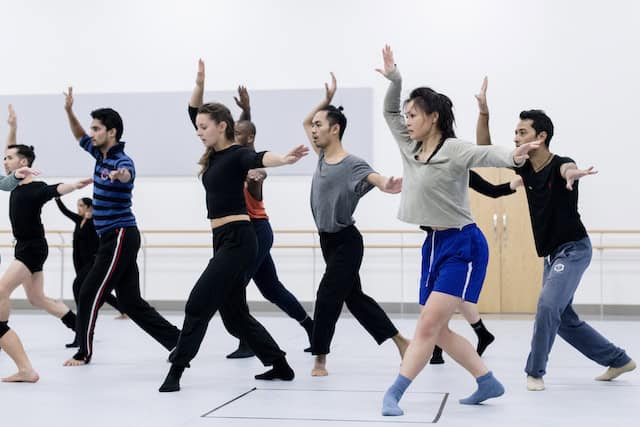 I ask them how they convert such content, that's rooted in this depth of significant and emotive history, into dance? It begins with information and knowledge for all Sharon explains. "We spend time feeding the dancers information, and taking that journey. Some of them may well have a connection somewhere down the line, in their family heritage. Some may need to read about it, to find something themselves that has put them in that place emotionally. Whether that's a fear, or a need, sometimes they have to dig a little deeper to find out how they can pull that through a physical emotion. That's what we grab hold of and by grabbing hold of that, we have a language that's useable for us. The dancers can then divorce themselves from the emotional challenge and go to the physical. But that journey that we have to go through is not an easy one."
Mitul expands on this, "They have to go through an emotional journey. You cannot bring exactly what happened, it's in the imagination, it's a psychological journey. Emotions are being projected – what they feel about that moment, that journey, it is their own creation that is coming naturally from their body." Shambik adds, "For me the conflict that is happening (internally) that is the real sense of how they put it in the dance. And for strong work, and for choreographers like Sharon and us it has to be real, it cannot be a superficial thing."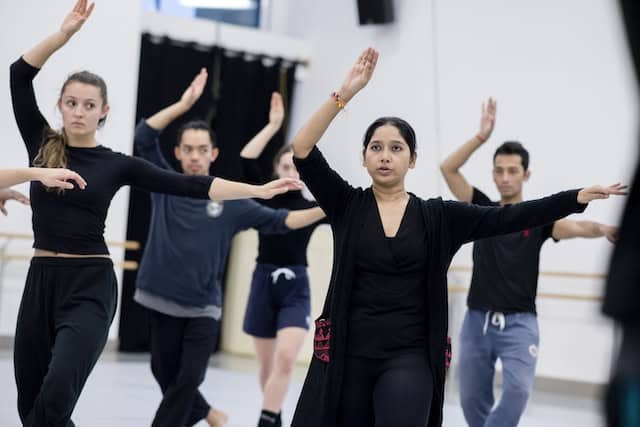 Sharon, "That's the bit for me that is the challenge, when the dancers present and in that moment you know it's real. It's like growing a plant- you take the flower at the end and that's the beauty of what you have. That safe process has been happening in the studio, this development time goes into the creative and now it's time to hone in to the beauty of what it is we're trying to achieve."
What do they hope audiences will take from this production? For Shambik it's a story of life in different time zones, "Like Snapshots – you take one moment from those times and you might relate it to today. It's presented in a very unique way, a very different kind of narrative, audiences will take their own moments from there and that is the interesting part of this work."
Sharon, "For me, because we're not telling a linear story, what we want them to take away from this might just be a very small part of an emotional journey. Perhaps enough for people to say, I'm going to find out about that story and go and research this. I hope they will say 'Wow I didn't know anything about this' and ask 'What really happened?'
You could tell both of these stories independently and they'd have a huge impact. Although we don't tell a linear narrative, it still allows people to investigate ideas themselves and find out about those challenges; why colonialism is the way it is and why we chose to do this piece. I hope audiences will see why we've got an ongoing Heritage project and why we are going into schools. For me that's the important aspect of it. To see a show that is beautiful, emotive, and has an underlying message to it. All of that."