Digging Deep curator NORMA GREGORY at the show launch (Photos courtesy of Nottingham News Centre Archives)
The National Coal Mining Museum's Digging Deep: Coal Miners of African Caribbean Heritage is a visually stunning and captivating exhibition. Its curator, historian NORMA GREGORY, talks to VANESSA MUDD.
As a child growing up in a mining area, Norma Gregory was used to seeing colliery machinery, but didn't really understand what it was doing. A chance conversation led her to seek out the hidden stories of black miners.
The result is Digging Deep: Coal Miners of African Caribbean Heritage, an exhibition at the National Coal Mining Museum near Wakefield. Combining unique historical artefacts with previously unseen photos for a modern take on coal, it has proved so popular with visitors that its run has been extended until March.
"Mining has always been around me," explains Norma, a former English teacher and director of Nottingham News Centre. "I have friends involved in the strike who told me what happened. I listened to them talking about it, and I watched it on TV. I was quite shocked by it without really understanding how close I was to it all."
While writing her account of pioneering men and women, Jamaicans in Nottingham: Narratives and Reflections (Hansib Publications, 2015), Norma discovered her father's cousin had been a miner: "I interviewed him for the book and he dropped in that he was a miner for 28 years! This was a great shock; I didn't know any of this."
It set her off in search of more untold and largely unknown stories of black coal miners in Nottingham. "I began asking questions of my mum, then went to the African Caribbean National Artistic Centre, a major community centre for the Jamaican community. Lots of the miners interviewed for this project came from the Caribbean in the 1950's. This centre is a vital place, so I started there and got the word out locally. I worked with the media to share the story, using local radio and television, and Historic England. I contacted The Voice newspaper in London – who were especially great from day one."
Initial searches proved mostly fruitless, however. "I wanted to get information, but couldn't find much online," says Norma. "The main thing I was looking for was original photos. At the beginning, there were no books on black miners. In fact I was told there were no black miners! So I decided to find them."
"I found one or two pictures of black miners; to find more images was crucial. How do you prove someone's existence? By an image, a statue, a photograph, so the photos became a really important part of my search. It's almost been about finding evidence, proof. Even though we shouldn't have to, sometimes sadly we've got to explain our contribution to this country. This was brought into sharp focus for me with the Windrush scandal."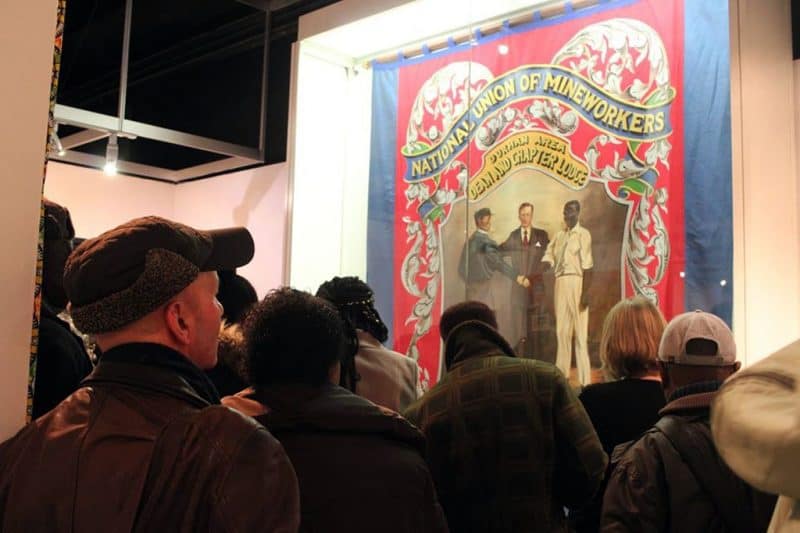 Digging Deep amasses a great many artefacts and the history behind each one is clearly explained. She is proudest of an image, taken in the 1950s, of a black (Jamaican) miner in a Nottinghamshire colliery. "He's in his mining clothes, smiling, carrying his Dudley water canister, shot-firer's dynamite bag and snap tin [lunchbox]. It brought tears to my eyes when I first saw it. It is such an important picture; it proves black miners did exist. A Nottingham family let me use this, I'm so grateful that they did."
Such is the measure of Norma's work for the exhibition that it will have a lasting legacy. "We've had interest from all over the country and from scholars overseas. I started research in Nottingham, as that's where I'm based, and since located former miners in Wales, Durham, Yorkshire, Lancashire and Kent. People are sending us information all the time, so we can now start to pinpoint where in the country black miners were working. This is a national thing – it has to be, it's national history we are enriching. The information we find adds to the story of Britain's industrial past and we're part of this story. That's a fact, not a theory."
The exhibition includes one particular photograph which shows a reunion of former mineworkers. "The miners in that picture are from different collieries, they didn't all work together," says Norma. "But the fact they were all miners, with no talk of the strike, united them. There was just peace and love in the room. That's why I did what I did. That's a special moment and that photo is now a part of the archive and part of history."
Norma's work for Digging Deep has been largely one of curation, assessing and collecting everything gathered from and by the various mining communities. "My job is to do the strategic planning and put it together," she says. "I try to get people to produce things, so it's their voice: that's the world, the country, it's about people. We've all got our differences, but the exhibition shows how much communities up and down the country (have) such a lot in in common."
Currently, Norma is completing a book based on the exhibition, as well helping develop lines of jewellery and various household products linked to coal. "I'm passionate about the art side," she says. "I'd really like to see something like a sculpture or a stained glass window to mark the contribution of black coal miners. People have said they'd love a colliery banner –so I'm looking into this. There are also plans to take the exhibition to mining museums overseas."
The notion of a legacy is a step up from uncovering hidden stories. Norma reflects on how little she knew of her own local history. "What are young people learning in school? I live in a mining community, but often history (teaching) doesn't reflect the locality. There is a legacy created via the exhibition and book, but also via the questions (being) asked. By showing it's okay to ask and to try to find out; stories are out there – it's whether we've thought about it, found ideas about it, or asked the right questions about it."
Digging Deep: Coal Miners of African Caribbean Heritage is at the National Coal Mining Museum in Wakefield until March 8th 2020. Further details here.