It's fair to say the organisers of ionSearch had a fair task ahead of them when organising a conference on this scale, I for one would not have envied the duty.  The ionSearch 'Advanced Search Marketing Conference 2012' to give it it's full title, was the first event under the moniker, and after reading the programme on the site one might worry organisers, Blueclaw, may have bitten off more than they could chew.
The day had a packed schedule with three sessions taking place at each time slot on the agenda. Delegates could choose from the main auditorium with headline speakers from the likes of Google and Steelcast, a panel discussion with leading specialists from the local and wider UK digital community, or a hands-on workshop where they would get to use and test some of the latest SEO tools on the market.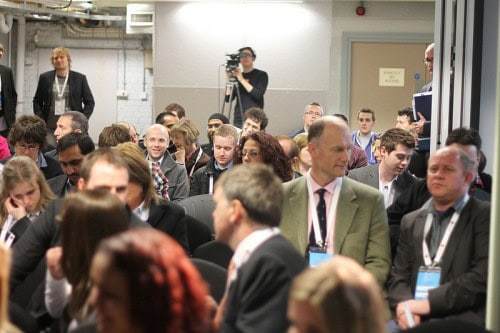 There were a few teething problems with some last minute changes to the line up but speakers who could no longer attend were replaced with equally worthy presenters so the audience didn't seem to mind. With so much going on every delegate will have experienced something different which is part of ionSearch's charm. I can't speak for every individual's experience but I can tell you how my day went.
Arriving at the Carriageworks at 8.30 on a rainy Wednesday morning I was welcomed by an impressive continental breakfast spread and networking already in full swing. Everything seemed to be looking not only under control but the start of a really good day.
It did seem however that the majority had turned out in force to hear first speaker and author of SEO book,' Optimize', Lee Odden. Lee explained firstly his background in PR. His presentation was clean and engaging with a good mix of media. His lessons though, were by far the most striking. What I took away from Lee's talk was the importance of organisation with content plans, complete with wild card slots to enable movement around news stories. He explained how to piggyback the popularity of current affairs and preached an ethos of holism within an agency. This set the tone for the rest of the day, with most of the speakers coming back to the same point.
After a mid-morning refuel I headed back to the main auditorium for Tim Grice's talk on link building in competitive industries. Tim led us through the minefields of building good quality links. The points made throughout the presentation were cutting edge and highly relevant. Tim also gave concise professional answers to the Q&A session that followed. The organisers seemed to keep a very tight handle on time but did a good job in enabling questions at the end of most talks.
Then followed lunch before heading back to the main auditorium to catch a talk from Ralph Tegtmeier on Black Into White: Automatic Content Generation For SEO And Social Network Marketing. A dubious subject matter for most of the audience some not being traditionally technical and others being adept at spotting the rogues in a game of SEO cops and robbers. Some of the points raised were contentious and not to everyone's idea of how to deal with spam content and underhand SEO tactics, but whether you agree with Ralph's methods or not, you can't fault him for his knowledge on the subject and down right frank approach to SEO.
Dave Snyder, one of my favourite speakers of the day, was up next so I remained in my seat. Dave was witty and his captivating presentation gave my experience of the conference the energy jolt it needed. Dave's presentation did not rely on showmanship alone, his insights into creative, shareable content being far more than just copy writing, had the cogs in a few heads turning.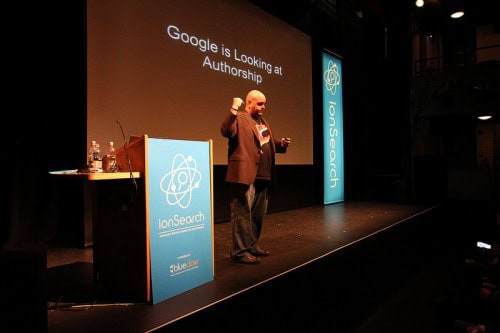 After the last refreshments of the day I decided to get into the more personal side of the conference and visited an, 'Expert Panel'. The subject at hand was creative link building tactics. Tim Grice was on the panel and it seemed his earlier presentation had sparked some real interest. Questions on his opinion about a start point to a link building strategy marked the start of a debate. However, whilst other members of the panel did well to answer the questions being fired at them to begin with, it seemed by the end that an in-depth knowledge of SEO jargon was becoming a handy yet progressively transparent façade for a fundamental lack of knowledge for some of the members.
A really interesting social media orientated panel was up next on How to Use Twitter, Facebook and Google+ for SEO. All panellists' conveyed their opinions and also the facts they had learned through trial and error on where social media stands in the world of SEO. To be honest, it felt fairly humbling to be privy to this information. Heather from Sticky Eyes agency was particularly impressive on this panel both in the visual nature of her presentation and her style as a presenter.
Overall, it was good to hear that most of the speakers involved were signed up to the same school of SEO with clear consistent messages. Sure there was debate and plenty to think about but I didn't come away feeling confused and overwhelmed. The speakers and panellists focused heavily on content, link building and the various tools but each gave their own creative take on how to get the best out of these methods. The key message I got from the event is: SEO is still vital but a holistic approach to online marketing and keeping up to date are imperative to stay ahead of the curve.
I would say the conference was a complete success in terms of timings and orchestration and the venue was a perfect choice. Personally I felt privileged to be part of ionSearch, as it brought together speakers of such global magnitude in their fields to talk about issues of such significance here in our city of Leeds.
Videos of some of the sessions will be available on the Ion Search site for those who were unable to attend and you view the Flickr gallery here.
Photographs courtesy of ionSearch