Cast of Dressed in Time with director Elvi Piper and Katie Cameron of the M&S Company Archive (Photos : M&S)
Dressed in Time offered a unique time travel experience, showcasing original M&S fashions from the 1930s to the 1980s. This wasn't just any play. This was a Marks and Spencer play. Words: CATHERINE SIMES
Taking inspiration from an archive collection of over 70,000 historic items, Dressed in Time told the story of British institution Marks and Spencer from its market stall beginnings in Victorian Leeds to its current position as a national and international retail giant.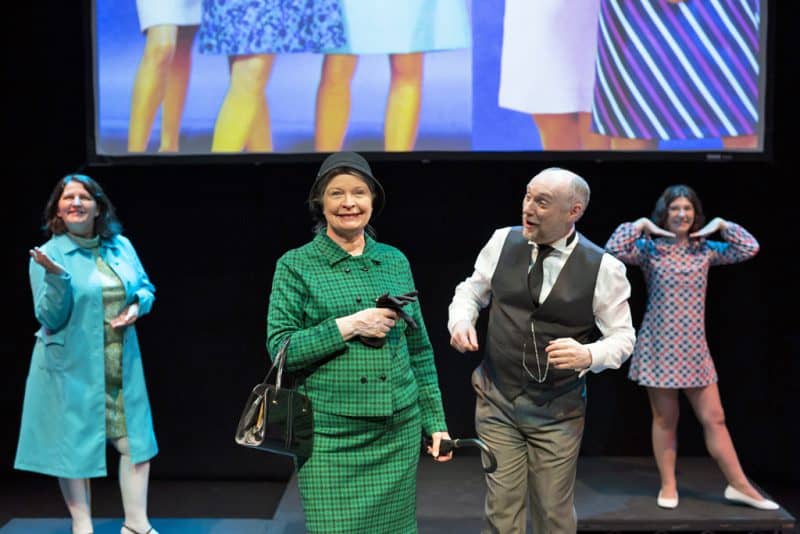 From left: Maz Barker, Alyson Marks, Ian Ray-White and Sophia Kelly in the 1960s (Photo : M&S)
Accompanying us on our travels in time was the company's original founder Michael Marks which proved an interesting way to retell changing fashion and social histories. The play showed the impact of rationing during the Second World War and the increase in disposable income and cheaper clothing from the 1950s and 60s. Beach pyjamas – "a bit risky for the east coast" – and new drip dry nylon fabrics came and went, while the introduction of display mannequins was followed in the eighties by power dressing and shoulder pads.
As a piece of kitsch nostalgia Dressed in Time worked really well. I took my mum along (there was tea and cake afterwards) and she found it very touching and reminiscent in places. Highlights for me were the scenes from my own era (the 1970s and 80s) with paisley patterned dresses, a frankly superb mullet haircut (not a wig as first thought) and the rather too snug 'leave little to the imagination' flares.
The inclusion of one of M&S' 1970s cinema adverts Terylene for You! was a treat and brought an air of Alan Partridge to proceedings. I love vintage advertisements and an exhibition of old M&S adverts would be a fascinating study, not only of changes in fashion, but also of social attitudes.  
Directed by Elvi Piper, and featuring actors from local theatre groups with hair and make-up by students at Bradford College, Dressed in Time did feel like a family production with a supportive cast, crew and audience members made up of M&S staff, relatives of the cast and curious Bradfordians.  
While the theme was M&S being at the cutting edge of technology and fashion innovation, my memories are slightly different. My grandma shopped in Marks and Spencer and that was my take – I saw it as an old fashioned brand where old ladies shopped. (The only exception is the underwear. I won't buy my underwear from anywhere else!)
Perhaps this is one area that could have been explored, how Marks and Spencer means different things to different people. I had an (extravagant) friend who did all her food shopping at M&S, but wouldn't have dreamed of buying any of the clothes.
Given its long history, it's inevitable that everyone has their own opinions of M&S, as one might a family member. It's just always been there.
Dressed in Time was first performed in Leeds at the West Yorkshire Playhouse in 2017, it was scripted by students from the University of Leeds and conceived as part of the remit to use the collection and to make it more accessible.
The M&S Company Archive is at the University of Leeds. Further details of What's On can be found here.
Mitzi Cunliffe at the M&S Company Archive