'#MPIA05: Dark Tides' is a capsule collection of horror-noir portraits by Manchester-based illustrator and designer MrHass, brought over The Pennines by MPIA. The magic of a voodoo high priest, the malevolence of a witch, the mystery of a vampire – all of the dark arts.
Rendered by hand in traditional dip pen and ink, each sinister figure in the 'Dark Tides' exhibition draws inspiration from the well of dark fiction and classic horror. The exhibition will be the first showing of MrHass' work in Leeds and the first time he exhibits original inked drawings.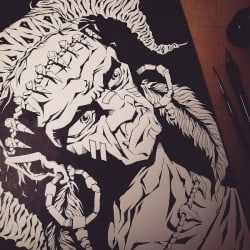 Known for his use of black Indian ink, MrHass provides illustration and graphic design support from his studio, SuperCrafts. His work has featured in Now Then Magazine, and he's exhibited in group shows such as Artcrank and Design Manchester. He is represented by Column Arts Agency, for whom he designed their trademarks and branding. All created from his freelance studio, his work has appeared with Red Bull, Shabazz Palaces, Dub Smugglers, Benu Berlin, and many more.
He is delivering 'Dark Tides' alongside Leeds photographer and film-maker Jody Hartley, and old studio-mates the inimitable One69a print shop. Creating a fully-rounded creative offering, a collective, runs in these guys' blood. There are prints, there is a soundtrack, there will be a film. And that reflects Mr Hass' work – intense and creative, unique and moving, all-or-nothing…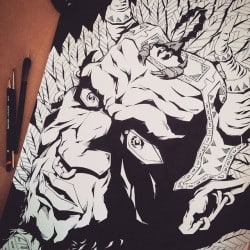 Give us some history to SuperCrafts Studio?
SuperCrafts was started in 2010, less than a year after I moved to Manchester. It's a freelance studio that provides design and illustration support. The direction of the studio has shifted over time but it's essentially still a place for making visual things, that hopefully function well and look cool. Last summer the studio went from being in a shared space to its own studio spot in Islington Mill. The rest of the story is yet to be written.
Talk us through your array of clients – you've covered branding with musicians as well as drinks suppliers?
There have been projects working with people in different areas; music, clothing, editorial illustrations, identity design… The diversity helps keep things fresh. Whichever it happens to be it's especially nice when a project is a comprehensive project of branding, packaging, merchandise and so on – all enquiries to hass (at) super-crafts.com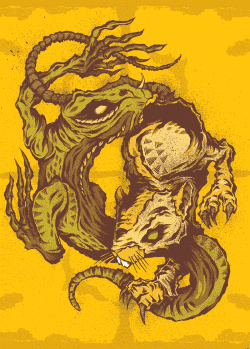 How did the Dark Tides creative project and its surreal nature come about after so much client work?
Working with good people is a positive thing, and something I'll always welcome. Between commissions I still make time to draw, so it's from those sessions that Dark Tides came about. It's personal; part exploration, part learning, part blood-letting.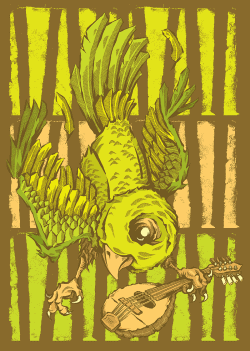 Is focusing on illustration with just Indian ink a USP these days?
Inking is something that suits the way I draw, so I'm happy to dedicate my time to it. Illustration methods have become so varied now, it makes me glad people still relate to inked work. For me there's a brutal honesty to it, the black marks on the paper are all-or-nothing.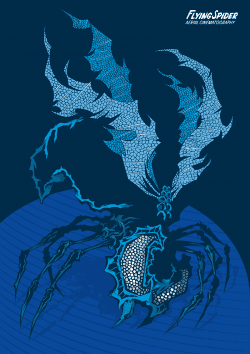 #MPIA05: Dark Tides opens // Wednesday June 10th at Outlaws Yacht Club 6pm.
Limited edition prints of the exhibited works will be available on the night.
The collection will also go on display at later dates in Manchester and Sheffield.
See:
Supercrafts.