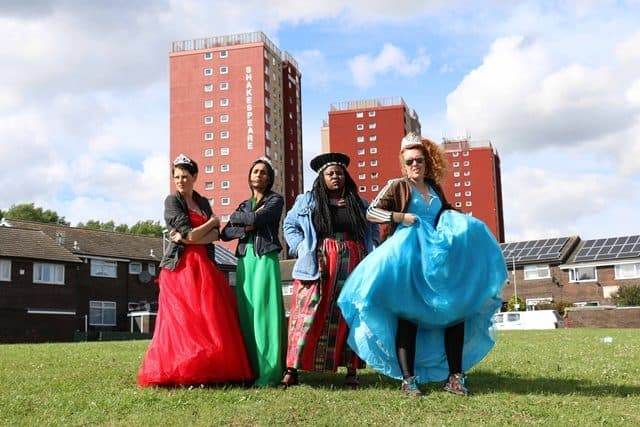 When my brother and his wife were expecting their first child, the scan declared they were having a girl. We were subsequently met with months of references to "my little princess" in Facebook posts, and they stocked up on pink frocks and furnishings. It got me thinking about how certain binary (and completely arbitrary) gender constructs/expectations can be inflicted on an unborn child, and the seed of a project idea was sown.
Beyond its royal meaning, referring to a girl or grown woman as a 'princess' can mean various things. That she's delicate and precious. That she's prim and proper. That she's spoiled, petulant, vain. That she's a 'daddy's girl' or 'yummy like my mummy', wears a lot of pink, plays with dolls, and has probably already started scrapbooking her future fairy-tale most definitely hetero wedding.
Personally, I've never felt particularly inspired by any of this.
The Real Princesses of Yorkshire is a photography project that offers a different take on the fairy-tale princess. By taking the iconography of big princess frocks and tiaras and populating them strong, powerful, talented women from Yorkshire (including some in drag), my pictures poke a little fun at the above whilst celebrating the diversity of real people. Nobody in these pictures is waiting to be saved by Prince Charming.
Also, nobody is smiling. Women spend their whole lives being told to smile. And of course smiling is something you instantly feel you must do when having your picture taken, or taking someone else's picture. The phrase I found myself uttering most often when doing this was "Be proud. Be powerful. Give me more mardy bitch-face…"
It's been an interesting journey, and I've contradicted myself a fair bit. On the one hand I recoil at the idea of 'girlyness', but on the other I love dressing up and putting on make-up, even if I'm not that good at it. I basically want to be a drag queen – one of my most favourite art forms. And a lot of the people in this project had similar responses. We found we can simultaneously critically question the fairy-tale princess archetype whilst indulging in the chance to dress up, be playful, and put the 'perform' into gender as performative. I'm a bit all over the place in my feelings about this, and I'm ok with that.
The photographs range from being specific to the people in them, such as The Writers' Block (above) – a group of amazing TV and theatre writers/poets who look like a gang of bad-ass bitches (I used the b-word in a positive, empowering, owning-it kind of way). And pictures that play with the messages women are given from all angles on a daily basis, about our bodies, for example. And some are just a bit daft, like putting princesses in normal, everyday scenarios, such as going to the loo (don't worry, nothing graphic).
And I've learned a lot from the people in the pictures. Anna Gray, an artist with Mind The Gap in Bradford, is a massive fan of all things pink and princessy. She explained how she and other girls/women love the dressing up and theatrical aspects, but also the more positive messages around nurturing kindness and bravery. It's possible to enjoy these whilst still being critical of elements that are problematic – like the huge lack of diversity, lack of agency, and sometimes questionable messages (I mean, come on. Sleeping Beauty is only awake for about ten minutes of her own story, and as a 15 year old is kissed awake without consent by an older man).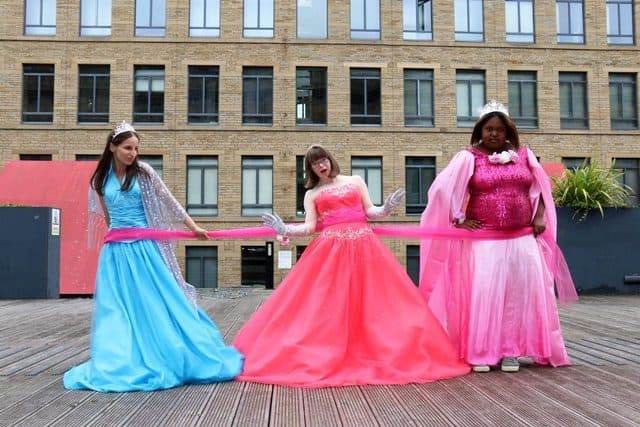 By coincidence my sister dresses up as a princess on a regular basis as a children's entertainer. Princess parties are very popular with young girls, though she was once asked to deliver a princess party exclusively for a group of boys. Result! It seems daft that in this day and age that we have to acknowledge the bravery of the parent who did that for their son, but, sadly, it is brave, and I applaud them. Because we know that boys are taught to avoid anything perceived to be girly – dresses, pink, dolls, even emotion and tenderness. And where boys do explore these things, it's usually other adults who stick the boot in. And for children who don't identify with the prescribed binary, us parents/grown ups really must do a lot better. If we were less hung up on the binary and more responsive than prescriptive when it comes to letting kids be who they are, human beings might be more equal. That's my kind of Happy Ever After.
And by the way, my brother's 'little princess' ended up being born a boy. He's adorable.
The Real Princesses of Yorkshire photography exhibition:
11th to 22nd September open 10:30am-5pm Monday to Saturday
Arts@Trinity, Holy Trinity Church, Boar Lane, Leeds LS1 6HW
The Real Princess Ball:
Join our princesses for a free launch party, with lip-synching and cake!
Friday 15th September 7pm – book free tickets here
For more discussion and interviews with some of the princesses, see our blog.