Let your imagination run wild in a world of Gruffalos, dragons and other creatures. DAISY CALE reports on a new exhibition at Z-Arts in Manchester celebrating the work of Julia Donaldson and Axel Scheffler.
My mum and I went all the way to Manchester on an adventure, to visit the launch of a new exhibition. It didn't all go according to plan. Despite all the commotion, including a cancelled train and terrible phone directions, we made it to z-arts where the World Inside a Book exhibition takes place. Surprisingly we were early, so we sat down on a sofa to wait for the event to start, while crazy children ran about everywhere.
The exhibition was all about the books of Julia Donaldson and illustrator Axel Scheffler. When we finally got let in, we went into Charlie Cook's living room to read Superworm with a story explorer. She asked us to join in with the story and the actions, which was fun. She really brought the story to life and the little children loved it.
Then, all of a sudden, we heard music. She asked us to help, but I won't give away what happened next because it's meant to be a surprise. I can tell you it involves The Snail and the Whale, Room on the Broom, Monkey Puzzle, The Gruffalo (of course) and more. I did wonder if I was actually dreaming!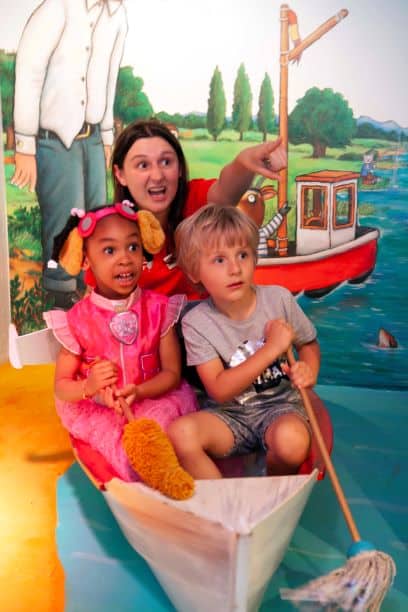 Then we went to see the Gruffalo. He was a bit shy at first but when he came in he did a funny dance and some children joined in. At the end we got to meet him (I got a hug too).
When it had finished me and my mum went to do some crafts. We could choose from a few different activities and we made a fox bookmark. Then we went to have a cake (as you do). We had the same one, but I have forgotten the name!
I really enjoyed this exhibition. It's good if you have children aged one to five, but you can go whatever age you are really. But now my work here is done, hopefully…
The World Inside a Book exhibition, designed and created by Discover, continues at z-arts Manchester until February 2020.
It is aimed at children aged 0 to 8 years (and their fun-loving grown-ups) and there are various special events planned throughout the year. Tickets cost £6 to £7.
More information is available on the z-arts Website
It's proving very popular, so book ahead!