Rakhi Singh (Photograph: Cristalla Fannon)
MANCHESTER COLLECTIVE is on a mission to break the rules of classical music. But in order to enjoy the beauty, you must first embrace the horror, RAKHI SINGH tells NEIL MUDD…
A recording by the New York String Quartet of George Crumb's composition, Black Angels, was amongst David Bowie's all-time favourite albums. The work – subtitled Thirteen Tales from the Dark Land – inspired violinist David Harrington to form the Kronos Quartet after hearing it played on the radio.
Not bad for something cooked up in opposition to war in Vietnam.
Black Angels is visceral nightmarish stuff. Written for electric string quartet, it shrieks and howls like a thing possessed. (Not surprisingly it figures on the soundtrack to The Exorcist.) Perhaps it is the brooding logic of the composer's preoccupation with the numbers seven and thirteen; structural stretcher-bearers stranded in a No Man's Land between plaintive lament and tonal Brutalism.
The Manchester Collective returns to Leeds Town Hall with a new performance of Crumb's masterclass in terror, twinning it (suitably enough) with Franz Schubert's Death and the Maiden.
The company's Music Director and principal violinist Rakhi Singh will be joined by violinist Eva Thorarinsdottir, violist Ruth Gibson and cellist Nick Trygstad. "Part of the fun is trying to decipher the score," she tells me when I suggest Crumb's notation resembles a wiring diagram.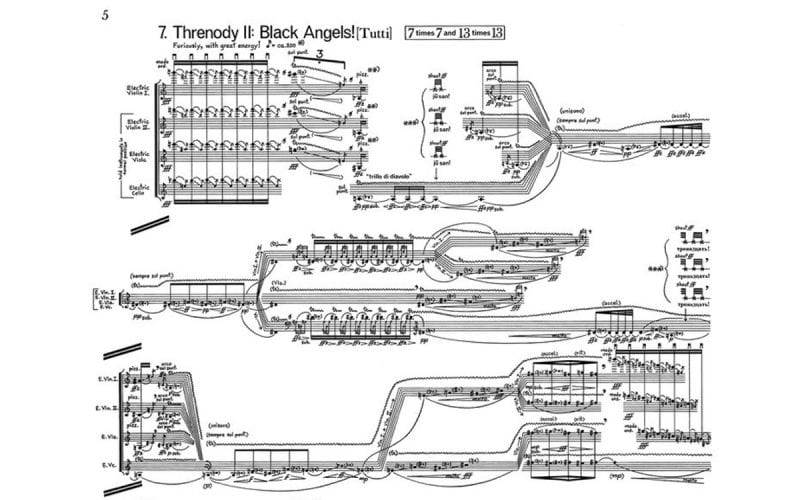 "It's kind of fun actually. It's half like working out a maths puzzle, but then you have to translate it into gestures. That's what you see from the score. There's so much energy in the way it's notated, it's almost like a painting.
"It provokes extreme emotions: definitely horror, but there are moments of faded beauty, of something both ancient and modern. It's very personal, but not from this land."
Born in the small town of Llandeilo in Wales, Rakhi attended Manchester's specialist music school Chetham's at a young age. Its rigorous classical training included regular performances and recitals.
Her love for chamber music she attributes to music tutor, Christopher Rowland, one-time member of the Fitzwilliam Quartet.
"He helped revive chamber music in the North. He was a huge, influential figure. A lot of the key British chamber groups, like the Navarra and Heath string quartets, were inspired by and formed under Chris Rowland."
A quartet is a negotiation between individuals working as a team, she says. "You need the qualities of leadership, but you have to be empathetic as well. Art and music is about communication and, if I'm playing in a quartet, the first communication is actually between the players themselves – the more intense and real that is, the more it's amplified for the audience."
On the matter of amplification, I wonder at Crumb labelling Black Angels a piece for electric string quartet. "To be honest, we're not going to approach it any differently. We're playing acoustic instruments amplified which means things are intensified. We have to use our voices sometimes too, which just adds to the drama."
Crumb's work includes several conscious references to Latin sequence Dies Irae and directly quotes Death and the Maiden. Written by the composer in the sure knowledge he was dying, Schubert's quartet figures in the second half of the evening's programme.
"I'm looking forward to exploring how the way we play the Crumb influences the way we play the Schubert," Rakhi says.
In fact, the musician struggles with the notion that classical music should sound nice. "There are incredible inspiring people out there like [violinists] Pekka Kuusisto and Patricia Kopatchinskaja. I really admire those kinds of free spirits who can go beyond and say, This isn't nice music. It doesn't have to sound nice. When it's exquisitely beautiful let's strive to play that, but if it's horror, we have to feel that horror."
"It's about taking ownership. If we really want this music to stay alive and be vital and relevant, we have to dare to put our own voices into it and to take risks. If we're just churning out the same old things… I mean, what's the point?"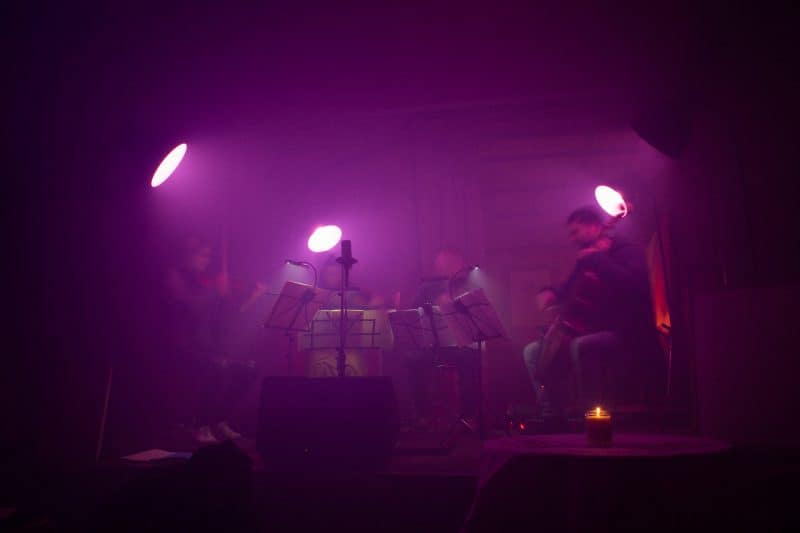 I remind her that an abiding mantra of the Manchester Collective involves breaking the rules of classical music. "We knew we wanted to play in places that weren't concert halls, I guess for our own kind of liberty and freedom."
"It's interesting how those spaces feel different. We can get the audience as close as possible. I don't really get nervous like I would in a formal concert hall. I feel freer, like it matters less if I make a mistake and I can let go a bit more."
Recently Rakhi has been listening to Austrian composer Georg Friedrich Haas, specifically his String Quartet No. 2. "It's spectral. He uses micro-tones. It makes me feel ancient and futuristic at the same time. In some ways, there's almost less to latch onto than the Crumb, but it's incredibly beautiful. There's something about it which gives me a place on the earth."
"From Crumb, you can go forward to Haas or you can go back to Bach. What we've found with the Collective is we can make these links. It is such a pleasure to do it just through instinct, not academia. We don't expect people to like everything. That's not really the point. We want to open up discussion about music and feelings."
The company's last visit to Leeds Town Hall was with the startling Pierrot Lunaire in November. Black Angels is followed in April by a radical reimagining of Bach's Goldberg Variations for string trio. It all points to the Manchester Collective being the most exciting prospect in classical music for years.
Manchester Collective's Black Angels is at Leeds Town Hall's Crypt on Friday 22nd February at 8.00 pm. Details and tickets here.
Touring until 2nd March. Details here.