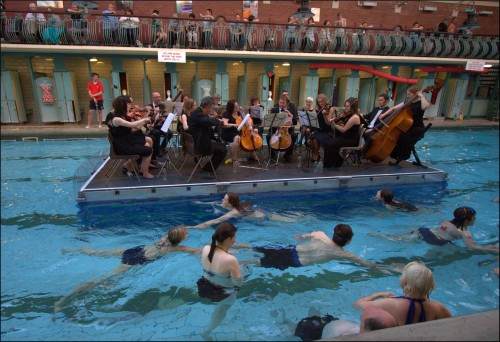 photo by Anne Akers
I was following a tweet stream recently coming out of an arts conference when I saw a quote from one of the speakers saying "we (the arts world) don't really know how to work with communities".
I run an arts festival in west Leeds that works with both artists and residents. In 2005 when working on the plan for the first festival I took the decision to not to use the word community on any branding. Not because I was against working with or being part of the local community, far from it, but because I knew the wider arts community would write us off before we started if we called ourselves a community arts festival.
I shouldn't have worried about the wording it was the location that was making us invisible, we were working out of the city centre.
For the past seven years we have been quietly and consistently producing artistically strong work right on the doorsteps and streets where people live, to an audience of people who don't automatically look to the city centre to provide their sustenance.
We've commissioned new dance pieces for canal, playground and shopping centre; new plays and poems; new photographic exhibitions to go on lampposts and on the walls of HMP Leeds, we've worked with thousands of members of the community on participation projects and yes we put that orchestra in the swimming pool. Artists have given and given and given to produce projects uncompromising in quality and they often come back year after year because, while the monetary rewards might not be great, the experience can be.
There may be not be the automatic kudos that comes with being associated with a well known city centre venue and audiences and passers by will readily tell you what they think, sometimes not mincing their words. But conversations, even hard ones, ultimately make artists work better and the process of talking and listening can be as valuable to both artists and residents as the work itself. Communities are just people, they are you and me, the lady in the sandwich shop and the man in the butchers. We put huge photographs in Morrisons supermarket a couple of years ago that were seen by thousands of shoppers, does this kind of work have less value in a supermarket than a white gallery space? Communities deserve the very best work that artists can do because communities are us. Walk round a community, your community, with your eyes and ears open and you will go home with ideas in your head. I will bet a pork pie on it.
I Love West Leeds aren't the only ones doing this. Look at The Shed in Hovingham, anyone who experienced Mrs Boyes Bingo will never forget it, look at Garforth Festival and Morley Literature Festival both programming their socks off in small towns you wouldn't necessarily associate with music and literature. There are organisations like Pyramid of Arts that have been working in communities for years and there is the whole pop-up and DIY movement transforming whatever spaces they can get their hands on!
Two weeks ago I swapped West Leeds for South Leeds and joined Slung Low as they created Original Bearings, an installation and performance in Holbeck, from the new Urban Village up past the footprints of the demolished high rises to the rows of neat red brick terraces that butt up to the M621. I was impressed by the way the Slung Low worked, talking to local people to gather stories and incorporating them into the signs and performance. I was fascinated to watch, as the same barriers I come up against were encountered by another company in a different part of the city. And I was interested to see the reactions of people on the streets of Holbeck as 100 story signs were put up around where they lived. It often starts with distrust, then moves on to disbelief that you are doing anything in their neighbourhood and then as you talk more usually ends in good natured humour and a sharing of stories.
It always comes back to stories.
We thirst for stories because culture is not a bolt on to society but an integral part. Stories ground us and make us fly. Stories are where Slung Low and I Love West Leeds share the same space, so it was a natural step for us to work together on 15 Minutes Live.
15 Minutes Live is an adventure in radio. We asked 6 Yorkshire writers to write new Leeds stories. Then we added a composer, a sound recordist and a foley artist and on Monday we all move in to a mill in Farsley where we will be joined by 9 actors. Its an ambitious project but that is something else both companies have in common.
On Sunday 13 November we are going to record these stories in front of an audience, the sound effects will made in front of you and the music will be played live not from a backing track. Come and join us.
Afterwards the radio plays will be free to download by anyone and we will be creating CD's to be given away free to older people. Community arts? Damn right.
15 Minutes Live
Sunday 13 November 2-5pm
Sunny Bank Mills, Farlsey
Tickets £5
15minuteslive.eventbrite.com