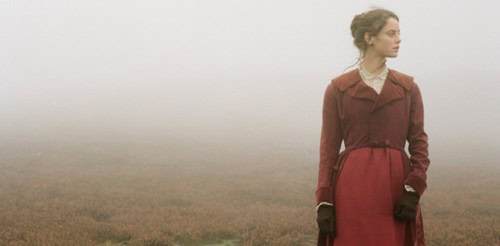 I'm newly Northern so this is my first Leeds International Film Festival and I am looking forward to it mightily. I'm on a mission to cram as much in as I can. I've poured over the listings, cross-referenced with YouTube trailers and whittled myself a shortlist.
There are must-sees and then there are must-sees. I'm taking the Wuthering Heights opening gala as a given as a) it's Andrea Arnold director of Fish Tank and the quirky roller-skating chick from 80's kids TV show Number 73 b) it's Wuthering Heights and c) it's the opening gala. After that my absolute no-brainer for this weekend, even if you've seen it before, is Alien. It's intensely claustrophobic, demands viewing on a big screen and will whet your appetite for the rest of the festival.
Currently, my official selection of the Official Selection are: Jeff Nichols' Take Shelter, Krzysztof Kieslowski's Dekalog 2 & 4, Béla Tarr's The Turin Horse (composed of 30 long takes) and Ken Loach's Family Life, although this is likely to change as Cinema Versa's programme of documentaries is such a strong one. Standing out for me are Gianfranco Rosi's minimalist documentary about a Juarez hitman, El Sicario: Room 164, and Sound It Out, a tribute to Sound it Out record store in Stockton-on-Tees and the eccentric Northern community keeping it alive against the odds.
Also on my list, purely for the zombie-loving joy of it, is the Fanomenon Day of the Dead series comprising of Masks ('a homage to Suspiria)', Marianne ('Japanese horror with a Swedish make-over'), Exit Humanity ('epic zombie saga') and Juan of the Dead ('Cuba's first zombie film'). It's big, it's not clever and you can't stop me.
While I've the chance to see them it would be rude to miss Ghost Cat and the Mysterious Shamisen ('one of Japan's few surviving prewar horrors') and Park Chan-wook Short Cuts, three stunning short films from Korean genre master and director of Old Boy (including Night Fishing which was shot on an iPhone) … so I'd better not.
I'll be flipping a coin between two of the LIFF25 silent cinema events: it's either Paul Merton's Silent Clowns, hosted by Paul Merton himself, or a chance to see The Phantom of the Opera accompanied by a live organ for full melodramatic effect.
Topping off my festival experience will be the closing gala showing of Steve McQueen's Shame.
Final recommendations: If you want to put your money on safe but spectacular you can't go wrong with Persepolis and Waltz with Bashir. If you're on a budget don't forget the selection of free films from the Cherry Kino programme. If you get filmed-out over the festival try heading down to the Cherry Kino Super8 Workshop: Coffee Anyone? to try your hand at filming long exposures, time-lapse and slow motion and hand-processing film … in coffee!
This is by no means an exhaustive list of my favourites. What I've loved about drawing up my schedule has been trying to choose between very disparate films when timings clash: hmmmm, do I go for 'intelligent political animation' Waltz With Bashir or Mystics in Bali the 'Indonesian horror classic, complete with revolving heads'? I still haven't decided. I'm sure by then I'll have torn up my plan and gone into a free-styling frenzy anyway.
I'll be tweeting my LIFF25 adventures via@ilovelomi. If our schedule's cross and you fancy a post-film dissection/shandy let me know. I'll be the one with the blinking bloodshot eyes, eating a packed lunch, scribbling notes furiously.
Whatever you chose, enjoy!
For more information:
The official website for the Leeds International Film Festival is www.leedsfilm.com. The box office number is 0113 224 3801. The LIFF25 Box Office is located in The Carriageworks, located on Millennium Square, Leeds. The box office is open from 10am – 6pm Monday to Saturday and on Sundays when there is a performance at The Carriageworks. Advance tickets and passes can be purchased either online, by phone or in person.
Josephine Borg is a newly northern, back-rubber extraordinaire. She offers Hawaiian Lomi Lomi massage to the good folks of West Yorkshire, along with a brew and a slice of homemade cake. You can find out more at www.lomimassageleeds.com or by following her on Twitter @ilovelomi or Facebook.