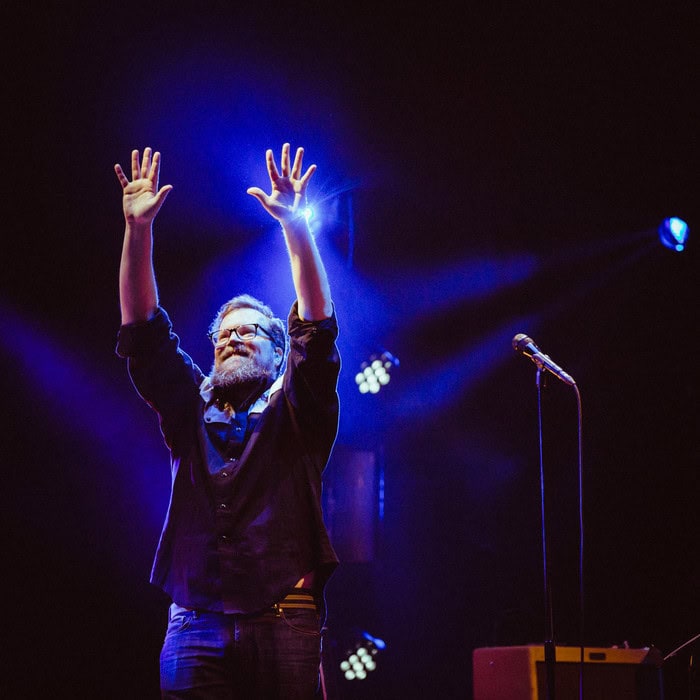 Over four days and three nights, John Grant's North Atlantic Flux transformed Hull into Reykjavik on Humber. Subtitled 'Sounds from Smoky Bay,' as much for its maritime associations as musical ones, the festival ushered in Roots and Routes, the second season in Hull's year-long odyssey as UK City of Culture.
The former Czars' frontman, who has made the Icelandic capital his home, used the event to champion an eclectic line-up of British and Nordic artists. He clearly took seriously his role as curator, even if, as he claims, all he did was write a list of bands he wanted to see and let others do the organising: he was a visible presence at gigs, chatting and dancing with people in the audience, and generally yoking himself to the spirit of mutual respect that characterized his weekend.
The venues themselves proved every bit as idiosyncratic as Grant's choice of acts: they included Hull's Baroque-style City Hall and the still-functioning Jubilee Church with its intimate Queens Hall space out back. Local field-recording artist Jez riley French filled the tiny Mortimer Suite with an immersive audio-visual installation which combined gorgeous large-scale projected close-up images with punishing levels of subsonic bass and sound cues that included the noise of a glacier melting.
Friday's opener set the tone, pitting crowd-pleasing beats (a reinvigorated GusGus) against introspective folk-electronica (Susanne Sundfør). Into the wee small hours, there was a label showcase for Reykjavik's Sweaty Records at yet another off-beat venue, Gate No. 5, a former disused wharf building. Artists Actress and Wrangler, Cabaret Voltaire lynchpin Steven Mallinder's new outfit, also made appearances here over the weekend.
BBC Radio 3's Late Junction Saturday afternoon intervention served as a lazily-paced smorgasbord of featured artists. The infectious dead-pan Kabuki cabaret of Norwegian percussive trio Pinquins was counterpointed by the dark intensity of Iceland's Ragga Gisla whose guttural yelps and shrieks crystallized mid-air into the most intricate sweetness. Hastily assembled improvisations fused looping other-worldly harmonies with inspired free-jazz off-kilter weirdness and cut-and-paste beats.
Three events pinpointed the genius of Grant's weekend. Each, in its distinct way, accounted for the terrible cost of the bargains struck between fishermen and the sea.
The Humber Star, Adelle Stripe's electrifying collaboration with Halldór Smárason, recast the poet's own family history she began to explore in the epic tone-poem Beyond the Silver Pit as a forceful meditation on loss and the stoic resilience of working women. In this it was leant a quiet dignity by Hull poet Vicky Foster whose vocal performance toggled between honeyed intimacy and brittle radiophonic crackle.
Eyvind Gulbrandsen's devised performance with musicians from the Royal Northern College of Music shimmered with spectral grace, while the following day's concert by Jobina Tinnemans and Jacob Tekeila reverberated with shock-and-awe bombast tempered by mesmeric harmonies.
When Grant did eventually take to the stage on the festival's closing night, he did so as the People of Hull's adopted Homecoming Queen. Ravishing pared-down readings of standards (Marz, Fireflies, It Doesn't Matter to Him) rubbed up against newer material (Grey Tickles Black Pressure).
The singer can fashion an achingly beautiful song seemingly at will, but less expected is his hilarious expletive-fuelled stage persona: "Are there any of you who grew up here thinking 'I hate this fucking shitty town?'" he enquired mischievously, introducing I Hate This Town, his poison pen letter to Buchanan, Michigan. The Hull audience lapped it up.
Grant performed undimmed for ninety minutes, then begged off to "go shake my booty" at the after-party. "Come join me," he told the audience.
It summed up his weekend and the city. In Hull 2017 we can all join in.
John Grant's North Atlantic Flux Festival: Sounds from Smoky Bay, various venues, Hull (29th April – 1st May 2017)
A shorter version of this review first appeared in The Morning Star.