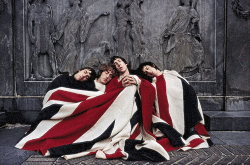 In his introduction to The Kids Are Alright, the film's producer Tony Klinger tells a great story about all four members of The Who turning up to a preview screening with stopwatches, so each could check he had exactly the same amount of on-screen time as the others. "We made up two versions of the film," Klinger explains. "One in which each member of the band got exactly the same amount of screen time – and the actual version that was released." 
It is a telling anecdote. Jeff Stein's acclaimed documentary sequences together a colourful collage of Who performances, promotional clips, and interview snippets, into a kind of musical cut and shut. It is as brilliantly incendiary as you might expect and made for a great opener to the Once In A Lifetime event at Leeds International Film Festival.  Screened in association with music documentary website MusicFilmWeb, the movie does little to assuage the popular view – even among the band itself apparently – that The Who were a bunch of contrary yobs. 
"It was open warfare. I had battles from day one," Klinger confirms. The Who it seems "argued about everything." A shambolic interview, between all four of the band and Russell Harty, crops up at various stages during the film, each time threatening to spill over into openly belligerent anarchy. Certainly the inclusion of such interview snippets plays up to with each member's public persona: Daltrey is testy, and prone to hyper-critical statements about rock which fly in the face of Townshend's earnest art-school posturing; Entwistle is gloriously deadpan, machine gunning gold discs on the back lawn of his rock star mansion, and Moon? Well! Moon is Moon! (Although there is a clip about halfway through the movie where an excitable Ken Russell threatens to out-loon even him.) 
The Who are at their prime in The Kids Are Alright which features some stand out performances, notably of their 'mini-opera' A Quick One (While He's Away) which appears in a clip  taken from the ill-fated Rolling Stones television special, Rock 'n' Roll Circus (a tour-hardened Who literally steal the show from under the noses of Their Satanic Majesties). A 'live comeback' gig at Kilburn Odeon, augmented by a thousand extra fans invited secretly by Klinger, yields a fantastic and highly-charged performance of Baba O'Reilly and a not quite so fantastic version of Won't Get Fooled Again. 
Klinger is pragmatic. "I'm passionate about telling stories," he says. "I love movies and I love music. For me, there is no better combination than to watch a movie with music." The festival's Once In A Lifetime programme will have given movie fans and music fans alike the chance to do just that!