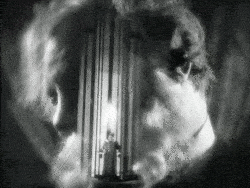 Sandwiched between the staccato horror of Nosferatu and the stylised spectacle of Sunrise, his first for Hollywood, Friedrich Murnau's The Last Laugh is an incredible piece of early cinema. Released two years before the director left Germany for America, it is filled with telling details right from the opening titles. 
Musician-composer, Matthew Bourne, marvels at Murnau's willingness to sweat the small stuff. "The interior of the hotel, the texture of the stone: it's really amazing," he says. Even the quality of the outfit worn by the film's main character comes in for incredulous scrutiny. "That's a seriously nice coat. It's not just some shitty coat that's been made. It's got a quilted lining inside. Somebody's actually made that." Matthew pauses, turning the thought over in his mind. "That's what fascinates me about some of those old films," he says. "I wonder if anyone's got that coat now." 
The musician has just played continuously for ninety minutes, concocting a moody, eccentric soundscape to The Last Laugh at the Hyde Park Picture House, seated cross-legged at his Moog synthesizer. He is clearly knackered. "I've never done anything like that for that long," he confesses. "That was pretty tough actually, to try and make it work." 
One of a number of silent films at this year's Leeds International Film Festival featuring live accompaniment, The Last Laugh is the story of a doorman (played by a terrific Emil Jannings) who is demoted to washroom attendant, at the swanky Berlin hotel where he works, for being too old. Finding himself mocked by his neighbours and shunned by his in-laws as a consequence, he is made ridiculously wealthy in the end, the result of an unlikely bequest (and the last laugh of the film's title). Made against a backdrop of mass unemployment and raging high inflation in Germany, the film was unfamiliar to Matthew before he began work on it. 
"I've only watched it three or four times and made some notes," he says after the screening. Despite providing soundtracks in the past for Luis Bunuel's Un Chien Andalou, and the writer Jean Genet's only film, Un Chant d'Amour, Matthew was initially reluctant to take on the challenge of The Last Laugh. "I thought, in the time given, I couldn't really devote a lot of time to creating a piano score to it, and because I've been working on a synthesizer album these last couple of months (for the Leaf Label), it's a place I'm kind of in at the moment. It was an easy solution. I thought I'll use the fruits of my labours in that way." 
The brooding analogue cadences of Bourne's Moog and Murnau's crisp Modernist visuals could have been made for each other. "I'm glad I did it," he now says, "because it's an amazing little film. Really it kind of shouldn't work in a way. It's very simple. The beauty is all in the details, in those incredible performances." The musician was also astonished that the film was ninety years old. "I was amazed at how modern it was, and how beautiful it looked." He found the mise en scene particularly magical. "The scene where he's drunk and he has that dream about throwing the trunk in the air. That's just fantastic. That's an amazing effect." 
"Part of the magic of cinema is knowing that it isn't real. It helps you to concentrate on the story and the characters," says Matthew explaining the appeal to him of early cinema. For his performance, he drew heavily on his experience as a jazz musician. "I have these loose areas that, depending on what happens in the scene in the film, I can then bend and adapt and interact slowly." The performance also enabled him to explore his fondness for electronic music and synthesis. "I do love these Moogs," he says. "I've had a number of them over the years. They're fascinating objects They're lovely looking things, very desirable now. I love all that. I love anything old and analogue." 
About the instrument used in today's performance, Matthew says. "It's a difficult one to tame. Because there's so much it can do, you've got to have your wits about you when you're going from one thing to another." The rich detailing of the cinematography in The Last Laugh, together with its dreamy montage, provided plenty of scope to explore the instrument's capabilities and potential. "The patches on the Moog – the ones I've come up with and saved – they do suggest so much," explains Matthew. "The challenge was that over ninety minutes, with a number of patches, how do you make it flow and how do you use silence?" 
He is keen to put some distance between himself and an approach to silent cinema that merely calls for interpretation by the musician of what is there on the screen. "I like watching somebody like Neil Brand," he qualifies. "He does that more traditional approach – which is great – but, for me personally, I don't really gravitate towards that for some reason." He paraphrases the influential Soviet director Sergei Eisenstein: "If you're going to add music to a silent film, it shouldn't have anything to do with what's on-screen – it should exist in spite of what's there on-screen." 
The notion of scoring a silent film for full orchestra also sits rather uneasily. "(The Last Laugh) is such a modern film that, in a way, hearing it with an orchestra just feels old-fashioned," he suggests. "I love watching silent films without a soundtrack. When I've looked at these films, there is just something about watching them in silence, particularly (The Last Laugh) because you don't really need any literal interpretation." He is keen to allow the audience room to breathe. "I ended the film on a little chord progression I've been working on because I wanted to end on an upbeat note, just something which continued after the film ended," he says. "There are some little things that happen where I thought, I don't need to catch those musically to explain what happens." 
Interestingly, Neil Brand will make an appearance later at LIFF28, playing a jazz accompaniment to another German silent film, People On Sunday. Meanwhile, Bourne is away to Dublin to perform in A Most Peculiar Wintry Thing, a new piece by composer Brian Irvine. Given Murnau's trademark shadowy visual style, it seems entirely appropriate that the musician will be accompanied in the production by shadow puppets.