Over the weekend, the Doc'n Roll Festival in Hull included new music documentaries about pioneers of American grunge punk L7, Matt Johnson's post-punk outfit The The and the underground techno scene in Iran. (Who knew?) Pick of the crop was Chasing Trane, John Scheinfeld's 2016 documentary on the life and legacy of jazz saxophonist John Coltrane. Review: NEIL MUDD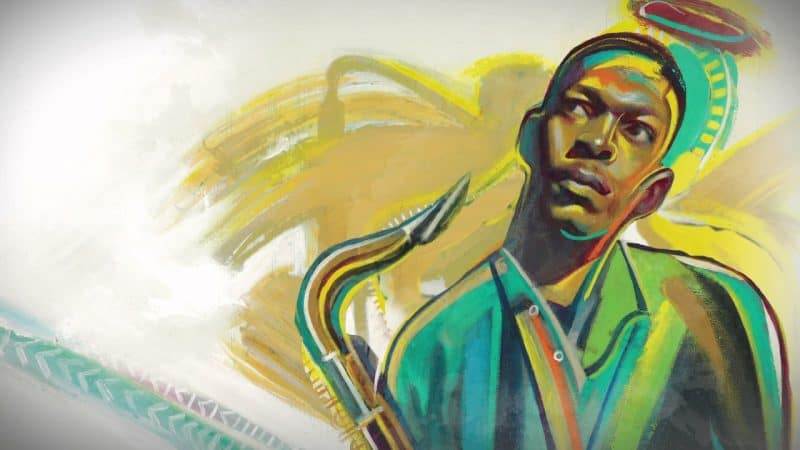 "I don't recognise the word 'jazz,'" saxophonist John Coltrane was fond of saying, "I play John Coltrane."
As John Scheinfeld's masterful documentary Chasing Trane makes clear, no other musician, aside from Miles Davis, helped shape modern jazz more distinctively in his own image. From an early infatuation with bebop, John Coltrane would go on to explode the modal form in a series of incredible albums for Atlantic, before eventually giving vent to the avant-garde experimentation of albums such as Meditation and the posthumously released Expression.
Throughout his playing and recording career, Coltrane pushed the tensile breaking point of jazz to its absolute limit. Childhood friend and saxophonist Benny Golson likens it to climbing aboard an imaginary spaceship and going far out into the cosmos. It's an image Scheinfeld runs with, capable as it is of conveying both the spiritual complexity and lyrical simplicity of Coltrane's music.
Born in North Carolina, the young Coltrane's life was rooted deep in the Methodist church, an influence which can be heard in the restless wailing and prodigious riffing of Coltrane's solo playing. ('You could just take the horn out of your mouth,' Miles Davis is reputed to have told Coltrane when the saxophonist admitted he had no idea how to actually stop blowing.)
His father, grandfather and uncle died within a very short time of one another when Coltrane was eleven. "Imagine how that feels to an eleven year old boy," philosopher Cornel West says. "How is that boy going to make sense of things?" Through his instrument it seems, Coltrane switching from the clarinet to the alto-saxophone and acquiring a musical facility well beyond his years and outward appearance.
Moving to Philadelphia with his widowed mother in 1943, Coltrane was introduced to Golson because he sounded like Johnny Hodges. "I opened the door and there was this country bumpkin standing there," Golson recalls, 'and all I could think of to say was 'Play something' which is obviously what he had been waiting for. So he did and… Oh boy!"
Scheinfeld's documentary includes early Coltrane recordings from his time in the US Navy. Clearly in thrall to Charlie Parker, they are unformed and interesting mainly for their curio value. Coltrane had a formidable work ethic, however, and continuously practised, restless unless he was playing his saxophone. By the time he got to perform with the likes of Dizzy Gillespie and Thelonious Monk, he was a different player altogether. "That's all you need to know about the kind of journey that guy was on," remarks trumpeter Wynton Marsalis.
Unfortunately, Coltrane was also a heroin addict, part of the first great quintet formed by Miles Davis (an ex-junkie himself), until the problem got to be such that Davis sacked him in 1957. "It left him with a choice," says West. "Follow the Parker or the celestial path."
Scheinfeld handles this aspect of the story sensitively, combining Rudy Gutierrez's impressionistic animation with the tearful testimony of Coltrane's step daughter Antonia Andrews who relives the horrors of watching her father go 'cold turkey.'
The experience proved a transformative one for Coltrane, who emerged fitter and more alert to the possibilities of his music. Within a few months of 'getting that gorilla off his back,' he had recorded Blue Train for Blue Note and was back with Davis for both the sessions that would yield Kind of Blue.
Biographer Ashley Kahn points out that in the six weeks between those two sessions, Coltrane would record Giant Steps under his own name for Atlantic, and soon thereafter strike out permanently on his own. For the next five years, Coltrane concentrated on forming his own quartet, eventually settling on the intuitive combined chemistry of musicians Elvin Jones, Jimmy Garrison and McCoy Tyner.
Together they would create what is possibly Coltrane's most enduring work, A Love Supreme. For the musician it was always a spiritual endeavour. In his liner notes for the release, Coltrane wrote: 'During the year 1957, I experienced, by the grace of God, a spiritual awakening which was to lead me to a richer, fuller, more productive life. At that time, in gratitude, I humbly asked to be given the means and privilege to make others happy through music. I feel this has been granted through His grace. ALL PRAISE TO GOD.'
Scheinfeld assembles an impressive roll-call of talking heads to extol A Love Supreme's many virtues: the hip-hop artist Common, former US President Bill Clinton and musicians John Densmore and Carlos Santana (the latter of whom reportedly listened to it stoned); but it is the director's use of contemporaneous live footage and rare or unseen photographs from the studio sessions that best articulates the album's gestation and synthesis. Sonny Rollins surely has it right when he says you can describe Coltrane's techniques and use of harmony on the album as much as you want, but it's how it sounds that truly matters.
There is a moving account of Coltrane's final tour of Japan in 1964. Osaharu Fujioka, jazz promoter and survivor of the atomic bomb at Nagasaki, tells of going to greet the group at the city's railway station only for Coltrane to be nowhere to be seen. Eventually, Osaharu tracked the musician down to a railcar where he found him practising on a flute. "Why are you playing the flute?" Osaharu asked Coltrane. "I'm searching for the sound of Nagasaki," Coltrane is said to have replied.
It is personal moments like this which speak loudest in Chasing Trane. Scheinfeld's film reveals fresh new perspectives through those who knew and loved Coltrane and those who were touched by him. This may well be a problem for the purists. Does it help us to better understand Coltrane's music that he would leave little notes of endearment about the house for his second wife Alice? Probably not, but it brings us closer to the measure of the man.
Most moving of all is the wealth of home movie footage Scheinfeld has amassed; shaky shots and whip pans as the musician goofs about for the camera or tenderly holds his new born son, blinking in the warm light of morning. For those accustomed to that ponderous gaze staring out of album covers and magazine articles, these intimate moments are the most revealing of all. "When he smiled," remembers  Anderson, "I knew everything was going to be alright."
Chasing Trane – The John Coltrane Documentary was shown as part of the Doc'n Roll Festival. For more information about the film or the festival, click here.