Mother Cutter at #LIFF2019 – pioneering film editor Verna Fields
From the days of early cinema, women film editors have played an important role. ANNA CALE looks at how #LIFF2019 is shining a light on their pioneering work.
When Verna Fields first started her career as a film editor in 1954, she gained little recognition for her work, despite her involvement in a string of television projects and independent films throughout the 1950s and 1960s. But that changed with the rise of the New Hollywood era in cinema and her collaborations with directors Peter Bogdanovich, George Lucas, and Steven Spielberg. Her creative, pioneering work on films such as American Graffiti (1973), Jaws (1975) and What's Up, Doc? (1972) garnered countless awards, and her success led to industry recognition for the role of the editor in the shaping of films.
Fields went on to became one of the first women to enter the upper tiers of the film industry as an executive, becoming Vice-President for Feature Production at Universal before her death in 1982 aged 64. The nickname 'Mother Cutter' was given to her by those she mentored and inspired throughout her career, and her influence can still be felt today as she carved a path for other women in the film industry.
This year's Leeds International Film Festival Mother Cutter retrospective focuses on the work of women editors, bringing invisible work into the light and taking us on a kaleidoscopic journey through global film history.
The strand celebrates both the unsung art of film editing – work that gives structure, rhythm, mood and energy to a film – and the vital work of women in the film industry that is often uncredited or underappreciated.
Now rightly seen as a vital and creative part of the filmmaking process, editing was initially seen as perfunctory, and was a role that women were 'relegated' to in the early years of cinema. But it became one they thrived in, and the influence of female editors can be felt from early cinema through to the present day.
The films chosen for this festival strand by programmer Alice Miller shows a wide range of female editing talent from across the globe, spanning many decades of cinema. From All About Eve (1950) edited by 'Hollywood's Editor in Chief', Barbara 'Bobbie' McLean who became one of the industry's most respected editors, to Alexandria… Why? (1979) and the fascinating work of Egyptian film editor Abdel Salam.
Screenings include the ground-breaking Soviet documentary Man With a Movie Camera (1929) which while directed by Dziga Vertov, was a collaboration with his wife and editor Yelizaveta Svilova, who often goes uncredited, and Bonnie and Clyde (1967), edited by Dede Allen, whose radical work also helped shape the New Hollywood cinema of the late 1960s, 1970s and beyond.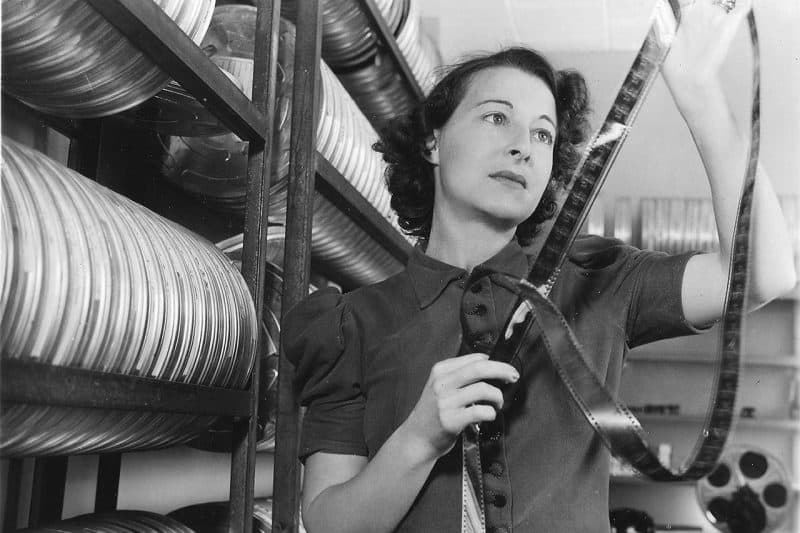 Nominated for an Oscar five times, the work of British editor Anne V. Coates is celebrated with a screening of David Lean's Lawrence of Arabia, considered her greatest work and for which she triumphed at the Oscars.
Also showing is Claire Denis' Beau Travail (1999), a collaboration with cinematographer Agnès Godard, and editor Nelly Quettier. The work of Thelma Schoonmaker, whose collaborations with Martin Scorsese have spanned decades, is showcased with a screening of Raging Bull (1980) which won her an Oscar, the first of three. Medium Cool (1969) from director Haskell Wexler and edited by 'Mother Cutter' Verna Fields herself is also being screened.
The Mother Cutter retrospective at #LIFF2019 offers audiences the chance to celebrate the films of pioneering editors like Fields and enjoy their work on well known masterpieces of cinema, as well as discover hidden gems and innovative independent films, and to understand the role that women editors and their work had in shaping our cinematic heritage.
Mother Cutter runs as part of the Leeds International Film Festival from 6 to 21 November. Full programme details can be found on the Website