Based on the short story of the same name by Robert Louis Stevenson, The Body Snatcher is one of most immersive and captivating productions of recent memory, bringing countless laughs and the perfect amount of terror.
There have been many adaptations of the story through the years, including an iconic Val Lewton production in 1945 featuring Boris Karloff. But the Thunder Road theatre company's iteration is one of the best.
The story benefits greatly from a modernised setting. Professor Robert Fettes is recruited to the rotten town of Inglenook to continue his mentor's research to cure a disease that has ravaged the world. The set-up evokes a dystopian, post-apocalyptic feeling in the audience. Think 28 Days Later meets Contagion.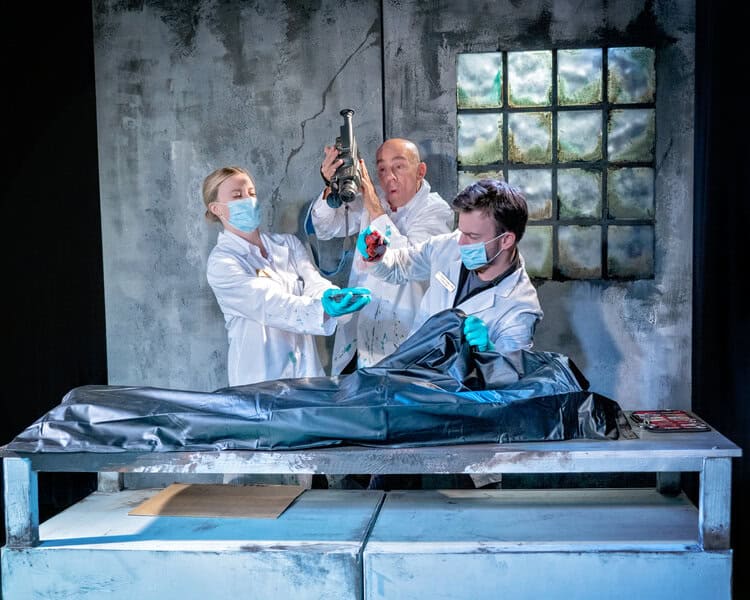 Whilst The Body Snatcher's premise is nothing short of fascinating, it's the performances by the cast that make this production so memorable. Main character Fettes played by Alex Moran (War Horse), portrays a multi-dimensional hero, who feels believable in each situation he finds himself in. Acting opposite Moran is Claire Burns, who plays his wife. A regular highlight of the performance is their phone calls, both taking to the stage despite being miles apart. Even though you can clearly see they are stood next to each other, their acting makes you forget about this obvious detail.
The other characters in The Body Snatcher are played exclusively by Zach Lee and Elizabeth Hope. Each persona feels unique in their own way and at times it was unclear whether a new actor was introduced. They are so successful as multi-role performers, that at times the pair are could be compared to James Mcavoy's performances in Split and Glass.
The production also boasts a compelling soundtrack, often used for comedy, the music in The Body Snatcher fits perfectly with the content of the particular scene, with an especially enjoyable rendition of a certain song by The Clash.
Overall, The Body Snatcher is a play that successfully manages to be unnerving whilst feeling extremely uplifting at times. If you just can't get enough of this spooky time of year, this production is a must see.
Thunder Road Theatre Company's The Body Snatcher is on tour. More details here.