BY LAURA AGER | Monday 23rd January, Howard Assembly Rooms, Leeds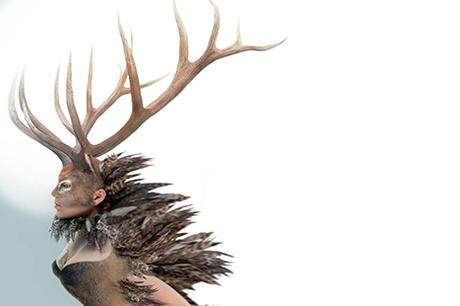 It's Monday evening and I'm spellbound, watching a world-renowned singer weave musical patterns with her voice, together with live violin and drums. She has her eyes closed, her body undulates and she winds her arms as if to try and draw the sounds she's making back towards her; projected over the heads of the trio of musicians are grainy textures of an Arctic wilderness.
The singer is Tanya Tagaq and the images belong to Robert Flaherty's 1922 silent film Nanook of the North. This creative mix of music and moving image opened the Toronto International Film Festival's First Peoples Cinema programme in 2012. Earlier this week,  Tanya Tagaq, along with Jesse Zubot and Jean Martin, recreated their film score live in Leeds, part of an excellent ongoing programme of film and music events at the Howard Assembly Rooms.
Considered the first feature-length documentary (documentary was not yet a distinct genre in early 1920s film making) Nanook of the North is now accepted to be largely fiction. In an article, film scholar Alan Marcus  calls the film a 'Primal Drama', "an entirely new prototype of methodological practice and narrative structure". (Flaherty's status as 'Father of the Documentary' was further interrogated in Mac Dara O'Curraidhin's 2010 film, A Boatload of Wild Irishmen.) The woman who played Nanook's wife in the film would become better known as the Mother of Flaherty's child and the story doesn't end there: a new chapter is told in another film: Martha of the North.
'Nanook' means bear (the actor's real name was Alakariallak). He represents the 'friendly native trader,' selling white fox fur and polar bear skins to a French fur and luxury goods company at a trading outpost in the Canadian Arctic. The film follows him as he embarks on a new phase of hunting, together with his small family, and uses his strength and ingenuity to provide food and shelter for them and their dogs in the unforgiving ice and snow. It is interesting to note that Flaherty deliberately presents the viewer with aspects of hunting and of daily life that belonged to an earlier era of Arctic survival, which raises some interesting problems about context – always a good thing to keep in mind when thinking about the role of culture in a 'post-fact' public sphere.
A few days before the gig, Tanya Tagaq had spoken to Culture Vulture about her evolving relationship with the film and its "colonial lens". "The happy-go-lucky Eskimo" she quipped, with a momentary roll of the eyes, during her introduction to the performance. There were sniggers at some of the scenes in the film – not in an unkind way: the film has its comical moments where the Inuit family and their dogs goof around for the camera – but there are plenty of little details that reveal a different life of resolute toughness.
The real character of the 'Eskimo,' according to Tagaq, is not a happy one, Inuit people are strong and stoic; Tagaq's mother apparently told her not to make a noise when she gave birth. For someone who experiments so wildly with making noises, that must have been impossible.
Her singing technique, which has been adapted from traditional throat singing, involves rapid exhaling and inhaling to produce different sounds; a delicate female voice floating over a guttural, animalistic growl. Occasionally during the show she would break into a babble or a deep purr, her voice electronically augmented a little at times to alarming effect. This, along with her barefoot performance, made the live aspect of the show so compelling I had to keep reminding myself to watch the film. This isn't a criticism, however. The two elements together created one harmonious piece of art and this made it a total joy to behold.
Laura Ager is an Event Organiser working in film education.
Follow her on Twitter: @doc_u_laura