Main photo: Will Pryce | Photos courtesy of Radisson Blu, Leeds
With an exciting new menu at its prestigious FireLake Grill House & Cocktail Bar, Radisson Blu is carrying the torch for affordable dining in Leeds. VANESSA MUDD came away with a doggy bag…
A few weeks ago I arranged to meet a girlfriend in Leeds. We ducked out of Browns on The Headrow in favour of its neighbour, the Radisson Blu, where we enjoyed expertly mixed drinks in the much more convivial surroundings of the FireLake Grill House and Cocktail Bar.
The original FireLake is in Minneapolis, cooking up locally sourced seasonal fresh produce in a real wood firepit. The FireLake in Leeds has much the same offer and, in a genuine coup for the city, is the only branch so far outside of North America.
As with its US counterpart the restaurant is decorated in warm earthtones which accentuate the furnishings of wood, leather and stone. The mood of relaxed intimacy is compounded by its well-appointed, interconnected 'rooms.' It is all a million miles removed from the building's previous incarnation as a branch of the Leeds Permanent Building Society.
The FireLake brand may well be as American as pumpkin pie, but look carefully and you will see plenty of nods to Yorkshire, from the Yorkshire Pudding Roast Beef sandwich on the new menu to the huge fresco of actor Peter O'Toole which dominates an entire wall.
Our evening began with a brief cocktail making course under the tutelage of Ross who walked us through the art and science of mixing cocktails. This was grown up fun, none of the get-drunk-quick slapstick of some other bars I could mention. Nor was there any need to disguise a lack of skill with an excess of sugary syrup (Ross's Top Tip for spotting a dud cocktail btw) as our drinks were lovingly and meticulously concocted.
Ross proved something of a cultural historian where cocktails are concerned. Who knew, for example, that the inventor of the sublime Gin Bramble (Dry Gin, Crème de Mure, fresh lemon juice and sugar syrup) is still very much alive or that despite containing five separate alcoholic ingredients, a Long Island Tea is one of the least boozy cocktails there is?
Cocktail aperitifs dispensed with, our attention turned to Head Chef Oliver Brearley's new season menu and the reason for our visit. He was beyond the cliché of being passionate, so excited was he to point out the quality and Yorkshire provenance of his signature dishes.
As one might expect from a man with a tattoo of porky prime cuts on his forearm, there is a strong emphasis on meat. However, as a gluten free diner, the range and inventiveness of the dishes on offer across the board is fantastic, not to mention unheard-of in a mainstream restaurant.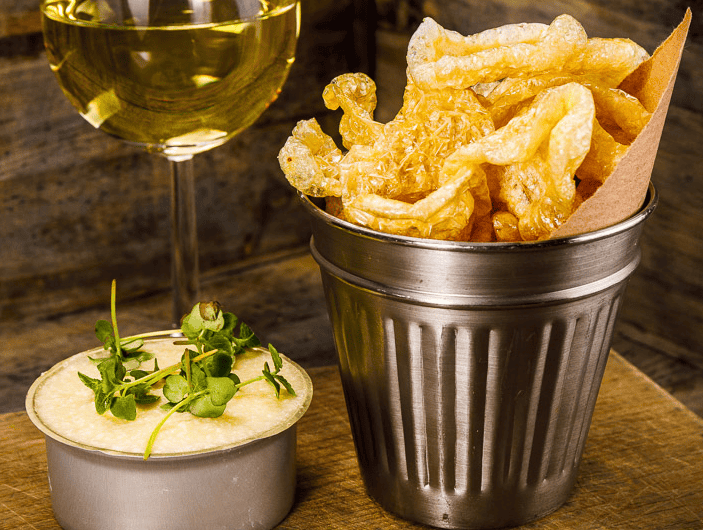 Our pre-starter of pork scratchings, baked then air roasted, was crisp and light with subtle smoky topnotes which were perfectly offset by the delicate apple butter in place of the traditionally strident sauce.
Portion sizes at FireLake Leeds err towards the generous side. My starter of Queenie scallops in their shells garnished with a confit of slow roasted garlic and parsley was simply divine. My companion's Fire Melting Croquette, a smoked ham hock croquette served with a single slither of house cured prosciuttio and a generous dollop of Yorkshire rhubarb pickle, also went down a treat.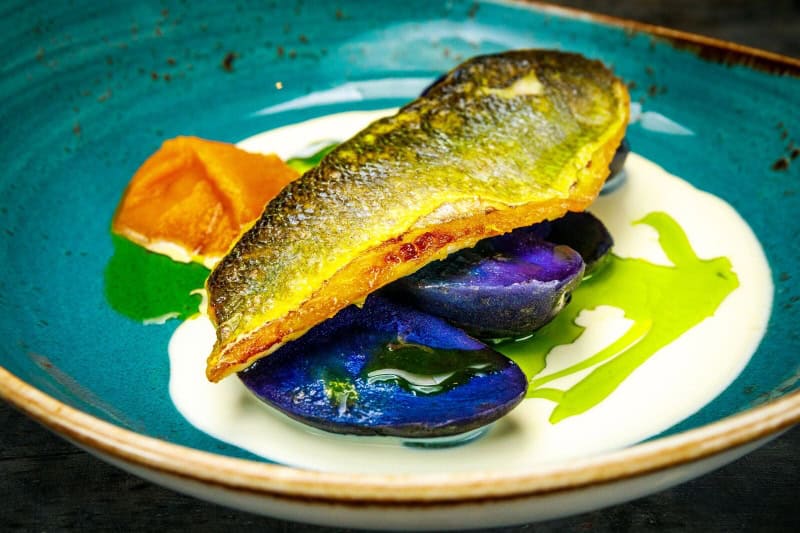 My main consisted of two perfectly cooked seabass fillets was abetted by smoked carrot puree and bruised purple heritage potatoes. The accompanying tarragon sauce was so good I would have been dipping my fingers to get at the last of it had fresh sourdough not been onhand to save my dignity! My dining partner opted for a chunk of pink Nidderdale lamb that was cooked and seasoned to perfection.
After the main courses, there was barely room for desserts. While my companion had terrific fun with his deconstructed ice cream sundae, a new pinnacle was reached with a flourless chocolate cake that exploded on the tastebuds without bitterness or artificiality. Its smooth torte-like texture was augmented by a generous shard of homemade honeycomb. I couldn't finish it all, nor could I leave it behind which is why God invented the doggy bag!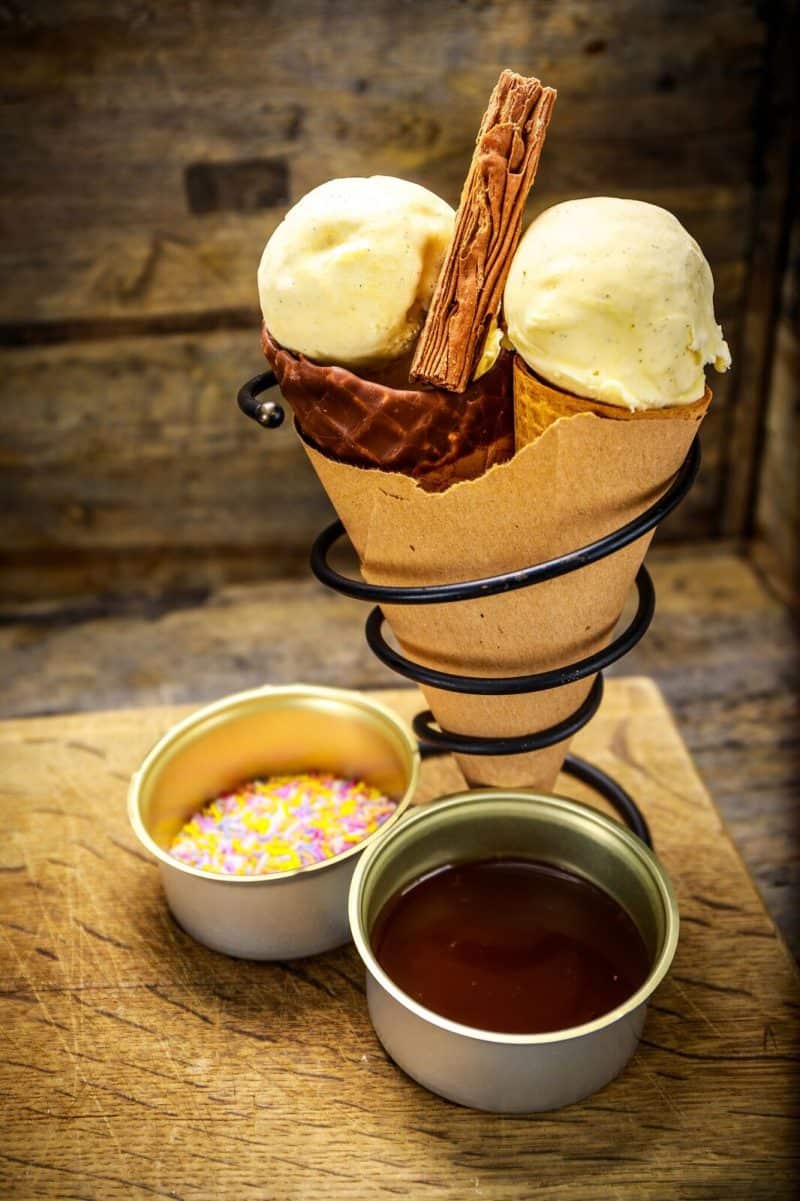 Being given a tin of Brearley's personally blended steak rub and a hot chocolate bomb as we were leaving was a nice touch. It is all about the little details you see. With its friendly and attentive staff, wonderful ambience and keenly priced menu to die for, Radisson Blu's FireLake Grill House and Cocktail Bar is big on those.
FireLake Grill House and Cocktail Bar at Radisson Blu, The Light, Headrow, LEEDS Click here for the little details.