Yorkshire's finest – actor and director Reece Dinsdale
Acclaimed actor and director REECE DINSDALE talks to ANNA CALE about his career, the importance of family, and why out of sight can often mean out of mind.
When I meet Reece Dinsdale, the first thing he does is apologise for his lack of voice. He's hoarse from shouting his support for his beloved Huddersfield Town with his son the night before. Warm and engaging, before you know it, we're chatting away like we've known each other for years.
In some ways I feel we have. It's very easy to understand his enduring popularity with audiences. He's been part of the Yorkshire theatrical landscape for many years, and a firm favourite on both the small and big screen. But a shift to behind the camera in recent years means he hasn't always been on everyone's radar. Now that's all beginning to change.
Born and bred in Normanton, his love for his home county shines through from the beginning of our wide-ranging conversation, as we talk about his enthusiastic support for the arts scene in Yorkshire. Associate Artist at Leeds Playhouse since 2015, more recently Dinsdale also became a patron of Square Chapel in Halifax, "I was blown away by it, not only the space but the story behind it. Such an eclectic mix of arty-farty things isn't it?"
After spending over 20 years working in London, he and his wife, fellow actor Zara Turner, made the decision to return north after the birth of their daughter 18 years ago.
Back then it was a career changing decision. He was still having to go to London for work opportunities, always feeling he was chasing things, "I wouldn't move away now, I love it. But in some ways, I was cutting my throat professionally."
Fast-forward a few years and things have finally started to change, "The arts have spread now, it's everywhere and it's brilliant, it's vibrant. In the last 10 years there's been an explosion of arts centres, theatres and cinemas, and everybody's performing in every space available now, it's fantastic."
He felt it was right to put himself forward and embrace that change in the local landscape, "I really wanted to get more involved in what's going on here, because the people of Castleford and Halifax are just as important as the people of London to perform to."
His longstanding association with the Leeds Playhouse began in 1990 when he had the pleasure of opening it, as the West Yorkshire Playhouse back then, and taking the lead role in the first ever production, Wild Oats, "Oh my god, I'm 107!" he jokes.
It was an opportunity that meant a lot to Dinsdale, "I remember saying to my dad, they've asked me to play the leading role in this very first production at the West Yorkshire Playhouse, should I do it? And he said, "Get it done son, it'll be like opening the batting for Yorkshire!" And he was so proud, so I did it for that reason, and many others of course."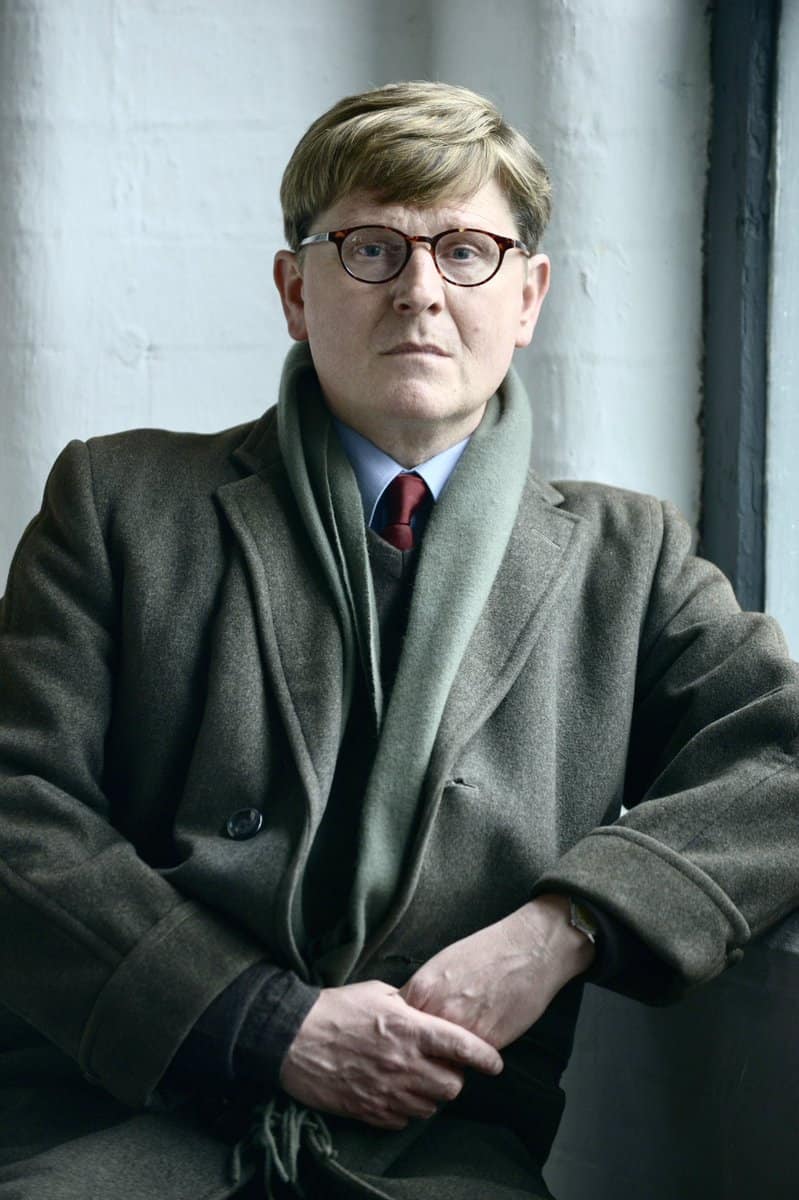 Dinsdale's theatre career speaks for itself. Not only has he taken on many lead roles in flagship productions at the Leeds Playhouse, including The Master Builder, Richard III and an award-winning performance as Alan Bennett in Untold Stories, he has graced the stage at the National Theatre in James Graham's This House amongst other plays.
He is mindful, however, of disappearing from view if those roles are not in London, "I very much wanted to get involved where I lived, rather than always having to traipse to London. But it did stop things being so fluent, because if you're not doing theatre in London, even as a respected actor, you're out of sight out of mind, and if casting directors aren't seeing you regularly, you are kind of just forgotten really."
Dinsdale knew he wanted to be an actor in his early teens. Coerced into the lead role in a school play by his teacher, he found he loved every minute of it, "I was a bit cheeky, but I was wasn't very sure of myself. And I'm still not really sure of myself, even to this day. What I loved was I was able to express myself by being another character, so I could go to the furthest reaches of things. It allowed me to have a voice."
As a lad from Normanton, opportunities to take forward his acting ambitions were limited. But at 18, he left for London and drama school, "I was more like 16 really. I wasn't mature, I was a bit green. But I went for it, nothing would put me off the scent. I could have got back on the train home, but I took the bull by the horns and absolutely loved it."
From leaving drama school he worked solidly throughout the 1980s. He initially spent time in rep theatre but was noticed quickly. His first break came in the play Red Saturday, a comedy set in the world of professional football. After an initial tour it transferred to the Royal Court. It felt like every casting director and producer in town came to see it, and soon after he was cast in Barry Hines' Threads, films A Private Function and Winter Flight and then in the hugely popular Yorkshire Television sitcom Home to Roost.
Dinsdale explains, "I remember my agent saying there's a sitcom, a two-hander, and I thought no, I'm not a sitcom man. I've done all these nice heavy roles, and I don't want to ruin that."
But then his agent mentioned it was opposite John Thaw, and Dinsdale just couldn't say no. The part was playing Thaw's 17-year-old son, despite Dinsdale being 25 at the time. They'd screen-tested several younger actors, but there wasn't the spark they were looking for. That spark was there between him and Thaw straight away, "John always gave me the same amount of respect that I had for him. But it was very easy, very natural."
The show was a huge success, but it was a mixed blessing for Dinsdale, "Sometimes I look back and I think part of me wishes I'd never done it, because I struggled for a long time afterwards in being thought of as a lightweight, a comedy actor."
But in 1994, Dinsdale took the lead role in Phil Davis' critically acclaimed film ID, "Everyone just went, "Oh my god, where did that come from?" But that was always in there, it's just people had grown used to seeing the nicer, lighter side. You just need the opportunity sometimes don't you?"
After a long stint on the small screen, in the mid-2000s Dinsdale returned to the stage, taking on some of his most successful theatre roles. His focus has also shifted in recent years to working behind the camera as a director on a number of television dramas, including Jimmy McGovern's acclaimed BBC series Moving On.
It's been a hugely successful move, "My first one was a three-hander with three 70-year-olds in a love triangle, and the cast was Peter Egan, Hayley Mills and Ken Cranham. You get these wonderful actors who want to come in, and I keep doing them and loving it."
One of his productions for the Moving On series, Eighteen, won a Royal Television Society Award for Best Daytime Programme, an achievement which means a great deal to Dinsdale.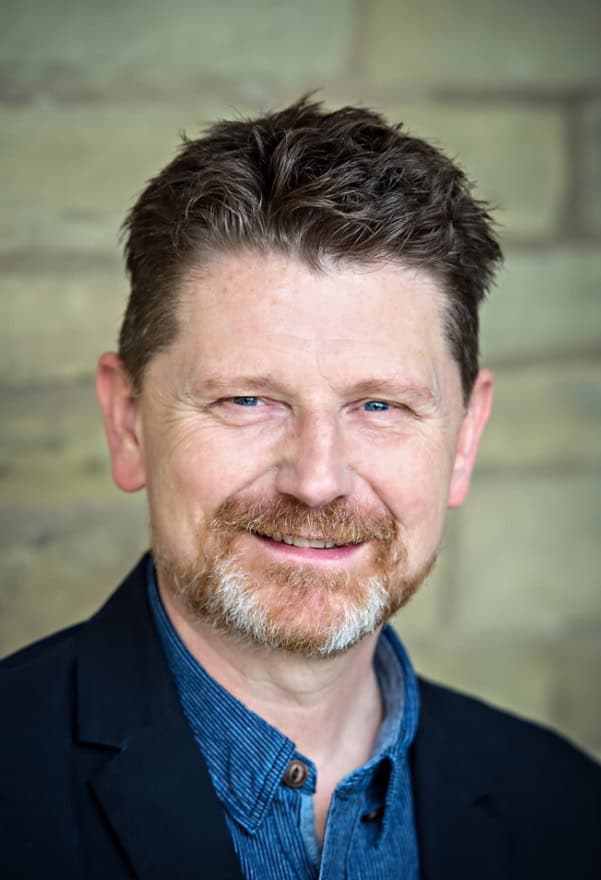 But by taking the helm as a director, his screen acting career has been put on hold, "I did notice that it was like falling off a cliff with my acting. The irony was, I was learning more about acting on screen as a director than I ever did as an actor myself. Yet I know that with the plays I've been doing that I'm a better actor than I ever was."
"In the last few years I've hit my stride, like I never have before. I have huge confidence in my ability but it's come a different way, with experience and wisdom."
We talk about how he feels being in the public eye, "It wasn't my thing at all, I'm quite private. I've never courted fame or anything like that. In all those years, I didn't play the game, because it takes a piece of you."
But in recent years, Dinsdale felt the time was right to dip a hesitant toe in the water. A friend suggested he join Twitter, initially just to keep his profile up, "So I thought, well I'm going to go on, because I think a lot of people think I'm dead!"
Despite working solidly in the theatre and now behind the camera as a director, Dinsdale realised people thought he just wasn't working, "Which is just so far from the truth. I think that's a huge pity, when people just watch actors on screen, who don't go to the theatre, who don't look at the credits, and see who directed that drama or whatever. If you're not placed in front of them, you're not working."
"It's often, "You used to be an actor, didn't you?" So the Twitter thing was just to remind people I was here. Then I just thought, at my ripe old age I don't have to be cynical. I can actually be honest and say what I think."
I tell Dinsdale that he comes across as very open, using the platform to interact positively and embracing the generous comments about his earlier work. He sees the benefits in doing so, and although he acknowledges that there can be negativity, feels the positives outweigh that generally, "I don't mind sharing my vulnerability. I'm not a macho man, I'm not a bloke's bloke, although I can swim with them. I just like to just say what I feel, and I've found in doing so, people respond in a way that's refreshing."
I ask Dinsdale how he feels about the nostalgia people have for Home to Roost and ID, roles he played many years ago, "Funnily enough I've only really realised how I've affected people since I've been on Twitter. Because I didn't play the game, I just ploughed my own quiet furrow as an actor for 30 years. I wasn't as fully aware of what I had done for people as I am now. And it was quite surprising."
"It's helped to reaffirm my own belief in my abilities, and that I've done all this wonderful work."
Dinsdale has also felt comfortable sharing personal experiences, reflecting the love he has for his family, and including talking very openly about his dad's ill health. The reaction from people has been overwhelmingly supportive, "I'm not doing anything cynical with it, it's just genuinely because I love him."
His father was diagnosed with terminal cancer at the beginning of this year. At the time, Dinsdale was about to embark on a five-month theatre tour, playing the lead role of Benedick in Much Ado About Nothing with Northern Broadsides.
"I was just devastated. He's my best mate you know, and I couldn't believe it. Yes, he's 87, yes, he's got Parkinson's, but you hope. This wasn't on the agenda."
Dinsdale felt unable to carry on with the production. He returned home immediately to be with his dad and make the most of the time they had together. After a while, he found himself wanting to share the love he feels for his dad with others, and posted a photo on Twitter, "I was so proud of him that I couldn't not. I was taking photographs of him and my boy and I was thinking, these are honest photographs of my family and my dad and I'm going to miss him so much. I just shared it and people are very kind."
After a break to be with his dad, Dinsdale recently announced he was going back to work, with his dad's blessing, "I said to my dad, I've got the offer of a directing job, but I don't want to do it. He just said, "son my life is over, yours isn't so please do it," so I agreed."
And in a wonderful twist of fate, the drama is set in the world of Rugby League, a sport Dinsdale grew up with and that his dad loves, "It's something for him. Even though he won't see it, I can talk to him about it, and it'll be a reason to go to work. It's a world he loves. He gave me the nod, so I'll do it for him, and make him proud."
Dinsdale would love to be back acting on screen, but feels he's in a good place professionally, "Even if I never act on screen again, as long as I can direct some dramas and act on stage in the theatre and give people a fantastic night out, I'll be more than happy. I get satisfaction as an artist from those two things alone."
Knowing the level of support he has from fans and colleagues has given Dinsdale a new feeling of confidence, "I'm now aware of what love and respect there's been for the things I've done, and it's given me a bit of strength."
And as he approaches the age of 60 later this year, Dinsdale has a positive outlook, "I'm coming through into a brighter space now, it feels right. I am who I am, and I feel I've nothing to lose."