Nothing brings a family together (or tears it apart) like the death of a matriarch. ANNA CALE enjoys Louis Malle's classic comedy Milou en Mai as part of the #RFN68 festival.
Louis Malle's gently satirical comedy Milou en Mai (Fools in May) was screened as part of the Radical Film Network #RFN68 festival, a 50th anniversary programme of screenings and discussions to mark the revolutionary fervour of 1968.
Although set at the height of the student protests in Paris, Milou en Mai very much focuses on the domestic rather than the political.
When the family matriarch dies suddenly, members of the Vieuzac clan are forced to come together at their rambling countryside estate for the funeral. The reunion soon turns into a showcase of sibling rivalry and seething resentment. Each has his or her own agenda as family secrets are revealed and complex interwoven relationships unravel, culminating in a farcical escapade in the woods and the prospect of losing it all.
All the while the Paris protests rumble along like background noise. The focus on events is fleeting, the political upheaval resolutely viewed as to its petty inconveniences. There are petrol shortages, food is scarce and the gravediggers are on strike.
The lack of interest in the protests exposes the family's bourgeois status, completely removed from the realities of life. Each member of the family demonstrates his or her ignorance born of privilege in different ways, but it belies a common bond of self-interest. They fight over the family silver, but ignore the importance of that which unites them, the anchor of the family home and status.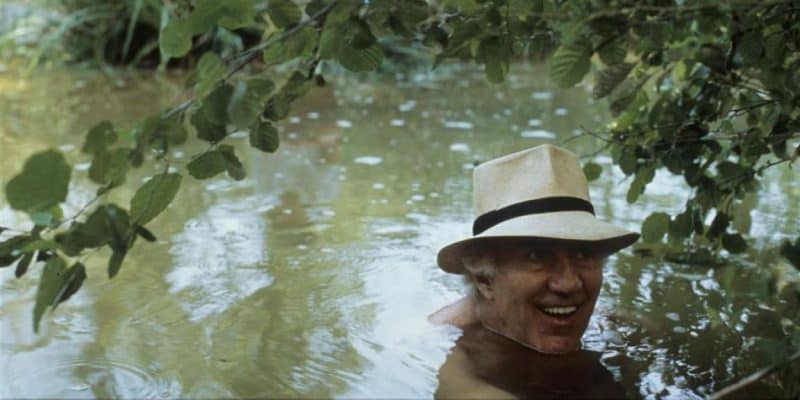 The disconnection from the events unfolding in Paris is both physical and emotional. The Vieuzacs feel safe in their middle class bubble, until rumour and exaggerated fears of revolution come crashing in from outside to threaten to take away all they hold dear.
I had the pleasure of watching the film in the delightful setting of French café Monsieur Dejeuner in Headingley. The experience of eating lovely French food in such an intimate setting added to the charm of this eccentric film.
The venue was perfect and demonstrated the beauty of immersive cinema and film as a social event. To me that is completely in keeping with the Radical Film Festival ethos of creating your own moment.
Ironically I was watching Milou en Mai alongside my own brother, but I can't see us arguing over the family silver any time soon. Nothing brings siblings together like the spectacle of another family's disfunction.
The #RFN68 season continues. Details can be found here. 
Read more from Anna here.