The second of this year's summer productions from Marsden-based MIKRON THEATRE celebrates 100 years of women's suffrage. REVOLTING WOMEN is a reflective piece with less of a barnstorming feel than their NHS show, despite some funny hats and a trombone.
You wait all year for a new production from Mikron Theatre and then two come along at once. After the cracking launch of Get Well Soon last month in Halifax (reviewed here on The CV) it was Huddersfield's turn last night to host the premiere of Revolting Women at the Lawrence Batley Theatre.
It's another show in the distinctive Mikron style, with music, laughs and a versatile company working together as a slick and supportive ensemble. Revolting Women centres round the story of Sylvia Pankhurst and her campaign to win the vote for all women, whilst getting generally involved and absorbed in the social issues of London's east end in the early years of the twentieth century.
Whilst Get Well Soon, Mikron's peon to the NHS, has a rip-roaring end-of-the-pier show quality Revolting Women feels more wistful. It's the music and the song lyrics that carry the story, and composer Kieran Buckeridge and musical director Rebekah Hughes are offstage stars of the production.
It's hard, after all, to get a laugh out of force feeding hunger strikers in Holloway Prison, so the song "Tell Me a Tale, Miss Wardress" is especially poignant, a prisoner's cry to those using "a steel gag to open the jaw" and delivered in the style of a music hall lover's lament.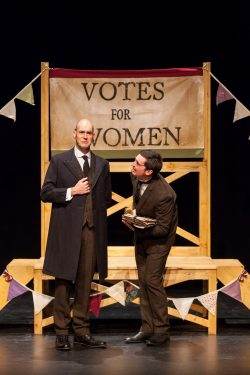 "Asquith's Dilemma" contains more than a few contemporary barbs in its exposition of then Prime Minister Herbert's political calculations, and "Sisters", a duet lampooning the spat between Sylvia and her more radical older sibling Christabel, is probably the comic highlight of the evening.
That philosophical difference as alluded to throughout Vashti Maclachlan's script. Whilst Sylvia was all for getting involved in good works throughout the east end, improving the lives of women earning a pittance for piece work, Christabel and Pankhurst matriarch Emmeline were all for direct action.
Sylvia's distaste for violence shows in her squirming reluctance to throw stones at pictures in parliament, an action that leads to imprisonment.
The staging is simple. A wooden platform with steps at each side, framing a large "Votes for Women" banner and some bunting also serves as a screen for the frequent quick changes as the cast – Daisy Ann Fletcher, James McLean, Rosamund Hine and Christopher Arkeston slip seamlessly in and out of their various characters, whilst also performing their own live musical accompaniment. Director Jonny Kelly makes sure the action zings along.
Revolting Women is very much a show written for its intended audience, most of whom will see the production in makeshift spaces in pubs, clubs, village halls and even allotments as Mikron take the production on tour .. a lot of it by barge .. to literally dozens of venues around the country.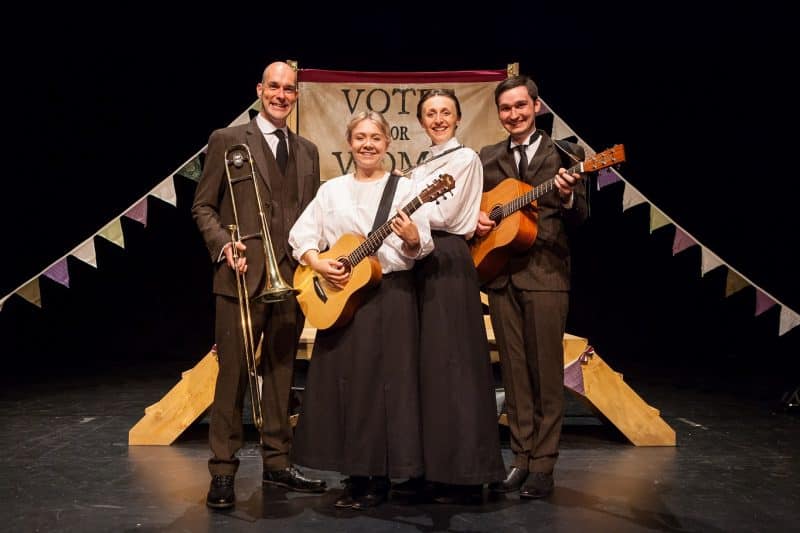 It's a moving and uplifting show, with some witty exchanges and satirical portrayals of the (all male) House of Commons in action – or should that be House of Commons inaction. It's only after the bows that the audience get to clap along with the feelgood ".. we'll go to the polls in the morning".
That's probably the right weight for the production; although Revolting Women is a celebration, it's a muted one; the 1918 Act that extended suffrage to some older and better-off women was, after all, a muted victory coming as it did at the end of a brutal and bloody war.
Women had to wait another ten years for the right to vote at 21, like the men.
But that's another story.
Revolting Women from Mikron Theatre is touring extensively .. details here
Production Photography: Peter Boyd