Kurt Weill's Street Scene at Opera North, Leeds Grand Theatre. Review by Ron Simpson.
In 1947 Kurt Weill's Street Scene won the first ever Tony Award for Best Original Score. It is now recognised as a ground-breaking work in American musical theatre, paving the way for the likes of Stephen Sondheim, yet performances are relatively thin on the ground. I saw it at English National Opera just over 30 years ago – and I'm not aware of any opportunities to renew the acquaintance until now.
The main problem is that Street Scene synthesises so many different styles of music, and the performers have to match Weill's ability to skate from dramatic opera to Broadway production number to pretty popular song to jazzy rhythms. Originally billed as "a dramatic musical", according to Weill it is a "Broadway opera". A second problem is the sheer number of named parts, about 30 in all, most of them individually characterised even if they only make a fleeting appearance in a single scene.
These problems in fact make it an ideal choice for Opera North. Their immensely talented and versatile Chorus, experienced and skilled in musical theatre, are about to collaborate with Leeds Playhouse on a second Sondheim production. The Orchestra too has the rare ability to switch from Grand Opera to Broadway at the drop of a baton. And the fact that this time the baton is in the hand of James Holmes helps no end. Like me he was at the 1980s ENO production of Street Scene, only he was in the pit! Since then he has built an unrivalled reputation as a Kurt Weill specialist.
Street Scene is based on Elmer Rice's 1929 play which deals with a day in the life of a New York tenement, with Langston Hughes' lyrics full of everyday poetry. The major drama concerns the tragedy of the Maurrant family – and here the music is at its most operatic. Anna, worn down by life with her truculent and potentially violent husband Frank, has embarked on an affair with Steve Sankey, the milkman – interestingly, he hardly appears, all that matters is that he is the catalyst for the Maurrant family tragedy. Meanwhile their daughter, Rose, also dreams of escape: her sleazy boss, Harry Easter (Quirijn de Lang, oozing spurious charm) offers prospects of Broadway at a price, the shy intellectual Sam Kaplan is a more romantic and devoted alternative.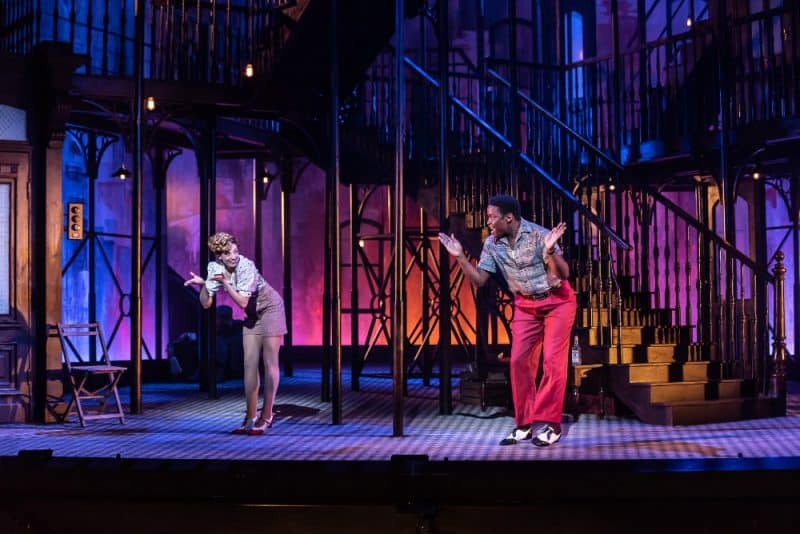 When Frank finds out about Anna and Steve, events explode into violence and murder with the sudden brutality of a verismo opera, but what makes Street Scene unique is the way the tragedy is wrapped around with the concerns of everyday life. Neighbours complain about the heat and gossip about Anna, with Claire Pascoe's splendidly malicious Emma Jones at the centre of every rumour or snide comment. Lippo Fiorentino (Christopher Turner) brings ice cream for all and the Ice Cream Sextet provides jolly Italianate fun.
Laura Kelly-McInroy as Jennie Hildebrand, on the brink of eviction, sings with charming pride of her graduation diploma in Wrapped in a Ribbon and Tied in a Bow. When Emma Jones' daughter Mae returns from a wild night out with Dick McGann, Michelle Andrews and Rodney Vubya dance up a storm to Moon Faced, Starry Eyed.
Most striking of all is a strange little scene immediately after the murder when two pram-pushing nursemaids, drolly played by Lorna James and Hazel Croft, sing a gentle lullaby which keeps metamorphosing into ghoulish relish for the murder scene. Then, when all's done and dusted, it's back to complaining about the heat as life goes on with a new family moving into the Hildebrands' apartment.
At the heart of the opera is the Maurrant family. Giselle Allen's tormented Anna, always drawing the eye as the outsider, is matched in intensity, vocally and dramatically, by Robert Hayward's bruised bully of a husband. A sweeter relationship, though with disappointment already biting, pairs Gillene Butterfield's earnest Rose, singing with rare radiance when the situation permits, with Alex Banfield's Sam Kaplan, his timid exterior belying his passionate singing.
James Holmes brilliantly negotiates the score's many gear changes. Matthew Eberhardt secures spot-on performances from far more performers than I have room to mention and uses Francis O'Connor's ingenious "inside/outside" set to full advantage. Crowds create powerful tableaux on the overlapping staircases, or rush, race and barge through moments of panic; children play; cops and whores patrol and the street is indeed the scene.
The production runs at Leeds Grand Theatre until 28 February.