Byrd-Cage | John Cage's ear for EAR (Credit: Justin Slee)
Byrd-Cage, Opera North's contribution to Yorkshire Sculpture International, combined early music and minimalist choral pieces with stunning results.
The transformative power of sound within a space lays behind Opera North's thinking for Byrd-Cage. The company's contribution to Yorkshire Sculpture International 2019, the night interleaved music by William Byrd, Andrea Gabrieli, Jacob Handl, Arvo Pärt and John Cage. However it was an excerpt from Cornelius Cardew's startling The Great Learning that really had the hairs on the back of the neck standing up on end.
The piece is unique, every performance is genuinely a one-off. Cardew's notes require the 36 strong Chorus of Opera North to circulate around the intricately brocaded confines of Leeds Art Gallery's Tiled Hall and recite an aphorism by Chinese political-philosopher Confucius at a pitch of their choosing. Gradually the singing shifts out of phase and an immersive ethereal blur is created, akin to the electronic experiments of Brian Eno and Robert Fripp.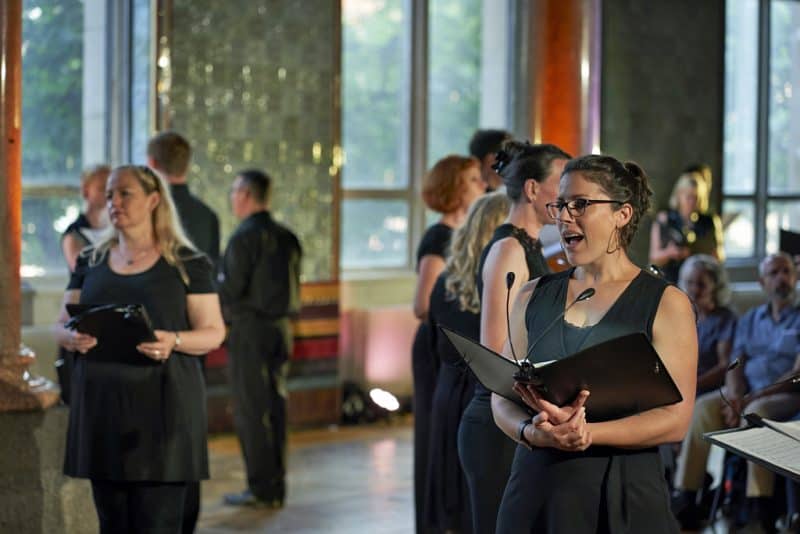 Byrd-Cage | Cornelius Cardew's The Great Learning (Credit: Justin Slee)
For his programme, Chorus Master Oliver Rundell goes for some bold and eclectic selections, not least the stunning religious minimalism of Arvo Pärt's Nunc dimittis. The Estonian composer's work affords members of the Chorus the opportunity to show off a little. Commencing from a barely audible hum, the final moments blaze into life as a near deafening cacophony takes hold and threatens to gouge at the acoustics of the room.
The less obviously problematic music of William Byrd is freighted with controversy, albeit of a peculiarly 16th century kind. The Renaissance composer's symbolism and soaring inventiveness may give the secular finger to fun-hating Puritans everywhere, but to modern ears it's the fragile beauty of his arrangements that briefly transfigures the art gallery's environs into the Elizabethan Chapel Royal.
Another work which utilises the broader acoustics of the venue's hallways and chambers is John Cage's ear for EAR, a hypnotic and surprisingly mischievous minimalist work which borrows from the sacred vocal tradition. It is a Gregorian chant which uses only the letters E, A and R in place of the familiarly modal sacred Latin.
As a response to the sculptural possibilities of sound, Opera North's Byrd-Cage was a fascinating challenge to performers and listeners. The Tiled Hall proved the perfect venue for such a bold, expressionist venture: never has early religious music felt so modern and secular, nor modern minimalist works so richly steeped in age-darkened joy.
Yorkshire Sculpture International's festival of sculpture across Leeds and Wakefield continues until 29th September 2019. More details here.