Opera North and Phoenix Dance Theatre team up for a stunning and unexpected double bill, says CATH ANNABEL.
Stravinsky and Puccini would not have approved of having each other's work linked in any way. Puccini described The Rite of Spring as, 'the work of a madman' when it was first performed in 1913, and Stravinsky was pretty scathing in return about Puccini's Gianni Schicchi just five years later. 
Legend has it that the Paris audience rioted on hearing Stravinsky's score to Nijinsky's ballet. It's unlikely to provoke such a response these days, its dissonance and driving staccato rhythms long since familiar to generations of children thanks to Disney's Fantasia, where it accompanies a dinosaur battle to the death.
The choreography however is entirely new for this production, the work of Jeanguy Saintus who draws inspiration from his Haitian roots and the ritual practices of vodou [voodoo].
His is a celebratory take, an initiation – there is no sacrifice at the end. The dancers give themselves up as they are possessed by spirits. Their bodies twist and jerk, bent into impossible positions; elsewhere the movement is sinuous and sensual.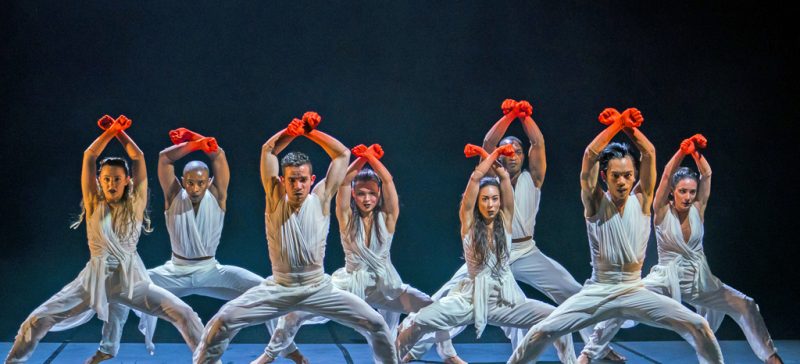 As the ritual progresses, colour is gradually introduced to Yann Seabra's gorgeous white costumes: coloured gloves (the red hands particularly striking) and bright layers of skirt flash as the dancers whirl and leap. The lighting too creates atmosphere, revealing symbols on the bare stage to remind us of the ritual we are witnessing.
Conducted with pace and vigour by Garry Walker, Stravinsky's powerful and still breathtaking music is performed in a smaller ensemble than used originally. Giving full rein to the score's pounding rhythms, it was translated into dramatic movements by the Phoenix company's extraordinary dancers.
There's no denying the startling contrast provided by Puccini's rare foray into comic opera, though the first performer we see on stage is not a singer but a classically trained dancer, the production's movement director, Tim Claydon.
As first Dante, then Buoso Donati (soon to be late of this parish), Claydon makes full use of the stage's minimal furnishings. His character's death and unexpected afterlife has him pop up in the midst of the action or overlook it from atop a wall. 
Gianni Schicchi is darkly funny and very cynical. At times it feels as though Puccini is sending up his own work. The lovers seem to have strayed in from one of his romantic operas, out of place amongst the rapacious schemers.
Lauretta's lyrical aria O mio babbino caro (a gorgeous performance from Tereza Gevorgyan, also to be commended for her skill in climbing a ladder in vertiginous platform heels) and her duet with Diego Silva's sweetly studious Rinuccio, contrast wittily with the modernistic style Puccini uses elsewhere.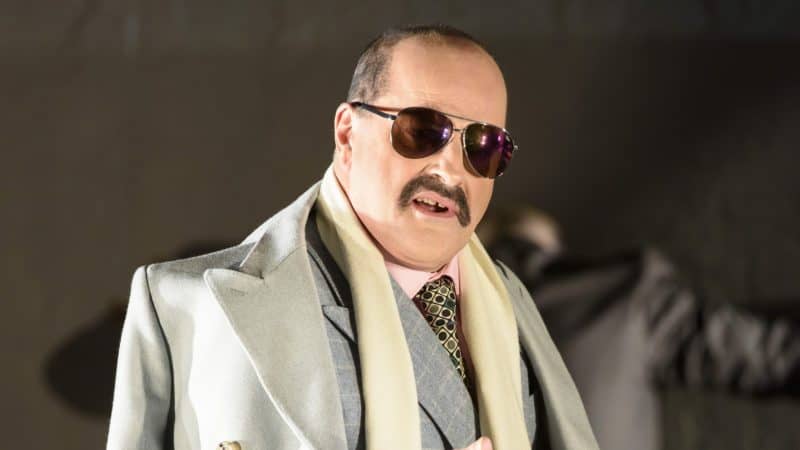 The costumes seem to locate the action somewhere in the 1970s, though young Gherardino has a tablet and mobile (he takes a selfie with the corpse) and the lawyer a laptop.  Otherwise it's all designer sunglasses, the women in pencil skirts and heels, clutching their handbags.   They're a pretty horrific bunch, not just willing Buoso to pass away asap, but actually expediting the process.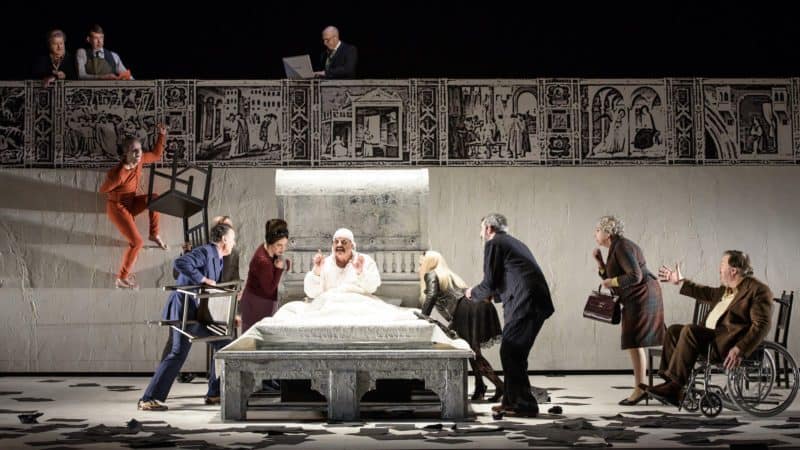 And so Gianni Schicchi – who out-schemes the schemers – is something of an anti-hero. Not averse to dodgy dealings, attempts to influence him and curry favour mean he never misses a chance to keep the best bits of Buoso's estate for himself (bizarrely including a flea-ridden dead mule which we first see hanging upside down from the ceiling).  Most importantly however, he is ensuring the happiness of his daughter, Lauretta, who can now marry her beloved Rinuccio. Nor do the relatives go away empty handed, so despite their rage at Schicchi's manoeuvring, no one really loses out. 
We're told in a brief epilogue that Schicchi pays for his crimes by being consigned to the eighth circle of Hell (as per a few lines in Dante's Inferno), but he's pretty cheery about it. It's a richly comic and engaging performance from Richard Burkhardt, utilising a higher-pitched querulous vocal style for his impersonation of Buoso, which contrasts with his own rich tones.
This stunning double bill continues at the Grand Theatre Leeds until 2 March, and then goes on tour to Salford, Newcastle and Nottingham until 22 March Details here.
Interview with JEANGUY SAINTUS about choreographing THE RITE OF SPRING.