You know the play within a play? Well OUR COUNTRY'S GOOD in the Courtyard Theatre at WEST YORKSHIRE PLAYHOUSE is a play about a play .. within a play. The combination of grit and heart makes for a memorable evening, as RICHARD HORSMAN discovers.
Our Country's Good is a comedy, drawing earthy humour from unlikely material; the plight of 700 convicts who arrived in Australia on some of the earliest ships to reach what was then a penal colony.
The eight month sea voyage shared by criminals, prostitutes and lonely military men meant no-one was quite the same person they had been when they arrived.
In their new home they find abundant wildlife, which the officers take to shooting with abandon.
Human life is also cheap in Oz, as those transported to save their necks from the noose could find themselves hanged for stealing food. Supplies are running out, prisoners are trying to escape, the guards are threatening mutiny – so it's the obvious time to put on a play involving both convicts and captors in a comedy of manners set in upper-class Shrewsbury.
Second Lieutenant Ralph Clark (Tim Pritchett) persuades the colony's pragmatic Governor (Kieron Jecchinis) to let him stage George Farquhar's 1706 play 'The Recruiting Officer' in an attempt to boost morale; thereby, accidentally, producing the first play to be performed on Australian soil. True story.
The standout performance from an ensemble cast comes from Gbemisola Ikumelo as Liz Morden, the leading lady in the maverick lieutenant's ragtag company and by the second half under a death sentence for stealing food. Her fluent and faultless rendition of her upbringing in eighteenth century street English was for me the highlight of the evening.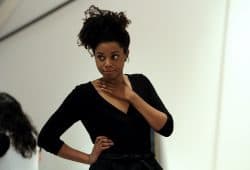 Sapphire Joy also delivers a moving and nuanced performance as Mary Brenham, our main protagonist who eventually breaks down the barriers between prisoners and keepers, and whose story gives hope of better times ahead for the colonists in the face of brutality from career military types like Major Robbie Ross (Colin Connor)
The show integrates disabled and deaf actors in a style which will be familiar to Playhouse audiences following Ramps On The Moon's previous staging of the musical Tommy last year.
The cast perform both spoken and sign language, with side captioning, and Our Country's Good gives convict Duckling Smith (Emily Rose Salter) key speeches that are made just in BSL, relying on her gesture and the spoken reaction from her lover, Midshipman Harry Brewer (Garry Robson) to convey the meaning to those who can't read signing.
The technique works very effectively, as does using Milton Lopes as an enigmatic Aboriginal Australian who observes the antics of the new arrivals.
He appears to be talking quietly to himself, articulating inner thoughts in a private dream world – he's actually audio-describing the performance live on stage, in role, for audience members with visual impairment.
All in all Our Country's Good is a show with heart, guts, memorable characters and some gentle humour amid the grit and the lashings .. and the hardship shared by captors and captives alike in a new world yet to be explored.
Be ready for graphic sexual references along the way. It's not a show for the naive, or the prudish.
Timberlake Wertenbaker's 30 year old script makes for a very long show, with the first half in particular feeling quite wordy. OK, it's a play about putting on a play and as such a bit of arch theatricality (and some very good Garrick jokes) can be expected, but it goes on a bit.
Things liven up markedly after the interval, but there's still another 70 minutes to go. It's hard to know what could be cut, to be honest, as it all hangs together. And as the first settlers in Australia discovered, it's well worth persevering in the end.
Our Country's Good runs at West Yorkshire Playhouse until 21 April and the national tour returns to Yorkshire at Sheffield's Crucible Theatre from 12-19 May
Production Photography: Catherine Ashmore