Photo: Elizabeth Simmonds
Over four rooms at Huddersfield Art Gallery, the New Light Prize biennial art exhibition celebrates Northern art and artists. NEIL MUDD ponders what this actually means…
It feels apt to come across Isobel Peachey's painterly triplicate rendering of Tom Courtenay in an exhibition which shines new light on the very best of Northern art today. As William Fisher in the film version of Keith Waterhouse's acidic novel, Billy Liar, the Hull actor vacillates between losing himself in London and finding himself by staying put in the North.
If you have read Waterhouse's sequel, Billy Liar On the Moon, then you know how that plays out. It can be a bit tricksy this geography lark. The North is another country, et cetera, et cetera; 'less a latitude and more an attitude,' as Phil Kirby is fond of pointing out.
How then to define Northerness? Are we Billy Casper, Billy Liar or Billie Whitelaw in Charlie Bubbles..? Or is being from the North characterised by the sheer bloody-mindedness of Saturday Night and Sunday Morning's Arthur Seaton who reminds us, 'Whatever people say I am, that's what I'm not?' (The book's author, Alan Sillitoe, set his story in Nottingham, so where does this mythical North even begin?)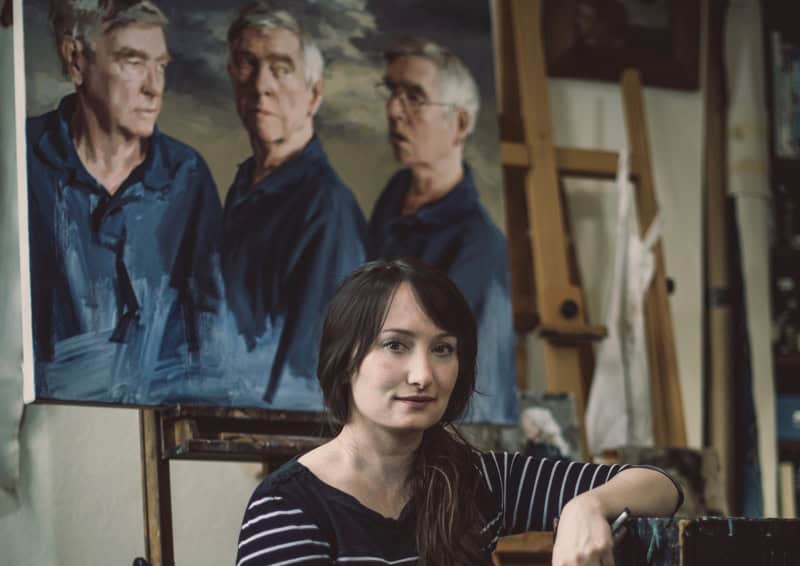 Visitors to Huddersfield Art Gallery have an opportunity to puzzle things out for themselves. Until June, the venue is host to a touring exhibition of works selected for its biennial Art Prize by New Light, a relatively young charity set up to celebrate and promote Northern art and artists.
But with over seventy artists and more than ninety pieces selected and curated across four rooms, people will have their work cut out for them.
As might be expected, there is plenty of landscape to be had, but with a few rare exceptions these dodge the bullet of what might be considered twee. Caravan of Love, Christopher Campbell's beautifully realised oil painting of a weather-beaten caravan stranded in a field is like some sardonic momento mori. So too the concretopia of Paul Crook's Turquoise Tower which seethes with the dull resentment of a future promised, but not delivered.
The recession-struck bomb damage and stark skeletal gothic of Melise Harland's Norlisk is a bitter reminder that Thatcher's Final Solution for the North remains a poisonous reality nearly forty years later. Draw comfort then from the abstract expressionism of Jill Campbell's joyous Spring 5 which captures the shifting textures of light and colour of the artist's native North Pennines with something approaching a newly-minted secularism.
For those who prefer their art to look like something, savour Charlie Askew's colour pencil drawing, River Thame, Delph, which demonstrates a truly astonishing super-realistic virtuosity. Likewise Peter Layzell's witty Mummenschanz, and Jane Lewis's grim, unsettling White Rabbit – The Vivisectionist. Worthy of mention is Christopher Cook's hauntological Forbidden Fruit and Rachel Clewlow-Kennedy's mesmerising Seven Walks, Seven Gates and Seven Colours (Map and Key).
One of the undoubted highlights, however, is Steven Heaton's unapologetically abstract Nothing is Ever the Past, a pair of canvasses buried for six years. The patchwork of muted shades denotes an invented landscape seen from above or the scarred musclework of a derelict interior. The tonal palette and facility may be deliberately understated, but Heaton's work sears itself into the imagination and stays there.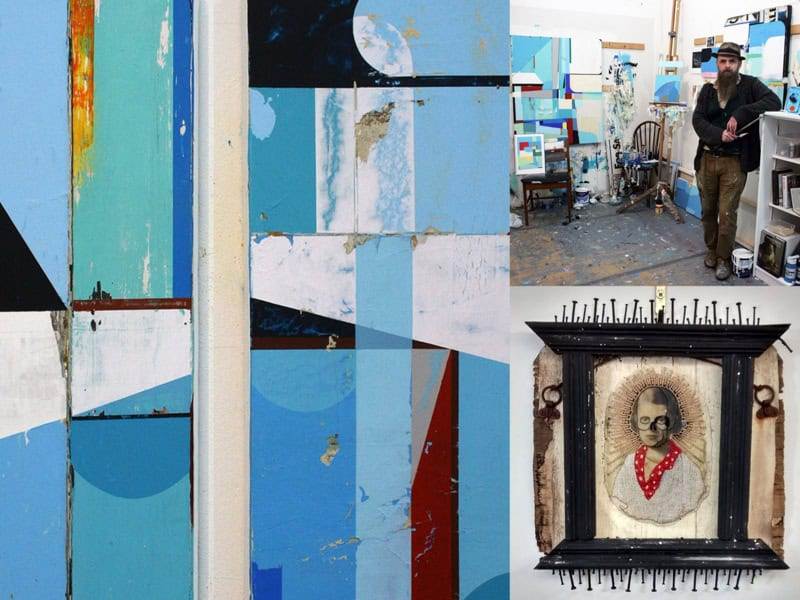 There are some fine examples of printmaking: Jo Gorner's Scission 1 is dizzying, like Jackson Pollock let loose with a Spirograph, and there is a cosy familiarity about Neil Bousfield's What Hope for Holding Back the Sea Ballot which will catch out the unwary viewer. Sculpture appears in a variety of forms from the soft, found object naturalism of Bridget Kennedy's Wylfa Weave Three to the disturbing Dada-ist impulses of Jax Temple-Smees (as Rejectamental)'s GirlWoman. (Somewhere there is a debate to be had about whether or not sculpture is the quintessentially Northern creative art-form.) 
If there is a take home message from the New Light Prize Exhibition at Huddersfield Art Gallery, it is that there is not one sole take home message. As far as what it means to be a Northern artist, on the strength of this wonderfully curated show, it all points North…
New Light Prize Exhibition is at Huddersfield Art Gallery until 2nd June. Free admission. Opening times 11.00 am – 4.00 pm. Closed Sundays, Mondays and Bank Holidays. Find out more about New Light art charity here