It's hard to feel empathy for a bloke who's just chucked a brick through a church window. When you're a vicar, it kind of goes with the job. The joy of IF I SAY JUMP .. from Leeds-based COMMON CHORUS at the Carriageworks is that within the first few minutes, RICHARD HORSMAN's feeling it too. 
Danny is a recovering alcoholic with anger issues. Jenny is a vicar who's taken on a new parish in Barnsley after separating from her husband somewhere down south. Her own childhood was troubled. Jenny's ex can't cope with the breakup, and sends her flowers every day.  Oh, and for reasons that needn't concern us right now, there's a gun involved.
On the face of it, If I Say Jump .. is a fast moving, absurdist two hander comedy with plenty of laugh out loud moments, surreal situations and a cast of cartoonish secondary characters portrayed by our principals putting on voices as required. Dick Bonham's sparkling script could almost be a radio play.
But like the swans gliding over the lake at Roundhay Park, there's a lot going on under the surface.
Common Chorus have worked for several years with real recovering addicts at the Spacious Places centre in Leeds city centre. Elements of those real stories of human failings and redemption find their way into this production, and it's joyous.
Danny almost killed his best mate by punching him. Now he's staying off the booze by the application of willpower ("Can't drink – gotta drive"). His non-lethal assault by condiment on Jenny's ex in a showdown at Woolley Edge Services shows he's making progress on the anger management front, too.
Richard Galloway makes this tortured character loveable. You wouldn't want his Danny around, especially anywhere nice, but you'd end up giving him a hug. That's a tough act to pull off.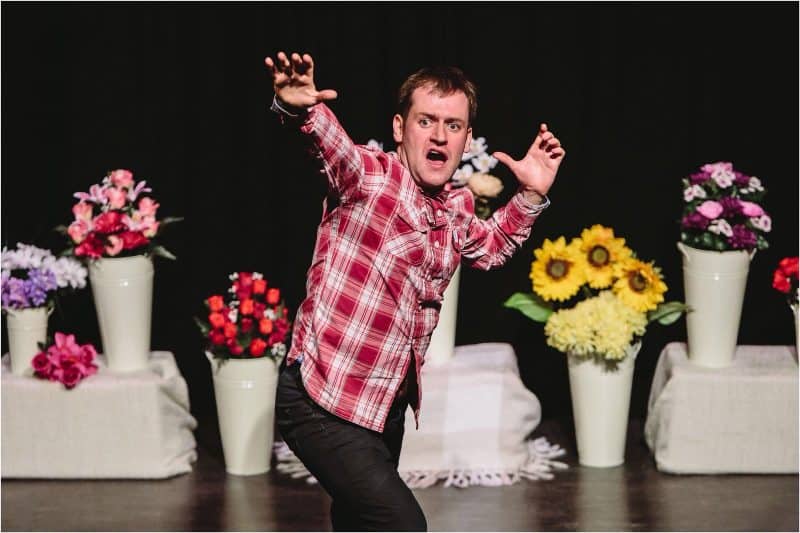 Lynsey Jones takes on the challenge of playing a female vicar in a comedy, a genre long dominated by – y'know – and acquits herself brilliantly.
It's a difficult tightrope to tread, but Lynsey Jones remains credible throughout as a woman of faith and compassion in situations that become increasingly bizarre, whilst also balancing strength and inner vulnerability when the laughs give way to menace.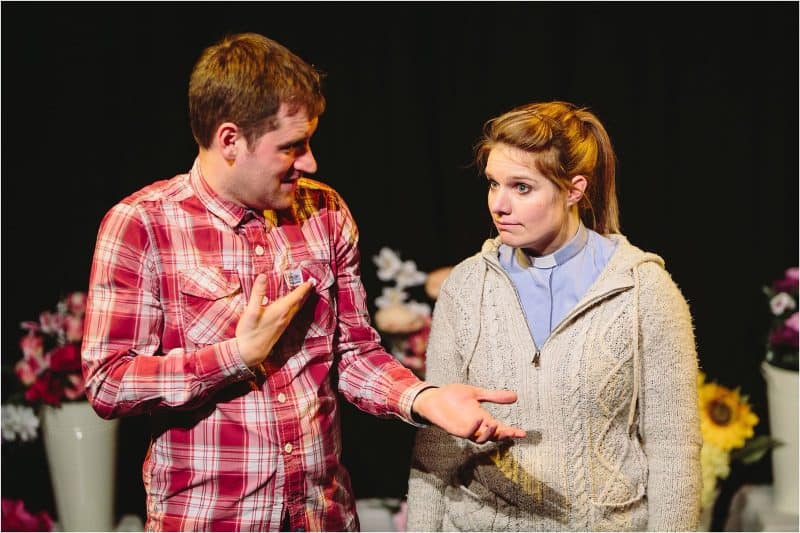 It becomes clear her former partner will go to extreme lengths to retain control in their relationship, and Jenny must exorcise her own demons to deal with that one.
The idea for the story and characters came from director Simon Brewis's real life experiences of working with people at the Spacious Places recovery centre, which is based within the Leeds Church Institute.
"It is a recovery story of sorts, but it isn't about substance abuse or hitting rock bottom." he told us.
"It's about how people can come together when times get crazy and help each other find peace in difficult times. Jenny, the vicar is sort of a cowboy – always going off like the Lone Ranger to save someone. Her sidekick Danny is trying to help out, but he has problems with controlling his anger and as a result they end up in a right pickle".
If I Say Jump .. is the first national touring production from Common Chorus, but they've been active in Leeds for some time, most recently in Meanwood with community-based production Wind of Change last month, which saw professional writers and artists collaborate with residents to tell a story inspired by the local area.
The show is produced by LittleMighty.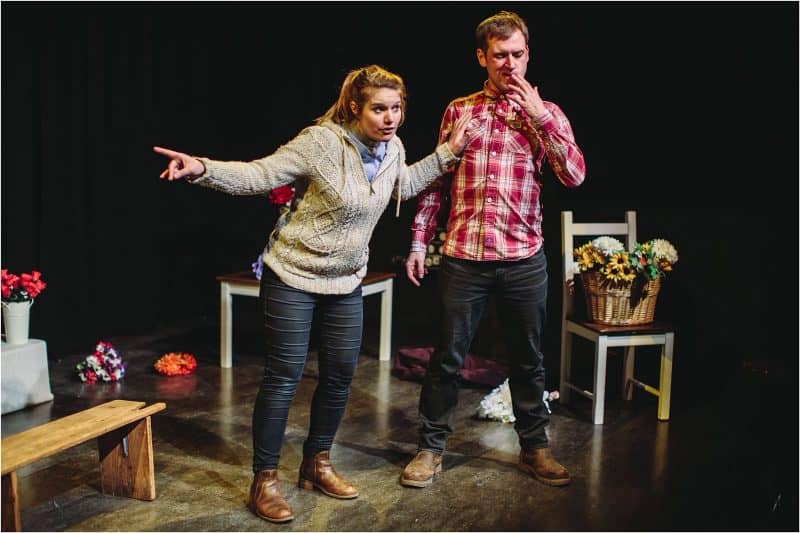 If I Say Jump is staged tonight at the Carriageworks Theatre, Leeds
The production then goes on tour to the following venues
Thur 22 March, Waterside Arts Centre, Sale
Fri 23 March, The Witham, Barnard Castle
Wed 28 March, CAST, Doncaster
Thur 29 March, Square Chapel, Halifax
Wed 11th April, Harrogate Theatre
Thur 19 April, Arts Centre Washington
Fri 20 April, Helmsley Arts Centre
Tue 8 May, The Old Town Hall, Hemel Hempstead
Thur 10 May, Interplay Theatre, Leeds
Sat 12 May, The Civic, Barnsley
Production Photography: Barnaby Aldrick