Six monologues from Alan Bennett's TALKING HEADS series come to life on stage in two alternating programmes at WEST YORKSHIRE PLAYHOUSE this week. RICHARD HORSMAN settled down nice and comfy to enjoy a live boxed set.

There are crates stacked neatly in the foyer of the West Yorkshire Playhouse at the moment as the company and administration prepare to decamp ahead of this summer's transformation that will see the theatre turn its face away from the Quarry Hill car park towards the city that was Bennett's birthplace.
And the John Lewis multi storey.
Crates, boxes .. the Talking Heads series was of course written for the box, television monologues delivered for the BBC thirty years ago when Alan Bennett was at his observational best and before that frankly barmy relationship with The Lady In The Van.
It could be easy to think of them as fundamentally radio pieces, given that the artistry is in the cadence, rhythm and pattern of the words. However, the more effective tales are those staged with some movement – of which more later.
This week's performances in the Courtyard Theatre group six 40-minute-ish monologues into two sets of three stories performed on alternate nights, with all six available when there's a matinee. Remember to pack a Thermos.
The Courtyard shows are however just the culmination of a project which saw individual actors take their characters to perform to small audiences across 28 different Leeds postcode districts earlier this month – venues including flats in Seacroft and Chapel Allerton, houses in Middleton and Boston Spa, the Green Acres Nursing Home in Burmantofts and even Headingley Stadium.
That's thinking out of the box.
The pieces were written to be seen one at a time, so putting together a collection in an auditorium can be seen as the equivalent of putting precious things in a china cabinet, a custom Bennett would be very familiar with, a display of much loved mementos in one special place.
From the tellybox, then, to the three dimensional box – Laura Ann Price's set is an ingenious distorted cube which rotates (with some physical effort) to show different interior and exterior faces for each of the performances, or for changes of location within the performances. The same coat hook carries the sartorial evidence of differing characters' personalities.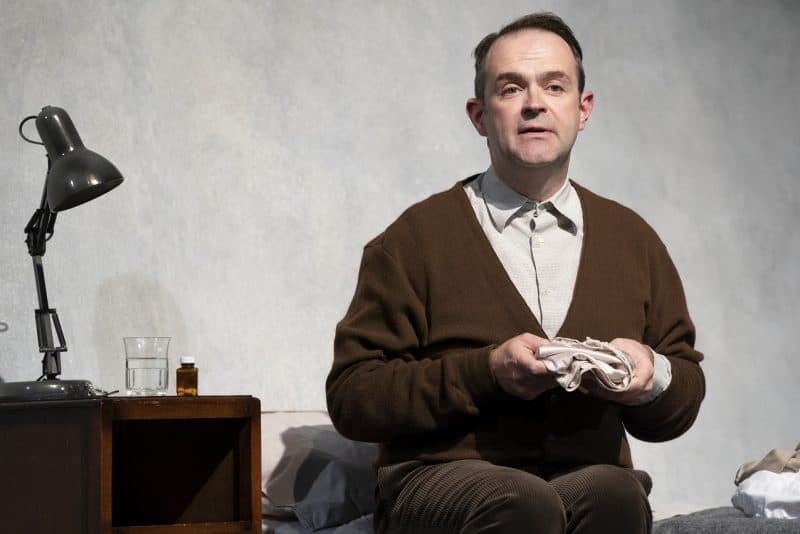 "A Chip in the Sugar" reveals the anguish of a middle aged son living with his mother, only to see their relationship blown apart by a raffish con man and restored, to a degree, when the fraud is exposed. Chris Chilton brings camp humour to the role of Graham, whilst also hinting at dark underlying mental health issues and a repressed sexuality.
Peggy, "A Woman of No Importance", chatters on with banal anecdotes from office, canteen and hospital ward whilst desperately refusing to acknowledge the reality of the life-sapping illness which is consuming her body. Flo Wilson (main picture) brings an understated physicality to a character whose pain screams out silently beneath the surface smiles and platitudes.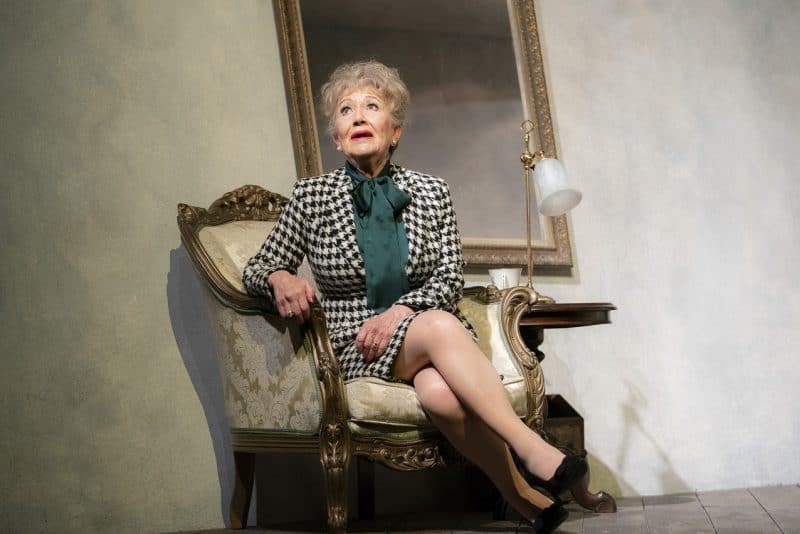 Middle class Muriel is "Soldiering On" following the death of her husband with a son squandering the family wealth in a series of dodgy schemes and a daughter whose mental health mysteriously improves now daddy is dead. Tina Gray brings Bennett's intricately observed mannerisms of gentility to life as her character's situation descends from leafy square to seaside boarding house squalor.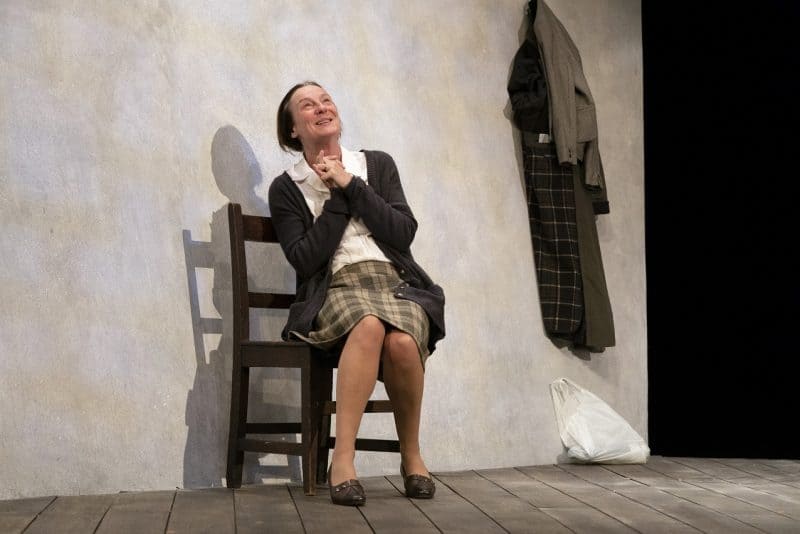 In the second bill, Cate Hamer brings double-takes and cutting wordplay to the role of Susan in "Bed Among The Lentils", a vicar's wife who finds escape in alcohol and sexual solace in the exotically perfumed arms of an Indian grocer.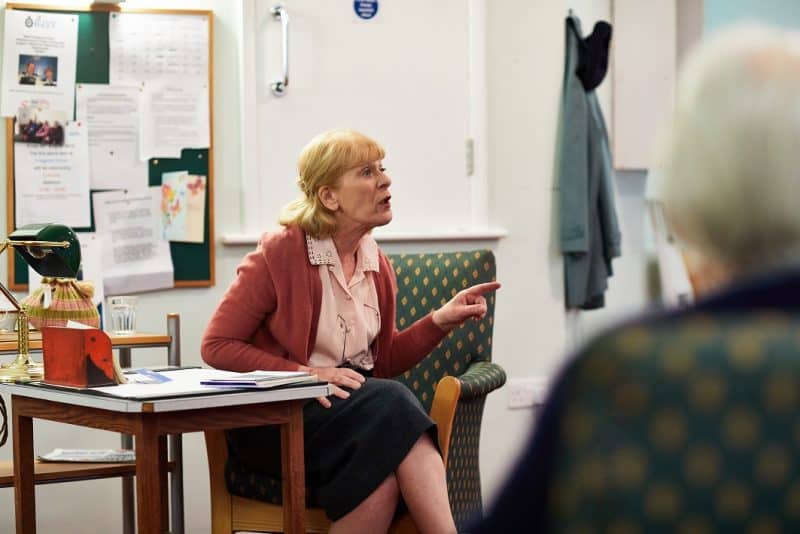 Irene is "A Lady of Letters", a keyboard warrior from an age when the keyboard was a cartridge pen and a pad of Basildon Bond. Vanessa Rosenthal slowly reveals the menace and malice of her quaintly dotty character for whom prison could be a blessing.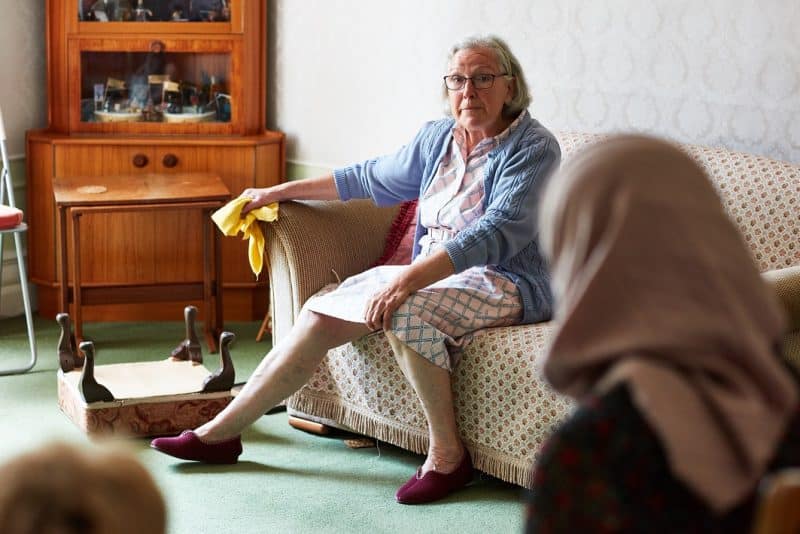 But it's Marlene Sidaway who steals the show as Doris, an elderly widow in fear of being taken to a care home who finds "A Cream Cracker Under the Settee" after falling whilst attempting to dust a picture of her late husband. Because Bennett gives her something to do.
In contrast to the other characters, who must fiddle with laundry, luggage or teacups to create some on-stage business for themselves, we feel real anxiety for Doris as her limbs become numb – "come on, leg" – as she attempts to drag herself around a tiny set that suddenly feels vast. It was this script that won the late Thora Hird a BAFTA in 1989, and it's lost none of its poignancy
Talking Heads is a fitting show with which to close the Courtyard Theatre, a space certainly now showing signs of wear and tear, ahead of the West Yorkshire Playhouse's multi-million pound refit.
It's also brilliant to see six cracking performances of this calibre from older actors, five of them women; this production shows we need more roles written to showcase this generation.
Bennett is a master of observation, capturing an idiom that's as deeply rooted in Leeds as the rocks beneath the theatre that give Quarry Hill its name. The show is a wonderful celebration of the language of Leeds, an idiom becoming lost as older generations fade into memory.
This reviewer will always be grateful to Alan Bennett for preserving the everyday language of my Leeds parents and grandparents and especially for the hope he gave, four decades back, to an arty boy trapped in a sporty school who saw what it was possible to achieve with a Leeds accent. It meant a lot then and it means a lot now.
Talking Heads runs at the West Yorkshire Playhouse Courtyard Theatre until 23 June. 
Production Photography: Richard H Smith

Location Photography: David Lindsay