The elves need a little bit of help over in Santa's workshop this Christmas. Eight-year-old DAISY CALE investigates.
I was really excited about seeing the play at Bradford Playhouse. When I first arrived at the theatre we sat in the bar before we went in, and I could see lots of lights (mostly pink) and lots of sofas. It was like a fancy living room. It's a kind of community theatre and is run by volunteers, which is what I liked most about it. All the children were really excited about seeing the play.
The play was set in Santa's workshop on Christmas Eve. There were two elves called Holly and Ivy and they were a bit silly. They needed the children in the audience to help them when things kept going wrong. There was a poorly reindeer, badly packed presents and Santa was too big to fit down the chimney. Santa slept through most of it though.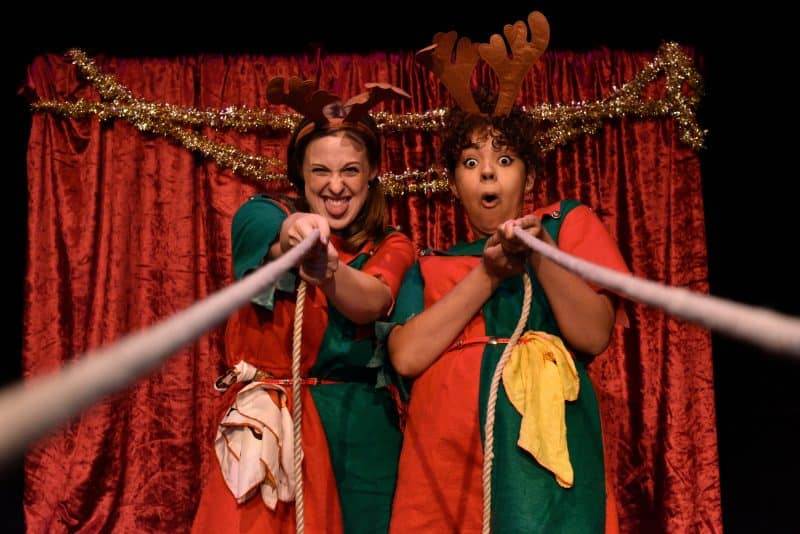 The studio theatre was very tiny, with three rows of seats and cushions at the front for the children, so it was small and snuggly. The audience could get involved, so it's the perfect play for a family with young children. There were silly songs and jokes, so it was a bit like a pantomime too. I decided to call it a panto-play.
There was a lot to fit into 45 minutes and it flew by. You could meet Santa and the elves afterwards, which was a great addition. The play was very funny, and I really enjoyed it. My favourite bit was when we all made a wish using magic dust, and it left me with glittery hands. This play will really put you in a festive mood.
'Twas the Night Before Christmas, from Front Room Productions, will be visiting The Lawrence Batley Theatre in Huddersfield from 22 to 24 December – details on their Website