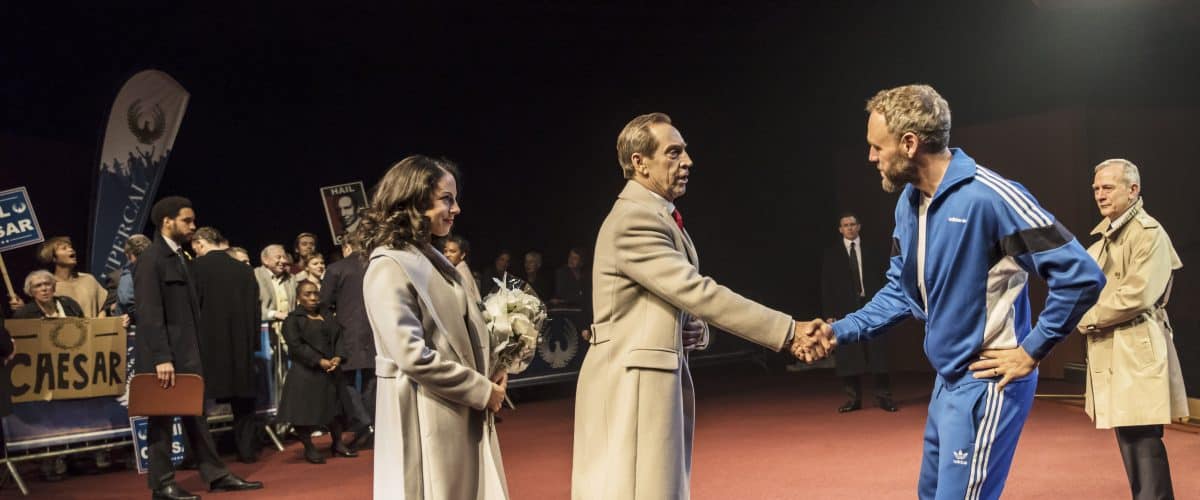 Shakespeare's Julius Caesar was always going to be a topical choice for Robert Hastie's first production as Artistic Director of Sheffield's Crucible Theatre. CATH ANNABEL finds it ripe with contemporary resonances.
With its themes of loyalty and betrayal, hubris and an easily-swayed populace, Julius Caesar is an uncomfortable reminder of the last year in world politics. That the audience could also emerge from a curtain call to the sight of armed police officers patrolling Tudor Square is not something anyone could have foreseen.
But no one present could fail to be reminded about the tragic events in Manchester just two days before. Few of us have thought of anything else!
Hastie's production is modern dress, allowing it to be untroubled by the anachronisms which sometimes shout too loudly if the setting is overly defined. The intended parallels with our times resonate powerfully. The cast use the theatre space to great effect. The stage is largely bare and is quickly transformed from public forum to senate chamber to battlefield with the action sometimes spilling out into the stalls.
From the start, as seven gleaming knives are hidden away ready for use, the lighting and especially the urgent rhythmic musical score by Richard Taylor are troubling and unsettling. In the battles, searchlight beams, dry ice and the sound of machine gun fire evoke the chaos of war. It is surely no accident that the audience struggles to identify which side is which (they can be distinguished only by the colour of their berets) – this is, after all, a civil war.
The fighting takes place across a stage littered with senate papers and upturned chairs, the aftermath of rioting – it is bleak and desolate. Opened up so that the audience can see right through to the back of the theatre, there is a sense that we are in a place that's been gutted and abandoned. Strip lights flicker and buzz – or stop working altogether. It's a transformation after the UN-style setting for Caesar's senate appearance, with its first row of audience seating replaced by delegate desks behind which senators – and conspirators – take their seats until ready to attack.
The heart of the play is Brutus, here played with real subtlety by Samuel West. Back at the Crucible after his tenure as Artistic Director was cut short by the theatre's closure for a major refurbishment, West is utterly persuasive, burdened with doubt and with a kind of grief for the friend he trusted and still loves, but can no longer believe in. His Brutus is troubled, weighed down by internal debate, his integrity never in doubt which explains the respect in death that Mark Antony (Elliot Cowan) and Octavius (Chipo Chung) give him – if not Cassius (Zoe Waites) and her troops.
The tension between Brutus and Cassius is given additional intensity by the gender shift in the latter's role. Waites plays Cassius with fierce passion, truly 'lean and hungry', adding a different nuance to the suspicions of Caesar (Jonathan Hyde). As Mark Antony, Cowan shows convincingly why Brutus fails to see him as a threat. Seeming the reveller, rather than a serious politician or soldier, he uses this perception brilliantly to manipulate the crowd. Later he is dangerous and brutal, dispatching enemies with the stab of a pen or a single shot. Caesar himself conveys both the dignity and gravitas that have won him the love of Brutus and Mark Antony, as well as the hubris that will be his downfall.
The other conspirators are all powerfully played, with three roles taken by women. This only becomes an issue when Portia bemoans the limitations of her sex – 'I grant I am a woman, but…' – which sits uneasily with the forceful, active parts other women play, a feeling only highlighted by the fact the same actress plays Octavius as grim and battle-hardened.
The production never labours the contemporary resonances. It has no need to. The audience can work those out for themselves. As a play Julius Caesar is timeless, allowing audiences in every generation to see things that illuminate their own political context. And with performances such as these, it has immense power to disturb and to move.
Julius Caesar is at Sheffield's Crucible Theatre until 10th June. For more information, including tickets click here.