Anton Chekhov said if there is a handgun hanging on the wall in the first act, it absolutely must go off in the fifth. Dutch director Ivo van Hove's visceral reworking of Hedda Gabler at the National Theatre makes a show of having two handguns –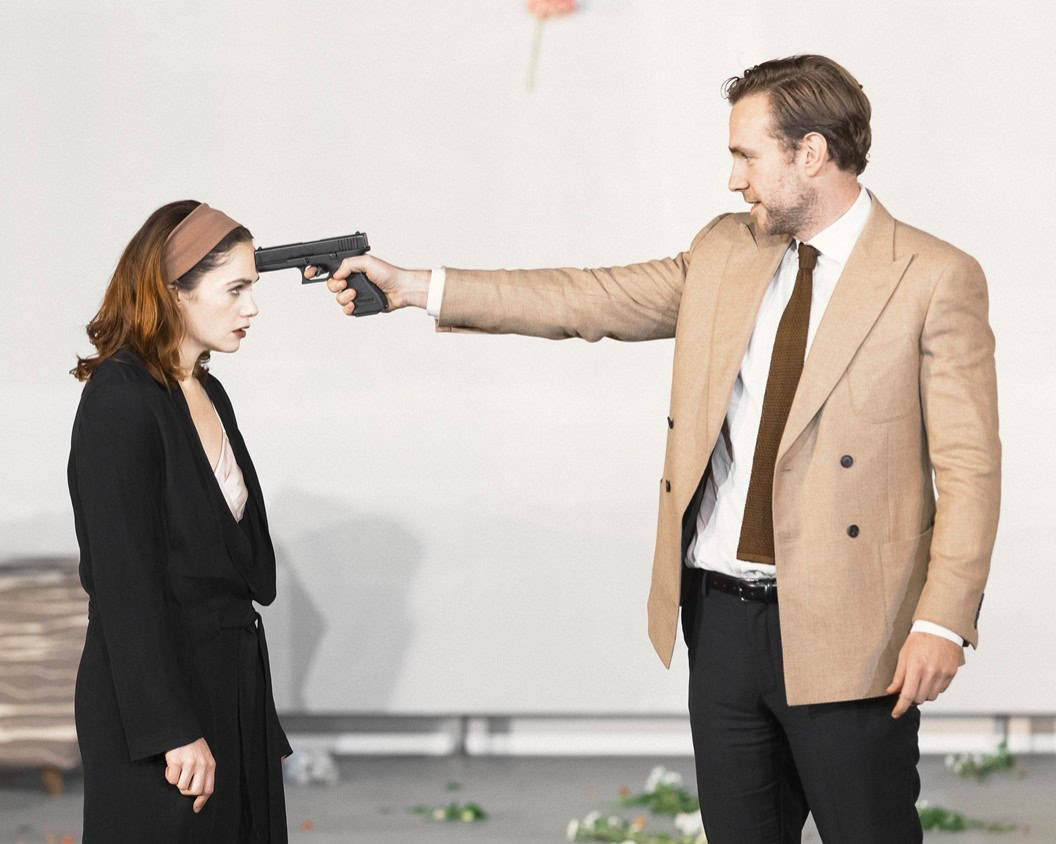 Launching Live Streaming at the City Varieties in Leeds, Patrick Marber's newly minted adaptation of Ibsen's tragi-comic tale of the eponymous free-spirit trapped and slowly suffocated by her marriage to a man she despises relocates the action to an urban loft space, buffing it to a startling modernist sheen. Sparely lit with furnishings kept to an emblematic minimum by designer Jan Versweyveld, it calls to mind the subdued, oppressive interiors of Danish painter Vilhelm Hammershøi.
Almost immediately, the die is cast: Hedda – played with a simmering, barely concealed hysteria by Ruth Wilson – fiddles with the vertical blinds of her apartment, the light falling about her like the bars of a prison cell. Hedda's dullard husband Tesman has high hopes of being offered a professorship, despite a lack of any discernible charisma or originality of intellect. Feted by Judge Brack, a sinister Machiavellian figure with clear designs on his new wife, Tesman is an oblivious child.
Into this existentialist hell are propelled two figures from the past: first Mrs Elvsted, once betrothed to Hedda's husband, now fleeing her own passionless union to a respectable older man; then Lovborg, a gifted, but defiantly unhinged character, the object of Mrs Elvstead's affection, and the cause of the breakdown of her marriage. A reformed drunk, Lovborg has thrown himself into his writing to stave off his true feelings for Hedda, but this newly sober version disgusts her. What ensues is an interminable round of human bear baiting, Hedda driven by desperation to increasingly self-destructive acts with predictably disastrous results.
Ibsen's claustrophobic miserablism scrubs up surprisingly well as a fable for modern times. Marber's new dialogue is muscular, snake-hipped, deliciously venomous – characters smile, and murder one another while they smile. Rafe Spall oozes avuncular menace as Judge Brack – for sure, he is a pantomime villain but, as played by Spall, he is calibrated with reckless, ruinous genius. He goads and chides Hedda – who matches him move for move, and then some – while Tesman merely preens and flounces like some naïve, arrested teen. Hedda's fury at this bitter minuet is vented with the kind of intense visual flourish we have come to expect of van Hove – she smashes bunches of flowers, scattering and pulverising them with abandon, badging the bare walls with their skeletal remains like grotesque medieval trophies. At the play's hideous denouement, his power over her assured, van Hove has Brack spray tomato juice over Hedda's face and white dress as if she was a living work of Giallo abstract expressionism. This is the fantasy of architect John Pawson's wife, to splash viscous red over his precious white. It is a shocking gesture which somehow transfigures Hedda's subsequent suicide by Chekhov's handgun into a final act of restorative justice – one which literally and figuratively catches the audience off-guard. With a throwaway coda reeking of bathos, the rest, as they say, is silence.
This new venture in Live Streaming works well in the intimate surroundings of the City Varieties. The visuals are stunning and it sounds magnificent, of course, but it's the lovely ornate setting which offers up the theatrical ambience lacking in your local multiplex. With much-heralded productions of Twelfth Night and Rosencrantz & Guildenstern Are Dead scheduled for screening, the hot ticket might just turn out to be Ivo van Hove's stage version of Visconti's 1943 film Obsession, another cauterising portrayal of loveless marrieds starring a barely recognisable Jude Law.
Twelfth Night will be screened on Thursday 6th April at 18.50. Other screenings available for booking soon. Tickets for the Live Streaming events at City Varieties Music Hall are priced at £15 and £17. Book online here or call the box office on 0113 243 0808.
Neil Mudd is a writer and reviewer. He lives in Leeds. He wishes he lived in 1965. Follow: @ANMudd