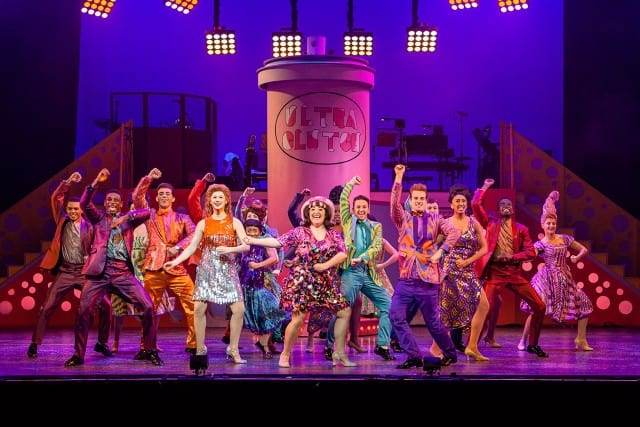 Under the clever direction of Paul Kerryson, educating and entertaining Hairspray, the hit Broadway musical had this Bradford audience on its feet and dancing in the aisles. Integration not segregation is the key message but this was translated in a vibrant and exuberant way.
Extremely slick scene changes with pace and tempo incredibly upbeat, this show was highly energetic throughout. The choreography was superbly managed, as the use of space had every piece of stage covered with twirling skirts and hip hop jives. The acrobatics and gymnastic tumbles were unexpected and extremely skilled.
Freya Sutton as Tracy Turnblad the lead character carries us through the frustrations of injustice. She defends the rights of equality in a big way with big hair and huge voice to match. Her parents are comically played by Tony Maudsley and Peter Duncan and make an unlikely couple that exude love and loyalty.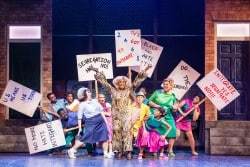 Claire Sweeney as Velma vor Tussle excellently plays the Corny Collins TV show's strong-minded, brutally insulting body fascist and racist producer. Velma and her very selfish daughter Amber are well played and expose the prejudice of the time. An outstanding vocal range and tone was fabulously executed by Brenda Edwards as an unmissable Motormouth Maybelle.
With authentic 60s staging; from film cameras to product design, this show opened a refreshing window into the era. The integrated vintage TV backdrop and smaller screens dotted around the edge of the stage were used to complement the action. The lighting added to the drama and colour on stage. The music was provided by an excellent eight-piece orchestra. All in all this was a really well produced show with an excellent cast seeking to break down the walls of prejudice with this big must-see production.
Reviewed by Janis Sims on 11 November at Alhambra Theatre, Bradford where it runs until 14 November, and touring see http://www.hairsprayuktour.com/tour-dates/