Becky and Rachel Unthank with Adrian. Photo courtesy of The Unthanks.
Contemporary folk non-conformists THE UNTHANKS have always charted their own free-spirited course. Called upon to mark the 200th birthday of Emily Brontë, the group's pianist and arranger ADRIAN McNALLY talks to NEIL MUDD.
When he was supposed to be practising piano as a boy, Adrian McNally of folk hauntologists The Unthanks wandered lost amongst his parents' records.
"That really was my musical education," he says today. "I'm not particularly confident or gifted; if I do have any ability or imagination as a player or as a writer, it really comes from the music I grew up listening to."
Commissioned by the Brontë Society to mark what would have been Emily Brontë's 200th birthday, Adrian has transposed a number of her poems into music. The resulting Emily Brontë Song Cycle is performed by The Unthanks next week at Leeds Town Hall.
Adrian got to use the Brontë sister's own actual instrument, a five-octave cabinet piano dating from the early 1800s. Composing after-hours at the Parsonage Museum in Haworth, he was chaperoned at all times by a member of staff.
"Everything at the museum is so precious that I was made to write under constant supervision," he says. "It was deemed to be for my own safety, that if anything was damaged or went missing it couldn't be me. Imagine songwriting under those conditions."
It was as a songwriter that Adrian joined The Unthanks, though for the first four years he remained in the shadows, preferring to be a non-performing member; that is until Rachel and Becky grew tired with him communicating song ideas from the wings.
They are a close-knit bunch. As well as performing with them, Adrian arranges, produces and manages the group. He is married to Rachel, the elder Unthank sibling, with whom he has two young sons.
Adrian's childhood best friend Chris Price is also a band-member. The two grew up three doors from each other in the same mining village near Barnsley, bonding over a shared passion for the music of their parents.
"My Dad had all the complicated stuff from that time, like early King Crimson, Genesis, Yes, Floyd and Zappa," says Adrian. "Chris's Dad's collection was more American, more soulful, the likes of Crosby, Stills and Nash, Joni Mitchell, Steely Dan, those kind of people."
Essentially Peter Gabriel was telling stories (and) nursery rhymes. It was childlike in lots of ways, and also very folky…
Introduced to Nick Drake (they would later collaborate with Drake's sister Gabrielle on Songs and Poems of Molly Drake), John Martyn and early Fairport Convention, Adrian says of his and Chris's folk journey: "I think in a way, although we grew up with the more complicated elements of sixties and seventies music, we were both destined to be involved in music which was predominantly about storytelling."
"If I really think back to what captured our imaginations as ten or eleven year old boys, it was Genesis's Supper's Ready or The Battle of Epping Forest. Genesis weren't really a prog band. If you listen to them, they're quite folksy. Selling England By the Pound is full of English folk song imagery."
Another influence – which seems an incongruous one even now as I type it – is the motion picture soundtrack for Jesus Christ Superstar. "We've always been drawn to performance-based storytelling," Adrian says, "so in a way, it's no surprise we've ending up doing what we do."
Here the figure of Robert Wyatt looms large: "Although he was a virtuosic musician – at least before his accident [in 1973, Wyatt fell from a fourth floor window while drunk at a party and has been permanently confined to a wheelchair since] – he was predominantly interested in the social, political and humanitarian nature of his storytelling."
Hearing Wyatt's music, Adrian could now draw a line in the sand: "I was able to say, All this stuff here is just noodling and self-indulgent, but that clever stuff over there, that's there for a reason – that music is painting a story."
I suggest to him, like Wyatt – and indeed Emily Brontë – The Unthanks exist in a kingdom of their choosing through which they chart their own unconventional course.
"If I dare to think we have any commonality with Robert," he says, "it's perhaps that although his music and listening habits may be left-field and extremely complicated, first and foremost he is a communicator."
I consciously set out to make records where the ambiguity (is) removed … I make sure I always put a spanner in the works – Robert Wyatt, 1985
Wyatt has called songwriting damage limitation, an endless struggle to avoid repeating past mistakes. "Perhaps what he's only ever trying to do is make music which is more understandable than his influences?" Adrian suggests.
Wyatt's clear sense of purpose stuck deep with Adrian's younger self. In spite of living in Manchester during his twenties and being drawn into its burgeoning outsider cultural scene, he says: "I may have spent a lot of years listening to weird guys rustling plastic bags, but for me as a communicator and as a musician, I sort of feel if there's one person in the room who doesn't understand, then I've failed."
Some of the traditions around the British Isles are more predominant in terms of tunes, then there are those that are stronger in terms of songs.
"My job first and foremost is to serve the talents of Rachel and Becky who are storytellers," he continues. That word again. The sisters grew up in Ryton near Gateshead, exposed at a young age to traditional songs and shanties by their musical parents. Might this explain their instinct for storytelling?
"The north-east is certainly more song orientated, there's such a rich bounty of song-based material – the border ballads from the bloody times between Scotland and England. Then there's the stuff that comes down the Tyne."
With its vehemently industrial, hard won shipyard heritage, sifting the silt of the region's song traditions uncovers successive generations of incomers. "You always get stories with incomers. People share their backgrounds when they come to a new place," says Adrian, "so (there's) not only a strong storytelling tradition, but also a colourful and international one.
One perception, particularly of English folk music, is that it is pastoral: "But that's very much a southern English tradition. It's far more prevalent in the north for the content of a folk-song to be related to working communities, and to have come through those communities."
"People like Tommy Armstrong in the late 1800s were called upon to write songs about people who died, often as the result of industry. These are protest songs about local pride, and some of them are still worth singing because unfortunately we don't seem to learn from our history."
This conviction about history repeating runs through a trilogy of Unthanks releases this year. Gathered together as Lines – which takes its name from one of Brontë's poems and is a 'tidying-up,' says Adrian – the series culminates with the Emily Brontë Song Cycle.
The two other releases – The Last Testament of Lilian Bilocca, the group's collaboration with actress Maxine Peake about the struggle by Hull's women for fishermen's rights, and a First World War project, originally performed in 2014 – both explore history from the underimagined point of view of women living through it at the time.
"The commonality between the three Lines releases is that we're offering female perspectives from different points in history, all of which could be argued aren't particularly well known to us."
The Unthanks were new to Emily Brontë when they were approached by the
Brontë Society. In fact, Adrian read Wuthering Heights for the first time at the start of this year while ill in bed: "Had we been aficionados, we would probably have been frightened to death of doing anything with the poetry."
A core narrative text for many an A level English student down the years, Adrian cannot imagine getting through Brontë's twisted saga as a teenager.
"I think it's extraordinary," he says. "It offers the reader no moral compass whatsoever, which is so refreshing and so honest and truthful. That's why her work endures I think: she has so little regard for the reader. She really does write like no one else is reading it, and I think that's really quite something."
Though the poems hail from the same dark imagination, they are not so nakedly radical or autobiographical – perhaps in part a consequence of being edited for publication by elder sister Charlotte. Key admirers included poets Emily Dickinson and Sylvia Plath.
"We weren't given any guidance on which to use," says Adrian. "It was quite frightening really. Where we are synonymous with projects which draw on song written a long time ago, this was a bit more of an extra challenge in that Emily's work is so wrapped in the language of its time that to try make those stories timeless is quite tricky."
"As I say we weren't aficionados and we did um and ahh about the wisdom of getting involved, but when someone offers you the opportunity of doing something quite so profound with Emily's piano, what do you do?"
"I think it was my suggestion, but it was a blind suggestion and I was only able to know whether it was a good idea once I'd had a go at her piano," Adrian says, "which when I did for the first time I thought, Oh dear, no!"
Fortunately he quickly realised the instrument needed to be played with a lighter touch than that of a conventional piano. "It's quite a challenge to play and it's quite limited in its expression, but isn't that a way to define creativity – to be limited by your tools and to have to find everything within those limitations?"
Adrian wrote all the music for the project in that first after-hours session: "I went with nothing because I really did want to be informed by the instrument and I came away with sixteen or seventeen iPhone recordings. I wasn't writing songs as such, I was just playing the piano."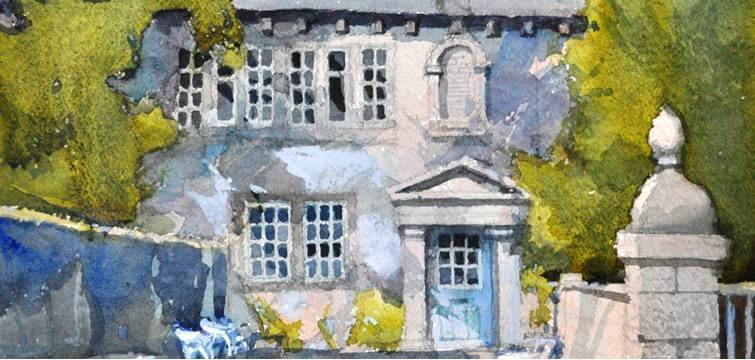 During the day Adrian worked up the songs using the German upright piano at nearby Ponden Hall. Now a working B&B, it is generally acknowledged as the inspiration for Thrushcross Grange, home of the Linton family in Wuthering Heights.
Working at Ponden Hall gave the degree of freedom he needed, particularly as he was being called upon to write songs, rather than simply arrange them as is more usual. Making the daily journey to and fro – as Emily might have done nearly two centuries ago – allowed a distinct resonance to emerge.
"I even got to sleep in the room with replica box-bed that Emily and her sisters used to sleep in at Ponden. They used to visit there a lot because it had a better library than their own apparently.
"If you pull back one of the panels, it reveals this tiny little window which Emily is supposed to have based Cathy's ghost coming through the window to Heathcliff on.
"I'm not saying I got loads of sleep the first night," he adds with a chuckle.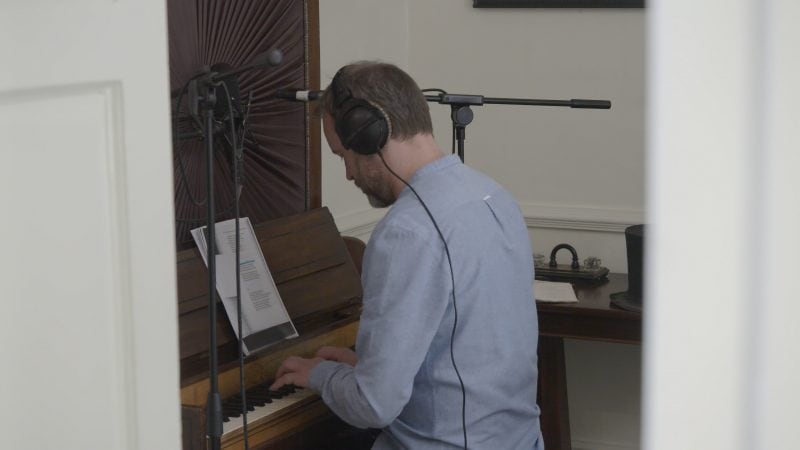 The Unthanks – The Emily Brontë Song Cycle is at Leeds Town Hall on Friday 21st December 2018. Details and tickets here. The group will play a special warm-up gig the night before at The Great Hall in Matfen Hall. Details and tickets here.